« Open Thread
|
Main
|
Overnight Open Thread (1-12-2014) »
January 12, 2014
Spaced-Out Challenge: The Full Moon, Great Amateur Photos, & the Hand of God
[We Politely Request That All Off-Topic or Political Comments Be Directed to the Thread Directly Below This One, Which Will Serve Officially as the Current "Active Conversation" Thread for All Discussions Not Related to this Topic]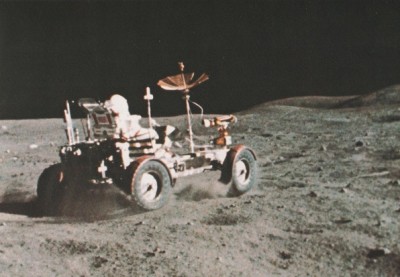 American astronaut John Young doing a donut on the Moon
With the moon getting full mid-week, deep-sky objects take a backseat to closer worlds, and none is closer than earth's sole satellite. The moon makes amateur astronomers out of all of us at some point in our lives, sunlight reflecting across it's battle-scared surface connotes everything from the paranormal to the amusing. So grab your binoculars or telescope, and let me show you around the only extraterrestrial surface man has walked, golfed, and driven on.
A Beginner's Guide to the Full Moon
Throughout the lunar cycle, the moon rises and sets at varied times. Full moon observing is easy: the moon rises at or close to sunset, and sets at or close to sunrise. A direct consequence of this is hindered observing of fainter objects- even from a light-pollution-free area, the sky is no darker than a typical suburban sky.
Whereas features along the terminator (the light/dark dividing line we see as the moon goes from new to full and back) steal our attention between lunar cycles, a full moon gives us the opportunity to notice the contrasts between the lighter (highlands) and darker (mare) regions. Through a good pair of binoculars or a very low power telescopic eyepiece, here are the big features of note: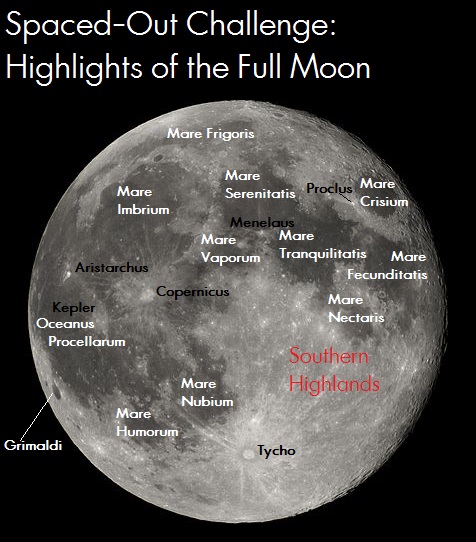 My particular favorite is the crater Tycho, a relatively recent feature on this battle-scarred world. It's rays stretch halfway across the visible surface, and the impact that created it would have been quite a sight to a curious Allosaurus.
Observing Tips
1- Avoid the haze
The lower you gaze in the sky, the more atmosphere you are actually gazing through. Even in dry air, water vapor and gasses will distort and fuzz up your view of objects close to the horizon. Save your observing for when the moon is at least three hands-widths above the ground, and you'll enjoy a far crisper view.
2- If using a scope, USE A FILTER
The moon's surface is reflecting sunlight. The more surface reflecting, the brigher it appears. After a certain point (around the half-moon), it becomes difficult to observe through a telescope because of this brightness. At full, it can be painful. Save your eyes the trouble, and use a moon filter, or, if you don't have one, take a note from Cory Hart and wear sunglasses while observing.
3- Avoid dark adaptation
Since you're observing reflected sunlight (and a lot of it), there's no point in protecting your night vision when observing the moon. I've made the mistake of prepping my eyes and switching to lunar observation, only for a nasty headache to result. Most people won't suffer this badly, but why bother risking it?
Moron challenge: Imaging the Moon
If you have a smart phone or cheap digital camera, you can take some rather impressive shots of our beautiful satellite. Scanning through twitter, one can see some pretty impressive shots taken by first-timers:

The most common way for beginners to image the moon is simple, but requires some practice to perfect: substituting your camera for your eye right above your eyepiece.
If you can afford an iPhone/smartphone/camera adapter, I recommend it, but even the hand-held method works well. Courtesy moron Matteus, you can also build your own with simple materials.
First, start with the lowest power eyepiece you have, roll back the eyeguard (the soft rubbery part atop the ocular), and get the moon in focus and dead-center. (For the best shots, please heed some advise from above, and install a lunar filter- it can mean the difference between no shot at all and a show-stopper.)
Second, with your phone's camera (or digital camera) on, align the camera with the eyepiece so the moon comes into view. It's totally OK if you just see a ball of glare- most smartphone cameras will take a bit to adjust to the overwhelming brightness of the moon. If your camera has trouble focusing after a second or two, gently move your camera around (but off the glass surface of your eyepiece of course) until the appearance improves. It's ok if it still appears out-of focus at this point.
Third, keeping your camera on the moon, adjust your telescope's focuser until the image through your camera/ on your smartphone screen comes into focus, and take the shot.
Fourth, after taking a few pictures, don't be afraid to shake up your camera or smartphone settings, or even trying different apps: I've had a lot of luck with my iPhone using the "LongExpo" app, for just one.
I challenge all readers to take at least one shot this week, and if you enjoy the results, share it with us by tweeting your image (or linking the instagram) @conartcritic.
***
Rapidly rotating pulsar PSR B1509-58, the collapsed core of a supermassive star, continues to eject a wind of high-energy particles into an expanding supernova remnant of previously dispersed gas and dust, much like what we can observe in the Crab Nebula, an object amateurs can readily see. Unlike the Crab Pulsar, this one's activity takes on a supernatural appearance in high-energy X-ray observations. Very supernatural, as it's nickname suggests: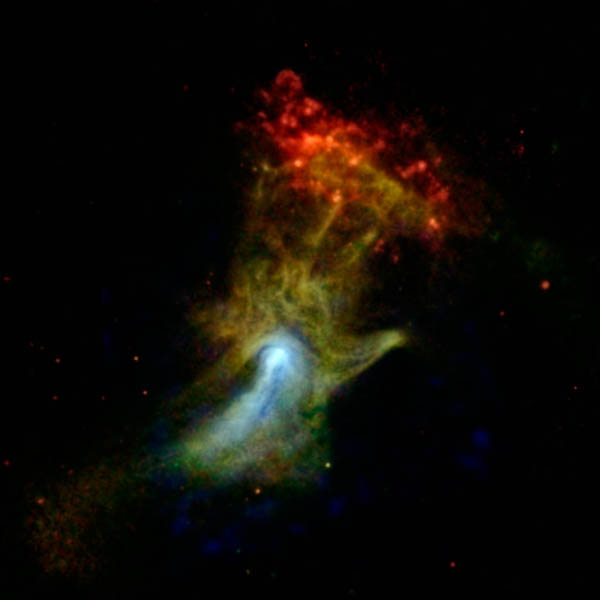 Image credit NASA/JPL-Caltech/McGill
The image is actually a composite from two separate sources: observations from the Chandra X-Ray Observatory appear here in red and orange, while new observations from the very high-energy X-Ray end courtesy NASA's new Nuclear Spectroscopic Telescope Array (NuSTAR) bring the blue "hand" into view. Careful study of these objects from multiple electromagnetic wavelengths help to reveal a clearer picture of the structure and activity of some of the least-understood objects in astronomy.
On a big-picture level, images like this show not only the violence and upheaval in the lives of the stars, but also the very seeds of creation itself: scattered debris and particles from supernovae eventually cool, condense, and "turn on" as new solar systems, perpetuating a cycle that has continued through the eons and will continue for billions of years. We owe our existence to such processes, so perhaps the moniker is well-earned.
***
The full Beginner's Buyer's Guide, our Comet Guide (featuring additional grab-and-go telescopes), and any other edition you're looking for can be found in the master index of all Spaced-Out Challenge threads
here
, but of course you can always inquire about binoculars, telescopes, and all the rest in the comments. As always, if you have astrophotography, product recommendations, or astronomy news you'd like to see on a future Spaced-Out Challenge, email me at theoneandonlyfinn (at) gmail.com, or tweet me
@conartcritic
.
Until next week, clear skies to you, and keep looking up!

posted by CAC at
07:59 PM
|
Access Comments