« Joe Biden: You Know, I'm Sort of an Illegal Immigrant
|
Main
|
Merry Christmas From President Self-Regard »
December 11, 2013
The Ryan/Murray Budget Deal Is... Awful
But you knew that.
There is one good thing I've heard about it and one neutral thing.
The good thing: The compromise calls for federal workers to pay more for their pensions. That is terrific. Update: Not so terrific. MTF writes:
Small point Ace, but the increased worker contribution to federal pensions applies only to new employees. It's still a revolutionary change, but the budget impact is delayed.
The neutral thing: The additional tax for airline travel that they're calling a "user fee" rather than a tax does seem like it can be fairly characterized as a user fee. Cavuto had a guy on explaining that a fee of $2.50 per ticket per leg was imposed in 2002, to partially defray the costs of the huge new TSA security system.
However, that didn't cover all of TSA's costs, and TSA actually costs more now than it did five years ago. Despite the fact that less people are actually traveling, due to Obama's Endless Recession.
So, calling it a "user's fee" does not seem to abuse the language. It actually does pay for the costs the user is directly incurring.
It might be better to cut back on the TSA -- in fact, I'm pretty sure it would be. But this small item doesn't seem to be a Gigantic Lie, like the ones Obama likes to tell.
The new charge will be a flat $5.60, but that won't (if Cavuto's guy had this right, which I'm not sure he did) be per leg of a trip. So the actual increased cost for a two-way flight might be only $0.60.
Update: The Wall Street Journal has the facts straight:
The feds currently charge $2.50 on nonstop flights, and $5 for flights with a connection, and the deal will establish a simple $5.60 fee for all one-way trips regardless of the number of connections. The fees will be passed along to passengers in higher ticket costs.
So you'll be charged an extra $2.50 per flight on nonstops and an extra $0.60 on flights with a connection.
Now for the bad stuff.
Here's the first and most important gimmick. Paul Ryan is claiming, "Hey man, how can you say I'm abandoning my principles? This compromise actually cuts the deficit by a further $28 billion (over ten years) than the current plan!!! So this actually cuts more spending than the current, sequester-bound spending levels!"
Yeah that approaches Gigantic Lie territory. Here's how they can spend more in the next year and then claim their compromise actually saves more money over ten years:
They spend more in the years they care about, 2014 and 2015. For these years, they increase spending by a total of $63 billion.
But currently, the sequester-capped spending levels would expire in 2021 (it was set to run from 2011 to 2021). So what Ryan says is "Now we'll also impose sequester-caps on the out years of 2022 and 2023, so that's two more years under the sequester, so we actually wind up cutting more spending!"
You can see the problem. They're not willing to abide by the terms of the sequester in 2014 and 2015. They want to spend more. So they undo the sequester caps in 2014 and 2015, and then pretend to extend the sequester from 2021 to 2023.
Instead of abiding by the sequester in the two following years, they'll abandon it in the two years we're actually about to pass into, and promise -- swearsies! -- they'll abide by it later.
This is obviously nonsense. First of all, it establishes the precedent of ducking the sequester forever. Two years from now, they'll vote to spend more money, but say "Over ten years, we're lowering the deficit, by extending the sequester from 2023 to 2025!!!"
No you're not. To spend less money, you have to, at some point, spend less money. If you keep delaying the day you actually start spending less money, you'll never spend less money.
This is like someone putting off going on a diet forever but promising "When I do go on the diet, I'll stay on it for a really really really long time!"
At some point, you have to actually go on the diet if you want to lose weight. Paul Ryan's plan just says, "Eh, we'll get in shape two years from now."
Even worse than all that is this heartbreaking chart from Reason, which shows federal spending unrestrained by the sequester (that is, what the government had planned to spend) versus the lower spending under the sequester.
This is the end of the world scenario we're working so hard to undo, Guys: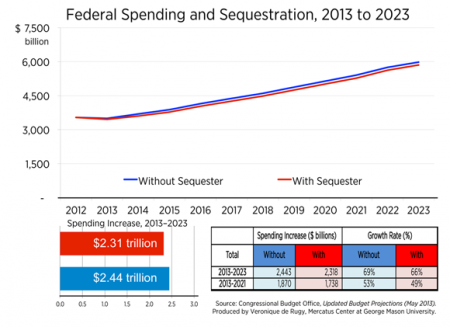 You see that teeny, tiny difference in sequester and non-sequester spending? That little difference is what we're now reduced to fighting over. That insignificant bit.
Even that pittance of savings is too much, too controversial, too politically dangerous to touch. So even that ludicrously small amount of savings must be undone by the Republican Party, because we just can't win elections when we're making draconian cuts like that.
But once the GOP is in control of all branches of government, then they'll start getting serious about putting the government on a diet.
Swearsies!

posted by Ace at
07:26 PM
|
Access Comments