« Sunday Morning Book Thread 09-22-2013: The Stories That We Tell [OregonMuse]
|
Main
|
Merkel Wins Huge on Low Unemployment and Almost-Elminiated Deficit »
September 22, 2013
NFL Thread
These young ladies are clearly offended by the Washington Redskins' team name.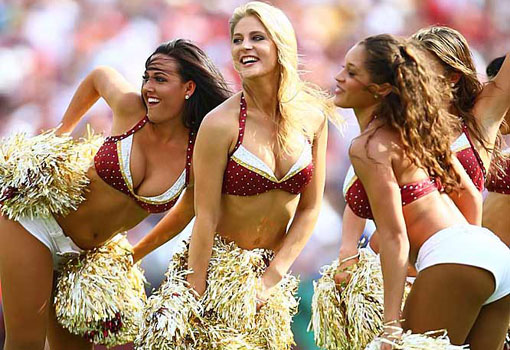 And here's an interesting piece in the WSJ - Bengals Fans: No More Katy Perry
The move is a win for tradition, but it also is proof of a national problem. Stadium music nationwide is calcified. Most arenas and stadiums play the same songs they have been playing for years, since testosterone-fueled rock is what people expect.
I'm not sure that's really true. The rotation is hard to crack, and once you're in, your're sure to be there for a while, but the first time I heard the song below the fold, I knew it'd make that cut (and it did), but it's not testosterone-fueled rock by any stretch of the imagination.
By contrast, the Katy Perry song isn't the kind of thing that's going to pump up a stadium. Other than the "Roar" tie-in with the Bengal tiger, I don't know why they'd play it at all.

posted by Andy at
12:00 PM
|
Access Comments