« Gun Thread (9-22-2013)
|
Main
|
NFL Thread »
September 22, 2013
Sunday Morning Book Thread 09-22-2013: The Stories That We Tell [OregonMuse]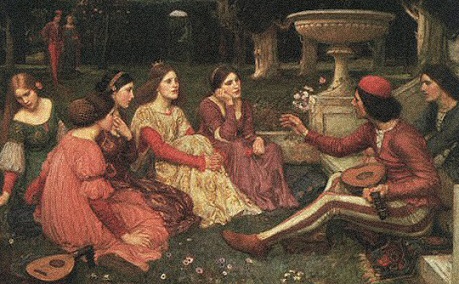 "...and the farmer had this smokin' hot daughter..."

Good morning morons and moronettes and welcome to AoSHQ's solemn and prestigious Sunday Morning Book Thread.
You know what's cool about what all you morons do on the book thread? Most AoSHQ threads last maybe 1-3 hours and pretty much die out when they get pushed down on the stack. But I come back to the book thread 6, 7, or even 8 hours later and I often see new comments up. And last week's thread has comments that were posted on the following day. That's very gratifying to see.
It Ain't Necessarily So
I don't think there's ever been a civilization that didn't have storytelling in one form or another. It seems that human beings are just wired that way and stories exert a powerful effect on the human psyche. There's something very compelling to us about hearing a good story.
And what's interesting is that the story doesn't have to be true in order for us to feel the effects of its power.
Like that Chipotle 'scarecrow' video ace linked to earlier this week. It doesn't argue a point, it tells a story. And watching those poor cows trembling in their prison boxes works, even though you know you're being shamelessly manipulated.
So with all that in mind, here's a story we've been telling ourselves for the last 15 years or so: the story of Matthew Shepard.
The story got started when Shepard was murdered in 1998, and the murderers, Aaron McKinney and Russell Henderson, argued at trial that their actions were due to "gay panic", because Shepard, who was homosexual, had come on to them. And then, according to Wikipedia:
McKinney and Henderson subsequently drove the car to a remote, rural area and proceeded to rob, pistol-whip, and torture Shepard, tying him to a fence and leaving him to die. According to their court testimony, McKinney and Henderson also discovered his address and intended to steal from his home. Still tied to the fence, Shepard, who was still alive but in a coma, was discovered 18 hours later by Aaron Kreifels, a cyclist who initially mistook Shepard for a scarecrow.
From this, it was widely reported that Shepard was targeted because of his sexual orientation, and this was a hate crime against homosexuals. It inspired books, music, movies, and legislation. The wikipedia section on this is too extensive to list here. And of course, The Matthew Shepard Foundation was formed by Matthew's parents in support of homosexual rights.
But what if all of this was wrong? What if it simply didn't happen this way?
There's a book coming out next week that claims precisely that. The Book of Matt by investigative journalist Stephen Jimenez argues that the Shepard murder, as brutal and horrific as it was, was not a sex crime, but rather a drug crime. The perps were not "strangers", but rather known by Shepard, himself a meth dealer, who even had meth-fueled sex with the lead perp. Said perp was on a five-day meth binge when he killed Shepard. Jimenez' book is based on over 100 interviews he conducted with Shepard's friends, friends of the killers, and the killers themselves.
I notice that the wiki entry on Matthew Shepard as yet contains none of this new information, but rather still reflects the original narrative. But it's still early.
The Matthew Shepard story is one we tend to think of as one primarily told by "the other side", and so it is. But we tell ourselves stories, too.
Like the story of Cassie Bernall.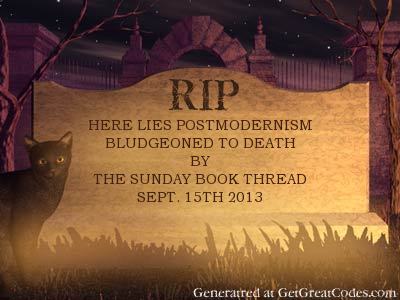 If Only

Admittedly, this is not a big, big, big story pushed hard by the matrix of mainstream culture and media outlets like the Matthew Shepard story was, and not even among all conservatives. Nevertheless, it is out there, and if you're part of the conservative Christian subculture, chances are you've heard it. The story goes like this: 17-year-old Cassie Bernall was a student at Columbine High School during the shootings. Some early reports of the Columbine shootings suggested that one of the murderers, Eric Harris, found her hiding under a table and asked her if she believed in God, and then shot her after she responded in the affirmative. Based on this, some Christians started to speak of her as a modern-day martyr, and this inspired several Christian musicians to write songs about it. And then Cassie's mother released a book She Said Yes: The Unlikely Martyrdom of Cassie Bernall, about her daughter's turbulent teenaged years, her conversion to Christ, and death.
The trouble is, there isn't any evidence that supports Bernall's 'martyrdom'. No witness heard the alleged exchange between Bernall and Harris, and at least one survivor who was right there has said that it simply didn't happen.
But, unlike the Shepard case, correctives to the Bernall story appeared relatively early, for example this 1999 article in Salon, a year after the shootings (Liberals are always real diligent about fact-checking their enemies. Their own side? Not so much).
Buy you can still buy Misty Bernall's book about her daughter on Amazon and in Christian bookstores.
In the case of either story, the corrected narratives in no way diminish the horror of the murders. But both illustrate the fact that that narratives die hard, and people prefer a well-told lie, particularly if it serves a 'higher' purpose. And I think we all recognize that we all, when confronted with a really bad situation, desperately want to extract something good from it, and this is where the truth of the situation becomes secondary.

Your Opportunity To Help A Moronette
Long-time moronette commenter Juliette 'baldilocks' Ochieng is writing her second novel. She says
My latest project is a novel entitled Arlen's Harem. Its main protagonists are Arlen Tortelli, Cordelia Okoto and Deanna Desmond. The three are friends and are refugees from heartbreak.

When Arlen's ex-wife Monica continues to pretend as if she is still his friend by inviting him to events, he, Cordelia and Deanna devise a plot to stop Monica from sending such invitations to her cuckolded ex-husband.
But while she's writing, bills must be paid and morons gotta eat. So, baldilocks has set up a gofundme page here where you can make a donation to this project.
Baldilock's first novel, Tale of the Tigers: Love is Not a Game, Arlen's Harem will be a self-published effort in both ebook and paperback formats.

Books For Morons
Moron commenter 'jakeman' has started his own publishing company, More Cowbell Books ("Because your business can always use a little More Cowbell"). Yes, this was inspired by our beloved AoSHQ, and it currently has two offerings about running a freelance business, The Science, Art and Voodoo of Freelance Pricing and Getting Paid and also Help! My Freelancers Are Driving Me Crazy, both by the jakeman himself, who has been pimping freelancing himself since 1999.
Jakeman adds
Please note, I'm donating 10% of my net profits to UnitedThroughReading.org, which gives deployed military parents the opportunity to be video-recorded reading storybooks to their children. It's a neat concept & well-regarded organization
-...-
I received, in e-mail, a recommendation of The Caves of Perigord by Martin Walker, described as "an interwoven tale of a pre-historic tribe, WW2 occupied France, and a current art historian. And an unusual beautiful piece of ancient wall art." At $15.45, the Kindle version ain't cheap. But the paperback edition is listed at $21.15, so WTF is up with that?
-...-
Mark Huffman tells me his antediluvian novel entitled, appropriately enough, Antediluvian, is now free for download through Monday. And you can't beat free.
-...-
So that's all for this week. As always, book thread tips, suggestions, rumors, threats, and insults may be sent to OregonMuse, Proprietor, AoSHQ Book Thread, at YOURPANTSaoshqbookthread, followed by the 'at' sign, and then 'G' mail, and then dot cee oh emm. But don't forget to remove YOURPANTS, otherwise I won't get your e-mail.
What have you all been reading this week? Hopefully something good, because, as I keep saying, life is too short to be reading lousy books.

posted by Open Blogger at
11:15 AM
|
Access Comments