« Let's All Chillax Open Thread
|
Main
|
Top Headline Comments 9-19-13 »
September 18, 2013
Overnight Open Thread (9-18-2013)
Because after 5 years of Obama it is 1989 income-wise.
A Census Bureau report released on Tuesday reveals that the typical American family now earns less than it did in 1989. In 1989, median household income was $51,681 (in current dollars). In 2012, median household income was $51,017.

Poverty levels in 2012 also climbed to 46.5 million Americans-15% of the country-from 46.2 million in 2011. As Washington Post economics writer Neil Irwin put it, "This isn't a lost decade for economic gains for Americans. It is a lost generation."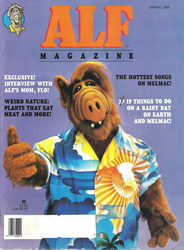 The 1% Are Again Getting Richer. Should the 99% Really Care?
Well I've never been bothered by this kind of inequality statistic since I've always figured that 1) the wealthy will always do well since they have access to better resources, info, tools, expertise etc. and 2) the pie isn't fixed - every extra dollar Trump makes does not make me poorer.
But the mere existence of inequality is an obsession of the Left and occupies a large part of their mind space. Hell their mental living room is mostly filled with constant concern over what the top 1% are up to - a population smaller than San Antonio who they'll likely never meet or interact with in any way.
But even an unabashed right-wing capitalist like myself has to pause for a second after seeing a chart like this: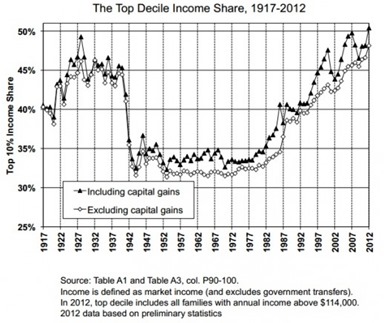 Looking at the upper right you can see that the top 10% of earners took in 50.4% of all income last year, the highest share recorded since 1917 when the government began collecting data. That's a pretty huge differential and no doubt it sticks in the craw of a lot of people. But on the other hand is it really that much of a problem?
Well James Pethokoukis makes a good argument that as a dramatic a ratio as this is it's ultimately due to market forces rather than say cronyism or corruption. Nor is it necessarily coming at the expense of the 99% or apparently limiting the economic mobility of those in the non-1%. So maybe not an issue after all.
And even if it were an issue,  all the proposed solutions to it by economists (top income tax rates > 75%, confiscatory inheritance taxes, etc.) would likely cause more harm to the average person than the income inequality itself.
Meet the Illegal Alien 'Dreamer' Poster Child
Her name is Alaa and she was born in Kuwait but grew up in Chicago and studied Architecture.
Turn-offs: the American government, white people, the American Flag, and Israel.
Turn-ons: Community organizing, Palestinian nationalism, brown people, and beautiful ocean sunsets.
She's here illegally and demands a drivers license and a green card. Oh and it's all Israel's fault.
Why do all of you rightwing nut-jobs hate hard-working immigrants like Alaa?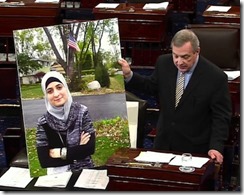 The TSA is Officially Allowed to Lie to You in Order to Cover Their Ass
Even if you file a FOIA request they can still flat out lie to you.
U.S. District Judge Joan A. Lenard granted the TSA the special privilege of not needing to go that route, rubber-stamping the decision of the TSA and the airport authority to write to me that no CCTV footage of the incident existed when, in fact, it did. This footage is non-classified and its existence is admitted by over a dozen visible camera domes and even signage that the area is being recorded. Beyond that, the TSA regularly releases checkpoint video when it doesn't show them doing something wrong (for example, here's CCTV of me beating their body scanners). But if it shows evidence of misconduct? Just go ahead and lie.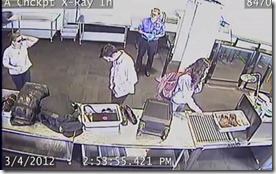 Cass Sunstein: How Human Psychology Is Holding Back Climate Change Action
The first obstacle is that people tend to evaluate risks by way of "the availability heuristic," which leads them to assess the probability of harm by asking whether a readily available example comes to mind. An act of terrorism, for example, is likely to be both available and salient, and hence makes people fear that another such event will occur (whether it is likely to or not). So, too, a recent crime or accident can activate attention and significantly inflate people's assessment of risk.

By contrast, climate change is difficult to associate with any particular tragedy or disaster.

...Second, people tend to be especially focused on risks or hazards that have an identifiable perpetrator, and for that reason produce outrage. Warmer temperatures are a product not of any particular human being or group, but the interaction between nature and countless decisions by countless people. There are no obvious devils or demons -- no individuals who intend to create the harms associated with climate change. For terrorism, a "we-they" narrative fits the facts; in the context of climate change, those who are the solution might well also be, or seem to be, the problem. In these circumstances, public outrage is much harder to fuel.

Third, human beings are far more attentive to immediate threats than to long-term ones.
Actually I'd say that this set of psychological 'obstacles' is a pretty good filter for separating bullshit imaginary threats from ones we need to actually worry about. So maybe 5th dimensional Quasi-Morphs are currently hunting humans and will eat us all in less than 25 years - but until we start seeing actual Quasi-Morph ecto-gnawed bodies it's not worth our time to worry about this particular threat.
The Last Men of the Revolution
We have no photographs of the Revolutionary war but some of the men who fought in it lived long enough to have daguerreotypes made.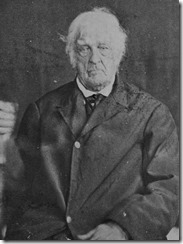 Research Suggests That More Intelligent People Drink More, And Begin Earlier In Life
So you have that going for you. Or not.
Kelsey Grammer Is Joining 'The Expendables 3'?
Grammer is near a deal to play the role of Bonaparte, an ex-mercenary who helps the Expendables in their mission. While Grammer was long identified for playing the mild-mannered shrink-turned-radio host Dr. Frasier Crane, he has transformed into a Hollywood tough guy. Most of that came from him playing a ferocious powerbroker in the recently canceled Starz series Boss.
Well it goes against his usual casting which means it could be a surprisingly awesome role for him.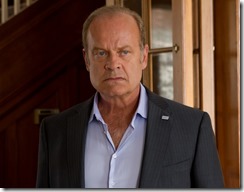 Teh Tweet!
Le AoSHQ groupe de Yahoo. Ooh la la!
Yahoo group. That is all.
Tonight's post brought to you by Day 53:
Notice: Posted by permission of AceCorp LLC. Please e-mail overnight open thread tips to maetenloch at gmail. Otherwise send tips to Ace.

posted by Maetenloch at
10:37 PM
|
Access Comments