« Gun Thread (9-15-2013)
|
Main
|
Football Thread »
September 15, 2013
Sunday Morning Book Thread 09-15-2013: The Banal Corrosiveness of Postmodern Thought [OregonMuse]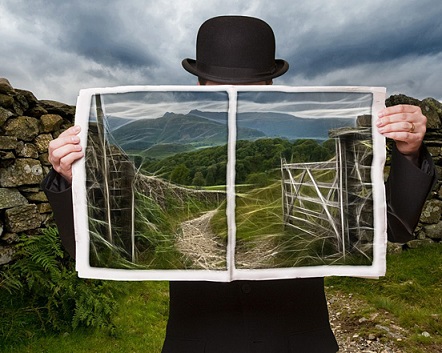 The Man Who Wasn't There

Good morning morons and moronettes and welcome to AoSHQ's solemn and prestigious Sunday Morning Book Thread. Where men are men, and the women are smokin' hot.

Take Your Totalizing Metanarrative And Shove It
Last week in the comments, Pave Low John proffered this craptacular sentence from a post-modern book he is requied to read:
"This three-part phallogocentric negation and sublation of history can be grasped easily. Yet even such a sublation, of history as timing through the mediation of law--the vanishing moment of sequential human temporality into a catachresis named Time, is not the final hortatory instrument of the text."
Yeesh. My spell-checker just had a nervous breakdown. Into this grotesquely viscous, near-inpenetrable morass of verbal diarrhea waded FenelonSpoke, after first donning a hazmat suit. She miraculously survived and brought back the following as a translation:
The way the penis (men) has/have kept women subjugated and silent by unjust laws is both very bad and very apparent, and this theme transcends history as it is portioned off into neat linear, sequential segments.
The question is, if that's what she meant, then why didn't say it that way to begin with? My theory is that postmodern obfuscation is a device used by incompetent authors to disguise their dreadful writing. My other theory is that the academic disciplines that have been ruined by postmodernism (i.e. the "soft" "sciences") have gotten all puffed up and full of themselves and think that they're somehow Serious You Guys Legitimate if they produce reams of text couched in indecipherable jargon just like, for example, those geeky guys over in the math building, what with all their fancy-ass equations with squiggly lines, Greek letters and stuff that look so awesome because we don't know what they're saying. So you shouldn't be able to read our stuff, either, but you can take our word for it, it's Totally Super Cool.
But see, here's the difference: the postmodernists got punk'd real bad bacl om 1996 by physicist Alan Sokal He submitted his essay Transgressing the Boundaries: Toward a Transformative Hermeneutics of Quantum Gravity to the peer-reviewed postmodernist journal Social Text, and they printed it. But hilarity ensued when Sokal admitted in another publication that it was a giant load of horse doots. As a hoax, he just strung together a bunch of gibberish using postmodernist lingo, and they bought it. But you couldn't do this to a math journal (although I suppose you could try). They'd fact-check your butt back to square one and send you packing if you pulled something like Sokal did. As difficult as it can be, mathematics does make sense. I'm not sure that post-modernism does.
You morons might enjoy reading Chip Morningstar's famous essay How To Deconstruct Almost Anything: My Postmodern Adventure, written in 1993 at the dawn of teh internets. The gist of this piece is that the reason pomo analysis sounds like crap is that most of it is crap and this is because pomo crap is generated by pomo crap academics who've never had to talk to anyone other than other pomo crap academics, so they've developed this inbred little pomo crap language that's all but unintelligible to anyone outside the pomo crap academic community. Actually, Morningstar's phrasing was a lot more congenial than mine, but you get the idea. And he does say sometimes the pomo academics ask a worthwhile question, or try to get you to look at something in a way you perhaps wouldn't have thought of yourself, so he doesn't write them off completely. Like I just did.
And every time you reload this page, you get a new, randomly-generated postmodern essay.
-...-
Here is a good, working definition of the postmodern perspective:
Postmodernism is a complex of concepts that asserts that all our constructs are just that, constructs; that there are no grand narratives or abiding truths; that all such grand narratives are illegitimate power moves; and that every perspective is necessarily a limited and local one.
One year of free AoSHQ Premium content goes to the first moron who spots the giant logical hole in this worldview.
Update: Ding! Ding! Ding! Baldilocks is our winner, coming in at comment #3. Please step up to the window and collect your winnings.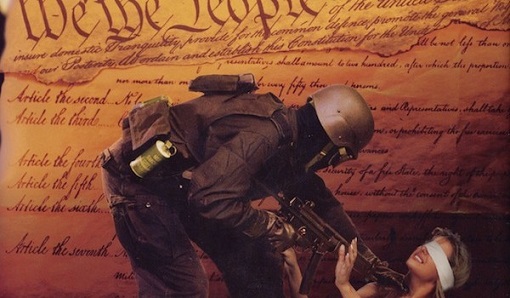 What I'm Reading This Week
My thoughts about Unintended Consequences by John Ross, recommended here a few weeks back, are kind of mixed. First, here is a good overview I found of the book's contents:
Unintended Consequences is a novel by author John Ross, first published in 1996 by Accurate Press. The lengthy (863 pages) story chronicles the history of the gun culture, gun rights and gun control in the United States from the early 1900s through the late 1990s. The story is heavily laced with accurate historical information, including real-life figures who play minor supporting roles. The novel also features unusually detailed and intricate facts, figures and explanations of many firearms-related topics.
So here is my impression: on the one hand, it strikes me as being somewhat amateurish, unpolished, possibly a first novel (I know nothing about the author). If I were to go negative on this, I could easily dismiss UC as a pile of aynrandian-style bombast mixed with hardcore gun porn. And by "hardcore", we're talking extended closeups of shiny, glistening bullets being promiscuously jammed again and again into tight barrels of a number of different calibers, and endless discussions about the construction and firing of various firearms and ammo, very little of which I can see as contributing to the actual story. Which my brother, a lifelong gun enthusiast, informs me I can skip completely and won't lose anything.
Having said all that, you might think I dislike the book, but I don't, in fact, I'm enjoying it very much. I'm only about a third of the way through, but I like the history lessons, which I find interesting and eye-opening, and in the early pages, I like how the book describes, through the lives of the characters, the America that used to be. Even the gun porn, which I just got through criticizing, is helpful in that it gives the reader a glimpse into our American gun culture, and I mean the real gun culture and not the caricatured one that the dominant liberal media and culture likes to hold up to ridicule and contempt. In fact, if an immigrant asked me how he could best understand America, I might be tempted to just have him read this book.
Which reminds me of a story: a friend of mine (more of a friend of a friend, actually) is involved with an scholastic exchange program, which means that at any given time, he'll have one or two foreign exchange students living at his house. And he doesn't just sit back in some neutral corner and let them do whatever, he will actively engage them on a number of fronts. First, he's a very committed evangelical Christian, so they get a lot of exposure to that, but also, he's a "gun nut" right out of Piers Morgan's sweaty, feverish nightmares. So he takes them out to the range to do a bit of shooting, and you know what, the students discover that shooting is a hell of a lot of fun. One particular student from Spain, after spending a day on the range, seeing all the different firearms and different people, and getting a thorough baptism into the gun culture, observed to my friend: "Now I understand why you Americans never lose wars."
UC is out of print and used copies are rare and expensive. But there are various pdf files and other electronic editions floating around teh interwebs for those interested enough to look.

Books For Morons
Long time HQ reader and occasional commenter "RS" recommends the author Jon Krakauer, whom he describes as
a fairly well-known author among outdoors enthusiasts. One would think his works would tend toward the dry, trail guide sort of work which is typical of books catering to those of us who spend a lot of our spare time in the weeds being uncomfortable for fun. Not so. His work is as gripping and interest keeping as the best fiction writers out there.
Into The Wild is probably his most famous book, having been made into a movie featuring Sean Penn. It's an investigation into the life and death of young Chris McCandless in the outback of Alaska. The movie was pretty good, but RS says the book is better.
Krakauer has written a number of books about mountain-climbing, such as Eiger Dreams, a collection of essays dealing with the mountaineering subculture, and Into Thin Air, a personal recollection of the horrific 1996 climbing season on Everest [Personally, it creeps me out that if you die while attempting to climb Everest, they just leave you where you fall. There's no point in retrieving your corpse for burial. Although if that part of the world gets hit with a bout of global warming and the bodies start to thaw, I imagine it's going to get mighty stinky up there].
And for something completely different from the this author, there's Under The Banner of Heaven, an examination of Mormonism using an horrific murder which occurred in Utah in the mid-80s as a springboard. RS says
Many of the characters will be familiar to readers as a number of the fundamentalists have since been convicted of child abuse. I should note, the book is not a hit-job. The historical research uses extensive Mormon sources, as well as interviews with numerous participants. It is at once, history, theological treatise, and murder mystery in one. For those interested in the Mormon contribution to American History it is a must read.
-...-
So that's all for this week. As always, book thread tips, suggestions, rumors, threats, and insults may be sent to OregonMuse, Proprietor, AoSHQ Book Thread, at YOURPANTSaoshqbookthread, followed by the 'at' sign, and then 'G' mail, and then dot cee oh emm. But don't forget to remove YOURPANTS, otherwise I won't get your e-mail.
What have you all been reading this week? Hopefully something good, because, as I keep saying, life is too short to be reading lousy books.


posted by Open Blogger at
11:15 AM
|
Access Comments