« The Democrats Have a Fever, and the Only Cure Is More Unilateral Wars of Choice Open Thread
|
Main
|
Ariel Castro Now Writing Childrens Book and Hanging From a Gallows In Hell But Mostly Hanging from a Gallows in Hell for All Eternity »
September 03, 2013
Overnight Open Thread (9-3-2013) - Waiting for USS CONSTITUTION Essay Edition
At work planning on what to do about Syria. "We have a map."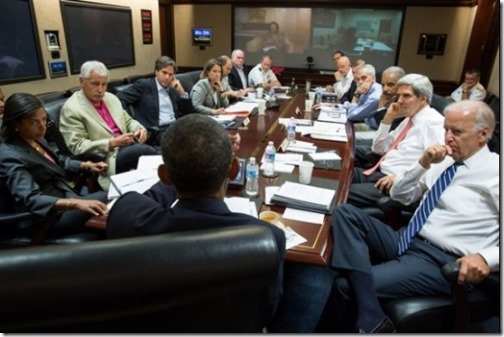 Now in the large I'm for the bombing of foreigners  - partly on principle and partly just personal satisfaction. Especially when they're actual bad people like the Assad regime. But sometimes there really is nothing at all in it for us and we'd all be better off if they brutally slug it out for a few years. 
But even if I were convinced that Syria-bombing was exactly what was needed, I would still never put it into the hands of this particular collection of clowns, blowhards, naïve radicals, preening narcissists, high-functioning retards, and generally clueless-but-arrogant space-wasters. Hell some of these people I'd be nervous even trusting to pick up my mail and feed my pets while I was on vacation.
"Democrats Suddenly Realize What They Miscalculated About the World: Everything."
In which Jim Geraghty drops a bomb load of truth on the Obama administrations pretensions of smartness and competence:
As we await Congress's decision on authorizing the use of U.S. military force in Syria, Democrats are suddenly realizing that their foreign-policy brain-trust completely misjudged the world.

Being nicer to countries like Russia will not make them nicer to you. The United Nations is not an effective tool for resolving crises. Some foreign leaders are beyond persuasion and diplomacy. There is no "international community" ready to work together to solve problems, and there probably never will be.

You can pin this on Hillary Clinton, John Kerry, Susan Rice, but most of all, the buck stops with the president. Those of us who scoffed a bit at a state senator ascending to the presidency within four years on a wave of media hype and adoration are not quite so shocked by this current mess. We never bought into this notion that getting greater cooperation from our allies, and less hostility from our enemies, was just a matter of giving this crew the wheel and letting them practice, as Hillary Clinton arrogantly declared it, "smart power." (These people can't even label a foreign-policy approach without reminding us of how highly they think of themselves.) They looked out at the world at the end of the Bush years, and didn't see tough decisions, unsolvable problems, unstable institutions, restless populations, technology enabling the impulse to destabilize existing institutions, evil men hungry for more power, and difficult trade-offs. No, our problems and challengers were just a matter of the previous hands running U.S. foreign policy not being smart enough.

Well, here we are, five years later.
Good Old Prickly Prickish John McCain
When he's not busy playing poker during the hearing on whether to attack Syria (he already knows his answer: YES!!!!), he's busy scolding everyone else for daring to criticize the most peacefulest religion ever.
On Tuesday, Sen. John McCain (R-AZ) suggested that Fox News host Brian Kilmeade was Islamaphobic because he said that Syrian opposition groups shouting "Allahu Akhbar! Allahu Akhbar!" as rockets hit government offices demonstrated Islamist influence among the opposition.

"I have a problem helping those people screaming that after a hit," Kilmeade said. McCain responded: "Would you have a problem with an American or Christians saying 'thank God? Thank God?'" He added, "That's what they're saying. Come on! Of course they're Muslims, but they're moderates and I guarantee you they are moderates." McCain provided no evidence to suggest that Syrian opposition groups are moderate, as opposed to the wide swath of evidence suggesting that the opposition is heavily infested with al Qaeda.
And if there's one thing McCain hates more than Arab strongmen and critics of Islam, it's false accusations of racism and libertarians.
Just Another NYT Celebrity Wedding Announcement
Of people I don't really care about - in this case the marriage of Udonis Haslem, captain of the Miami Heat, with his longtime girlfriend/baby momma, Faith Rein.
It's all pretty standard and fluffy, replete with the story of how they met as well as their career struggles and triumphs. Well right until you get to the last paragraph on the first page and then it veers right into SMOD-ish territory. I'll just give you a small hint:
"I am not a huge fan of abortion, but we both had sports careers..."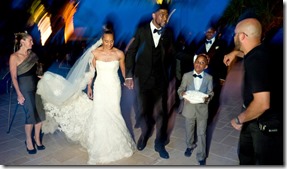 Carlos Danger Wildly Inappropriate, Kinda Sad
Oh Anthony - how did you ever get elected in the first place? Because you suck at politicking.
Carlos Danger, (AKA Anthony Weiner), committed the classic lame white guy blunder when he started talking 'like dee West Indian Block mon' at a rally this past weekend. The disgraced politician, who still believes he has a chance at winning the New York City Mayoral race, attended the The West Indian American Day Parade in Brooklyn on Labor Day. Everything was going fine until Weiner hit the stage. Instead of speaking in his normal telephone sex voice, he decided to affect a shitty Caribbean accent. It's the kind of "Irie, mon" speak that asshole American tourists might use on a Carnival cruise to Jamaica or at a Jimmy Buffet concert. The West indians in the crowd were not amused.
Rival Camping Groups Open Fire at California Campground
Just another case of alcohol, partying, and the availability of guns leading to near tragedy.
An apparent booze-fueled dispute over loud music between two groups at a Chino campground over the weekend escalated to the point where men from both sides drew guns and opened fire.

No one was hurt, but the two alleged gunmen have plenty to explain.
Perhaps this is one case where CA's new proposed draconian gun controls laws could have prevented an outbreak of gun violence. Well possibly except for this little twist:
It turns out that the rival gun-toting campers were both Los Angeles County sheriff's deputies.

Authorities suspect the off-duty cops learned they were colleagues only after their campground showdown.

Chino police officers were called to Prado Regional Park early Sunday morning. They arrested the deputies - Dejay Barber, 44, and Matthew Rincon, 24 - on suspicion of negligent discharge of a firearm.

Chino police Lt. Wes Simmons, when asked if he'd ever come across a similar scene, couldn't stifle a chuckle: "That's not fair for you to ask me that," he said, before acknowledging that he hadn't.

Sheriff's spokesman Steve Whitmore said both deputies have been relieved of duty with pay. He said the men brandished their guns in a "threatening manner."

They did not fire at each other, he said, but into the air.
So nope I guess not.
Meet the Insta-Gym For Your Abs
Now before you ladies start crying foul also consider these other widely accepted lie-based form-altering accessories: corsets, girdles, miracle bras, and spanx
From the deep, dark recesses of Amazon (where all the best products lie in wait), I came across this "Silicone Muscle Man Body Suit Transformation" for the bargain price of 24,000 Yen (that's about $250). According to the Amazon description, you should buy this self-adhesive breast plate "because it is made of silicon, muscle Muscles of lifelike, I transform myself into a body builder. Because it is a self-adhesive, wear paste directly to the skin . Paste by turning it back a long part of the image, so paste behind your back also part of the long side, you can just wear. Size so you can adjust freely, it is both men and women can wear. Be turned into a body builder, professional wrestler, muscle man, warrior, etc."
Now if it had some Kevlar, we'd really be talking.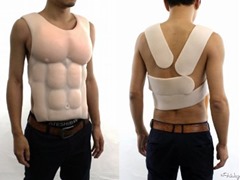 The AoSHQ group. Yeah.
Teh Tweet!
Tonight's post brought to you by the final showdown: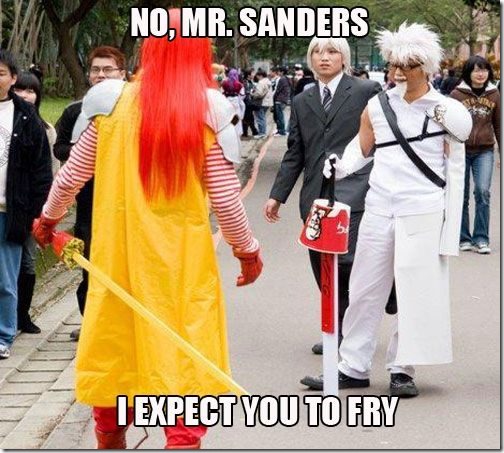 Notice: Posted by permission of AceCorp LLC. Please e-mail overnight open thread tips to maetenloch at gmail. Otherwise send tips to Ace.

posted by Maetenloch at
10:14 PM
|
Access Comments