« Kerry, Hagel Make the Case for an Unprovoked War of Choice, Apparently Beaming Their Testimony In From BizarroWorld
|
Main
|
The Democrats Have a Fever, and the Only Cure Is More Unilateral Wars of Choice Open Thread »
September 03, 2013
Top Twenty Wisecracks About John Kerry's and Chuck Hagel's Catastrophic Senate Testimony
20. John Kerry looks like Frankenstein had sex with George Hamilton and then someone botched his plastic surgery and left a Boot in his chin
19. Incidentally, Kerry speaks French like Kerry earned all three purple hearts. He rode both of those myths for 40 years.
One of Kerry's Purple Hearts was awarded for, and I am quoting his military records, "A Case of the Mondays"
18. So a horse walked up to John Kerry and asked "Why the Botox face?"
17. Kerry's face looks like the footballs they used to use when they were too ckufing stupid to wear helmets
16. Shorter Chuck Hagel: This is the first war in ten years that the Jews didn't trick us into war so Let's Do This
15. Shorter John Kerry: Obama does not support a total remodel of Syria, but he does want to give the place some color with Accent Bombings
14. Kerry: Obama wants only a limited war, unless this mission which is designed to fail to achieve any purpose fails to achieve any purpose
13. Kerry: Obama will not puts boots on the ground, unless this mission fails, which it is expressly designed to do, and what are the odds of that?
12. Martin Bashir has the first erection he's had since he checked out Michael Jackon's Rumpus Room
11. Shorter Kerry: Can you imagine the horror of Assad being left in power which is exactly what our plan is?
10. Ambassador Rice just put out the word that Kerry's and Hagel's testimony was caused by a YouTube video
9. John Kerry: I dream of one day having a Middle East as stable and imperturbable as my forehead
8. If you took the best parts of Kerry and Hagel, you'd have one modestly intelligent man whose face didn't look like an Ogre's plunder sack
7. John McCain asked to revise and extend the footjob he was giving John Kerry
6. John Kerry: Obama knows how to distinguish Al Qaeda jihadis from "moderate democrats" just like he did in Benghazi when he hired terrorists as security guards
5. I could just sit here quoting Democrats' words to them all day but as they plainly never believed a syllable of them, what's the point?
4. Alice just emailed me to say she's going back to Wonderland because "this shit is wack"
3. Obama's getting his War Card punched like he's already got that free sandwich picked out
2. Obama's plan is just to bomb random countries until the Nobel Prize Committee gets him a green Masters jacket
...and the number one wisecrack about Kerry and Hagel's testimony...
1. Evolution of US Foreign Policy, 1946-present
1946-2000: Realism
2001-2008: Neconservative idealism
2009-2012: Neointernationalism
2013: "YOLO" Doctrine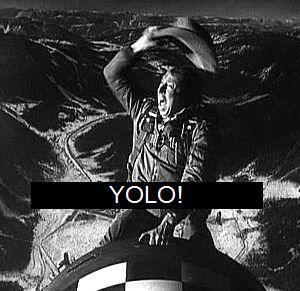 "YOLO" Strangelove picture courtesy of @comradearthur.
Bonus Entry: John Kerry just announced the inspirational rallying cry for this war. Henceforth, the Syrian Maintenance Bombings will be called OPERATION DEGRADE THE CAPACITY
Bonus: Shorter Barack Obama: "Our cause, whatever it is, is just"
Dr Spank disagrees that it will be called OPERATION DEGRADE THE CAPACITY. Not enough "punch." Not enough Bird Imagery.
He says the mission will be called OPERATION RUFFLED FEATHERS.

posted by Ace at
05:14 PM
|
Access Comments