« Cool Facts About T-Bone Open Thread
|
Main
|
Top Headline Comments (8-30-13) »
August 29, 2013
Overnight Open Thread (8-29-2013) - Pre-Pre-Labor Day Weekend Edition
Apparently feminist types have been trying to sneak a new social rule in through the backdoor (heh heh heh 'backdoor') that any sex with a drunk girl is still de facto rape - even if she was conscious and willing. And now even daring to question this pronouncement from on high is AN OUTRAGE!!!! as Dr. Phil discovered to his dismay.
On his podcast, Adam Carolla asked female comedian Nikki Glaser what she thought of the new "law" that "drunk sex is rape." Blindsided, she chirped back, "I've only ever been raped! I just realized that." ("I've raped myself," Carolla put in.)
Haters aren't just gonna hate, they have to hate according to new research published in the Journal of Personality and Social Psychology. ...If you've ever read a comment chain on YouTube, then you already knew this to be true, but now it is confirmed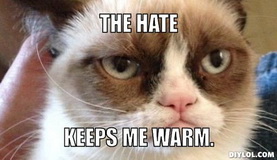 Why It's Time We let The Pandas Die Out
They're cute and all but also pretty much the underachieving non-hacking losers of the large mammal world. Rhinos would also be a contender except that they can and do kill people regularly so they have that going for them.
And pandas don't even seem to want to survive. In the wild, they're prone to inbreeding. In captivity, zoos are forced to use Viagra and animal-porn to encourage them to mate, or resort to artificial insemination. They're slow and lazy, and use their predatory teeth for nothing but eating bamboo-a plant that's also disappearing. "Look, Darwinism isn't for crybabies. And conservation requires making tough choices,' writes Lavin. "Pandas had a pretty good run for 3 million years. All that money is better spent on preserving diverse habitats rather than on a single hopeless species."
NJ Court: Texting Someone Driving Could Make You Liable For a Crash
"A New Jersey Appeals Court has ruled that both sides of a texting conversation which resulted in a car accident could be held liable. The ruling came as part of a case in which the driver of a truck received a text message shortly before striking a motorcycle carrying two passengers. The court ruled that while in this case, the person sending the text wasn't liable, they could be if the circumstances were a little different. '...a person sending text messages has a duty not to text someone who is driving if the texter knows, or has special reason to know, the recipient will view the text while driving.'"
I don't see how this could be enforced since it's virtually impossible to know ahead of time that someone will in fact view your text while driving. Plus you're still allowed to call people when they're driving without incurring liability. And don't drivers have the primary responsibility to not do unsafe things or are we now all legally considered child-like compulsive chat-bots who can't handle shiny things?
A Form Letter For Defecting Conservatives
My statement will include an apology to my [choose one: gay, female] friends for the hurt I have caused by my slavish adherence to the conservative line which, my statement will say, is actually not true conservatism because true conservatism is all about freedom, and respects [choose one: the freedom of people to live as they choose and have their partnerships treated by the state with equal dignity, the freedom of women to decide what happens in and to their own bodies].

My statement will say that the recognition of [choose one: gay marriage, a woman's right to choose] makes America more fully and truly itself.
Big Sandy Machine Guns and Slate
In which a writer for the amateur webzine attends Arizona's Big Sandy machine gun shoot and finds it...awesome.
Ulicki believes the gun control debate is dishonest and wrongly maligns gun owners. He doesn't like California Sen. Dianne Feinstein or New York City Mayor Michael Bloomberg, and he doesn't appear to have much use for me or my pesky questions. Journalists can often be "evil-hearted" and do "hit pieces," he tells me before he walks off.

Half an hour or so later, he's sitting near his shooting station, joking with Ed Hope about liberal reporters. He's in a conciliatory mood, and so am I, and we give each other a hug.

Then he suggests I shoot an M16A1 fully automatic military assault rifle.
Why Machine Guns and Marijuana Are More Alike Than You Think
What's It Like to be Hypnotized?
Why Are There Giant Concrete Arrows Across America?
To guide the UN stealth copters of course. (thanks to Andy)
5 Movies That Messed You Up As A Child
The Man Who Loved Not Wisely But At Least Twice
Many, many years ago I founded and ran my second magazine in San Francisco. In time, I sold my share out to my partner and, flush with cash for the first time in my life, decided to move to New England with my then live-in love whom I shall always think of as "The Socialite." The Socialite's family was one of the 500 and, although fallen on hard times, they retained their position within high Eastern society because of their illustrious name. Their family seat was in Newport, Rhode Island, and The Socialite would, years later, live there with her husband and their daughters. I think about her from time to time and saw her once five years ago. She'd turned into her mother -- slim, patrician, and slightly nuts.

But this is not about her, or those white nights, or even the oh-so-social summers at Bailey's Beach. This is about Carl, the most unwise lover I ever met. I'm telling you about him because by doing so it makes me feel less stupid about love and that's a feeling that's far too rare for me these days.
Yahoo group. That is all.
The group thingy. And the middle class.
And my Twitter spew.
Tonight's post brought to you by hot tubbin' McQueen-style: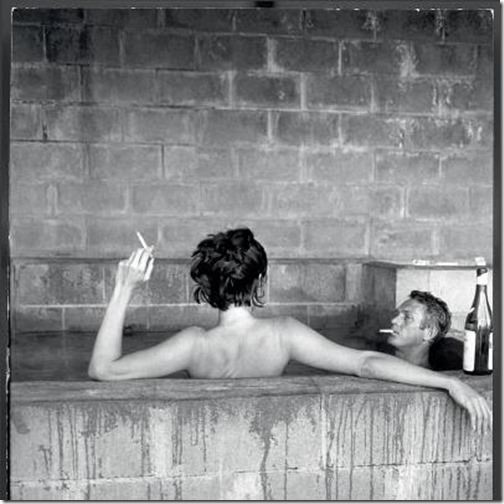 Notice: Posted by permission of AceCorp LLC. Please e-mail overnight open thread tips plus $1 for S&H to maetenloch at gmail. Otherwise send your scraps to BizarroAce.

posted by Maetenloch at
10:28 PM
|
Access Comments