« 20 Years Ago Today, Ryan vs. Ventura
|
Main
|
Spaced-Out Challenge: Guide to the 2013 Perseid Meteor Shower »
August 04, 2013
Steak: A Primer [CBD]
It's made from cows. Not salmon, or pigs or lambs or turkeys or broccoli. And ideally it is made from fattened cows with beautiful intramuscular fat that speckles the meat (more about marbling later), like delicate snowflakes on a red velvet portrait of your favorite butcher. Perhaps I am being doctrinaire, but think about "going out for a steak." What comes to mind?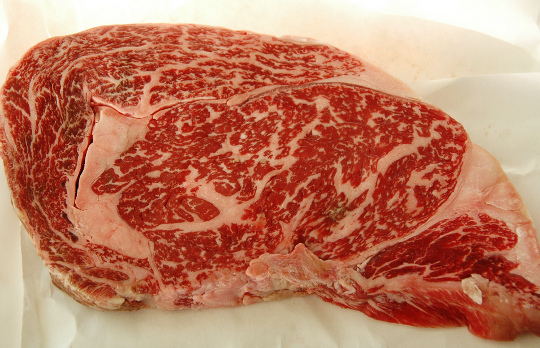 And not just any chunk of the cow. There are plenty of delightful-tasting bits that one can cut out of a steer, but steak is more carefully defined than "able to be grilled in one piece in a short amount of time." In fact, the structure of cows and how they are cut up is a fairly complicated topic, and one that is studied carefully by academics. Take a look at this link if you don't think it's a serious topic.
My personal favorite is the New York strip steak, which is simply a T-bone without the bone and that silly little piece of tenderloin that always gets overcooked and is a waste of time anyway. But the simple rib steak is a contender, especially if you can find one with a large piece of the deckle along the outer edge. The ones with the deckle can be identified by the shorter and wider rib bone (The boneless one in the above photo is a great example). And the classic steakhouse cut is the Porterhouse, which is the T-bone with a larger chunk of the tenderloin. There are a few other cuts that I would classify as "steak," with skirt steak, hanger (Don't buy it butterflied…it's a crime against meat) and sirloin being the top and bottom of that list. And just so you know how to trim hanger steak with the best of 'em (However, don't butterfly the damned thing. It is fantastic when left thick):
The problem is that fat is flavor, and to get a cow nice and fat takes money…lots and lots of money (and good genes). Transportation to a feed lot isn't cheap, and feed lots are now competing with ethanol producers for corn. Although Obama has suspended the laws of economics for many things, so perhaps the huge rise in beef prices is just an illusion.
Oh, to make it even more difficult, there is no guarantee that even after spending some time on a feed lot that a particular cow is going to be fattened perfectly. In fact, most of them just put on a bunch of weight in the form of layers of fat around their muscles. Only a few percent fatten up perfectly, so that the fat is evenly distributed throughout the muscle (marbling), in small flecks that melt quickly on the grill and keep the steak nice and juicy. They call that "prime," but not all prime is the same, as the buyers for the great steakhouses will attest. They pay a large premium for the very best prime beef, which poor schmucks like us only get very occasionally when a beautiful sub-primal shows up at the local butcher or market.
But they don't stop with the very best beef. They then take those gorgeous, beautifully marbled, extremely rare sub-primals and age them for a very long time. The time the beef spends in the aging locker allows some enzymes in the beef and the microbes that will soon go to town on the surface to tenderize the meat and to add a certain funkiness. It also concentrates the flavors somewhat by dehydrating the meat. So they are left with less beef than they started with, and guess who pays the difference?
To be fair, most of the top-end steakhouses do an excellent job of selecting, aging and cooking their steaks. The shocking price of their steaks is at least in part understandable in light of the cost of an aged steak at a good butcher. They are getting $25/lb., so that $95 for a 30 ounce porterhouse at a fancy steakhouse isn't out of line with the food costs of other dishes at comparable restaurants.
It's almost impossible to duplicate the cooking methods found at these places -- the temperatures in a commercial grill easily exceed 1000° -- but a good charcoal or gas grill will produce excellent results. The most important thing is to take the steak off the grill before it reaches your desired internal temperature, because it will continue to increase for a few minutes. I have found that the internal temperature can increase by five degrees in a thick steak. Oh, that assumes that you are going to let it rest before you eat it. If not, don't bother with prime, or prime aged. Or steak. And since you asked, here's some more advice. Take the steaks out of the refrigerator about one hour before cooking, and salt liberally (both sides) with a coarse-grained salt. And buy them thick. Thin is great for chicken-fried steak, but for grilled steaks, go for at least 1.5."
Ah, but what if you want a nice steak and it's February, with a Nor'easter roaring outside and 12" of snow on your trusty Weber grill? I would say, "Suck it up panty-waist and get your ass outside." But if you want to turn in your man card and still eat steak, then use a heavy cast-iron pan and cook your steak "Pittsburgh," which is simply a steak cooked on hot iron. The origin of the term seems to be in the steel mills, where the workers had access to lots of hot iron, and would cook their lunch by slapping it on the nearest hot chunk. This technique also makes it easier to use the typical steakhouse cheat, which is to toss some butter on the steak and add even more fat (and flavor) to the meat. In fact, there are some who think that the top steakhouses use butter and some fat trimmed from the aged primal to maximize that funky, minerally flavor that aged beef aficionados are always searching for.
[Addendum} Commenter Lauren mentioned a great technique for pan-searing steak

posted by Open Blogger at
06:00 PM
|
Access Comments