« Sorcress grips my smaller than average Rod of Justice tightly (gaming thread)
|
Main
|
Steak: A Primer [CBD] »
August 04, 2013
20 Years Ago Today, Ryan vs. Ventura
At the Ballpark in Arlington, there's a statue of Nolan Ryan at the outfield entrance. He's got his hat in his hand, and is standing there like he's appreciating the crowd cheering him after his 7th no hitter.
I always thought this would have been a better statue.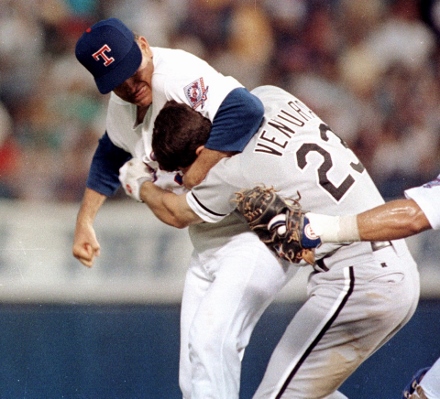 Hold still sweetie, I'm makin history here
Kinda felt bad for Ventura after this, by most accounts he's a pretty decent guy. Still this was epic.
Also, anybody who took on Bo Jackson in this mess wasn't thinkin so good. What a horse he was.
20 years ago today. No cryin in baseball.
via Shawn on FB

posted by Dave In Texas at
04:09 PM
|
Access Comments