« Gun Thread (6-9-2013)
|
Main
|
Obama gives Chinese president Xi fabulous gift on departure »
June 09, 2013
Sunday Morning Book Thread 06-09-2013: WTF Edition [OregonMuse]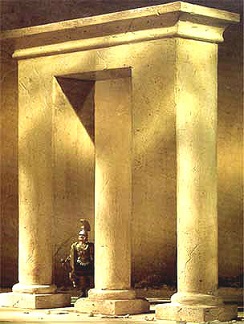 Good morning morons and moronettes and welcome to the the award-winning AoSHQ's Sunday Morning Book Thread.

Leftovers
This was a comment from Vic in last week's thread I wanted to address:
Just Downloaded Dominatus from Amazon. Once again had to go around my elbow to get to my ass. Amazon just does not appear to want to download to an android. Had to download to "cloud" which took forever to load. The move from cloud to Kindle, then copy from Kindle to Android.

This is some major suck.
I don't understand why you have to do this. I was able to register my Nexus with my Amazon account, so when I buy a Kindle book, it gives the option over on the right side of the page to deliver to "OregonMuse's Android Tablet." Which I do. Easy-peasy, lemon squeezy.
However, if this is just not working for you, another thing you can try is giving the book to yourself as a gift, perhaps from another Amazon account. I have done this myself from Mrs. Muse's Amazon account, and it works great.

Two Blegs
Bleg #1: Would somebody please tell me what happened to Andy Weir's book, The Martian? All you morons were raving about it, and when I went to buy it for myself, it seems to have disappeared from Amazon, except for an audio book version.
Bleg #2: And speaking of science fiction books written by smartass morons, I remember reading one when I was a teen that I cannot remember the title or author, but maybe someone else does. Unfortunately, I don't have a lot of clues, but what I remember is that it was not a recent book, it was written perhaps in the 40s or maybe earlier, back when author didn't have their characters cuss, but rather just told you that they did. Anyway, everybody's on an exploration rocket ship heading for the planet Venus, and when they get there, it's all lush jungle vegetation (yeah, right), and, of course, perfectly breathable air. But one of the things they ran into was that the vegetation oozed some kind of sticky sap that bonded like super glue and caused a bunch of problems and the main character found himself glued to a tree until they came up with an acetone(?) compound that dissolved the sap. I also remember one of the crewmen falling off of a tall tree with the branches slapping him as he fell all the way to the ground, and the author said something like "he fell at the rate of several vulgar adjectives per foot". I suppose it's not all that humorous now, but I thought it was howlingly funny when I was 11. The entire book was written in a smartass style that they used to call "cracking wise" and which makes me think that the author would make a pretty good Moron if he were around today. I know this isn't much to go on, but if this rings a bell with anyone, please let me know. Thanks.
Update: Thanks to Mr. Matamoros and kent18 for identifying this as "Men, Martians & Machines" by Eric Frank Russell, written in 1955. And right smartly, too. My bleg didn't even last 15 comments.
Why I Love This Blog (Reason #4,362)
Because bad-ass action thriller author Robert Ferrigno showed up in last week's thread. Which only goes to show that you never know who's out there reading this blog. For those of you who missed it, this is what he had to say:
My comic eco-terrorism thriller, The Girl Who Cried Wolf, is on all eBook platforms. Knucklehead Greens and tough women. Read the prologue at my website, robertferrigno.com.and see for yourself. I wrote the Assassin trilogy a few years ago and I believe every word I write. I start the day with a hot cup of Moron Horde with a shot of Value Right; makes the rest of the day go down easier.
Robert Ferrigno
Uh, Bob, the correct spelling is "Valu-Rite", but we'll let that minor faux pas slide. He didn't ask me to pimp his new book, but I will, anyway. The Girl Who Cried Wolf is available on Kindle for 99 cents. I picked it earlier this week, and let me tell you it's a real page-turner. Very fun. Very recommended.
And as Mr. Ferrigno mentioned, he is also the author of the 'Assassin' trilogy, available here:
Prayers for the Assassin
Sins of the Assassin
Heart of the Assassin
Here is the general milieu of this series, as described in the first novel's blurb:
SEATTLE, 2040. The Space Needle lies crumpled. Veiled women hurry through the busy streets. Alcohol is outlawed, replaced by Jihad Cola, and mosques dot the skyline. New York and Washington, D.C., are nuclear wastelands. Phoenix is abandoned, Chicago the site of a civil war battle. At the edges of the empire, Islamic and Christian forces fight for control of a very different United States...
After simultaneous suitcase-nuke attacks destroy New York, Washington, D.C., and Mecca -- attacks blamed on Israel -- a civil war breaks out. An uneasy truce leaves the nation divided between an Islamic republic with its capital in Seattle, and the Christian Bible Belt in the old South. In this frightening future there are still Super Bowls and Academy Awards, but calls to Muslim prayer echo in the streets and terror is everywhere. Freedom is controlled by the state, paranoia rules, and rebels plot to regain free will...
___________
And speaking of political thrillers, that 'Ulstermann' guy, who's been dishing out inside dirt on the Obama administration, has written a novel, Dominatus, available on Kindle for cheap.
The United States is no more…and hidden away within the isolated wilderness of Alaska's interior resides the tiny community of Dominatus. There lives a small but diverse group of people seeking out simple lives of personal liberty and freedom, but who now face termination under the oppressive and deadly regime of the New United Nations. They will fight and if need be, die for an America that once was. An America before being swallowed up by the monster of tyrannical global governance. An America before the mandates. An America before the government drone killings. An America before Obama…
Hat tip to jerry's kid in last week's thread for letting me know about this.

Another Moron Author Heard From
I mentioned this a couple of weeks ago, so this is a bit of a repeat, but longtime lurker and occasional commenter 'artemis' has written a couple of novels, the first of which, Tainted Angel, is now out in print (Amazon and B&N) and is also available on Nook and Kindle. She tells me
The moronettes in particular may be interested; it's a Regency version of Mr. & Mrs. Smith.

The heroine is an agent for the Crown but her spymaster suspects she is "tainted"--a double agent working for Napoleon. Her love interest has his own dark secrets--unless his affection is feigned and he is actually setting a trap to reveal her own treason. The story offers up a compelling game of cat and mouse where no one is who they seem and the fate of the world hangs in the balance.

___________
So that's all for this week. As always, book thread tips, suggestions, rumors, and insults may be sent to OregonMuse, Proprietor, AoSHQ Book Thread, at aoshqbookthread, followed by the 'at' sign, and then gmail.com.
So what have you all been reading this week? Hopefully something good, because, as we all know, life is too short to read lousy books.


posted by Open Blogger at
11:27 AM
|
Access Comments