« Sunday Morning Open Thread
|
Main
|
Sunday Morning Book Thread 06-09-2013: WTF Edition [OregonMuse] »
June 09, 2013
Gun Thread (6-9-2013)
How's The Ammo Situation?
I was at a local gun shop last weekend, and it looked like the shelves were pretty well stocked with most calibers, but limitations on the number of boxes that can be purchased at a time were still in place and prices were still high.
It seems like there's a little more supply available at the websites I shop for both loaded ammo and handloading components, too.
What are you seeing in your area?

Where Do You Shoot?
Something I never really thought much about growing up was having a place to go shoot. We always had a bunch of farmland, so a range was basically anywhere you could pop up a target where there was a good backstop. Plus, my dad was a deputy sheriff, and in small-town Georgia in the 80s, the Sheriff's department didn't think twice about deputies' kids shooting on the range unaccompanied.
I'd imagine that's changed by now with both liability and public relations concerns taking precedence (and as a side note, we had hunting guns hanging in gun racks of cars parked in the high school parking lot then too. Bet that doesn't fly now either).
But living 1,200 or so miles from the family farm, as the crow flies, isn't really conducive to a convenient trip to the range. So I just joined a gun club here in MA to have somewhere to shoot on a more consistent basis. And I did it just in the nick of time, too, since the increase in demand for all-things-gun includes club memberships around here, and there are only 10 slots out of 250 left in the one I'm now a member of.
So, no poll question on this one, but in the comments maybe throw out a mention of where you usually shoot.

Gun Of The Week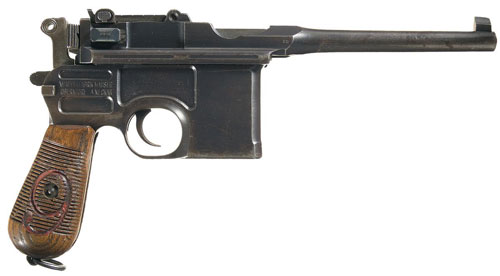 (answer below)

Marksmanship Award

Gun Of The Week - Answer
That's the Mauser C96 "Broomhandle". A guy at the range yesterday had one that was made in 1913 but looked like it had just left the factory. An absolutely beautiful piece of machinery.

Slideshow Tour of PTR Industries
In going through my list o' links that still needed posting due to last week's absence (thanks for covering, Dave), I found this gem .
PTR makes clones of the HK91 and was the first gun manufacturer in Connecticut to announce its intention to leave the state after their reactionary, ill-conceived gun laws passed in the wake of Newtown.

Tips
If there are topics you're interested in seeing in the gun thread, please send them to AoSHQGunThread at gmail. You can also send them to me on Twitter at @AndyM1911.
Defend the Second Amendment. Join: The National Rifle Association * Gun Owners of America * The National Shooting Sports Foundation * Your state's second amendment org.
Celebrate America's firearms heritage: participate in Project Appleseed.

posted by Andy at
10:10 AM
|
Access Comments