« Iran Elects A Moderate President (Whatever That Means) And Why That Makes It More Likely Iran Will Get Nukes
|
Main
|
The Inherent Superiority of New Jersey Barbecue [CBD] »
June 15, 2013
The Poster Project *BUMPED*
One day of bidding left. For the veteran's service organization GallantFew.
Veterans of Easy Company of the 506th Parachute Infantry Regiment, actors who portrayed them in the HBO series "Band of Brothers" along with Tom Hanks and Steven Spielberg all signed this poster which will be auctioned off on eBay starting June 6th. The proceeds will be donated to GallantFew, a veteran's service organization that offers mentoring services and coaching to veterans who have left the service and are starting their civilian careers.
One of our AoS moron ladies Stacia asked me if I'd help get the word out (which I am very happy to do), and tells me the project was initiated by actor (and former Marine) Michael Broderick.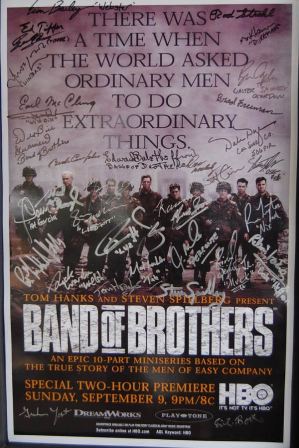 June 6 is the 69th anniversary of D-Day (which you knew, just wanted to mention).
UPDATE: Michael Broderick (who is now a close, personal friend of mine) asked me to include this link to the Poster Project web page.

posted by Dave In Texas at
04:22 PM
|
Access Comments