« The Poster Project *BUMPED*
|
Main
|
NSA Listening To Domestic Phone Calls Without Warrants? »
June 15, 2013
The Inherent Superiority of New Jersey Barbecue [CBD]
Barbecue is a big deal in this country. And nothing suggests good barbecue like a beautiful rack of New Jersey pork ribs.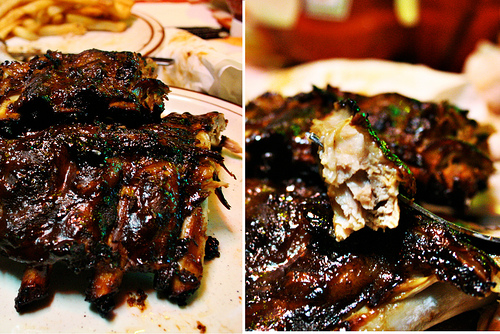 But....other parts of the country have their own specialties. Kansas City, St. Louis, Memphis, Texas, West Coast or Carolina (Eastern and Western!), and a host of other, smaller regional styles that are too numerous to mention (Although one in particular comes to mind....Western Kentucky barbecued mutton).
The big difference obviously is the kind of meat being barbecued. Pork ribs (St. Louis racks or baby-backs, but more about that later), pork shoulder, pork butt, beef ribs, beef clod, beef brisket, chickens, lamb, shrimp, fish, oysters....you name it, and someone is barbecuing it.
Let's face it though, the heavy hitters are pork and beef. All that other stuff is fun, and it certainly tastes good, but real men barbecue pigs or cattle.
What? Of course not! Women don't barbecue. Women bring their men cold beer or gin & tonics and look good in their waitress outfits while the men are doing God's work at the pit or smoker or grill.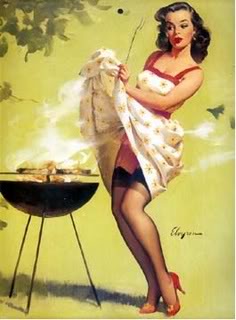 Although....at the risk of being pedantic, grilling and barbecuing are different techniques; Grilling is cooking over direct heat, usually quickly, and barbecuing is cooking with indirect heat, very slowly, with the addition of smoke and dry rubs and liquids to flavor the meat.
The complexity of barbecuing comes from the infinite variety of combinations of smoke (what wood and how much) and temperature. Then there are the various techniques to prepare the meat: dry-rubbing, wet-rubbing, mopping etc. All of these are driven by regional preferences that can vary by town or even street (yes Texas; I'm looking at you).
And don't forget one of the biggest bones of contention: with sauce (and what kind) or dry? Personally, I like my barbecue without sauce -- it allows the skill of the cook to shine through and doesn't mask the subtleties with an often overly sweet or spicy sauce. Of course the thinner sauces, like the Eastern North Carolina vinegar-based ones are delicate, and allow the meat to dominate. I won't discuss Western North Carolina, because their sauces are clearly inferior and don't do the meat justice. And that's too bad, because smoked pork butt is a marvel when it is done correctly, and they do know what they are doing with butt in the Western reaches of NC.
But there are good thick sauces, and the aficionado won't limit himself to dry barbecue. Even the thick sweet sauces of Kansas City can be fun, and they are certainly popular. Most commercial sauces are based on the general recipe from Kansas City: tomatoes (and, often, ketchup), molasses, brown sugar and spices.
And let us not forget South Carolina, or at least the parts that use a mustard-based sauce. I would put SC sauces in the top three, along with Eastern North Carolina, and what I think of as a Flints sauce, which is the sauce I became accustomed to in Northern California, at a place called Flint's Barbecue (it turned to crap and has closed), in Oakland. It's a thinner, very smoky sauce with some bite from spice, vinegar and garlic, and just a touch of tomato. It's an underdog, but it is a good midpoint between the vinegar sauces and the sweet sauces.
All of this is merely a preamble to a discussion about Beef vs. Pork. Most of the country prefers pork (a tip of my hat to those hearty souls in Kentucky who use mutton), but as usual, Texas marches to the beat of different hoofs, and sticks to beef. Personally, I like them both, but I recognize the superiority of pork for most amateur barbecuers. Making a beef brisket is a lot of work, requires a significant investment in time and money (brisket isn't cheap), and there is no guarantee that it will be worth eating after 16 hours in the smoker. Sometimes it just doesn't work out! There are other beef cuts that are perfect for the smoker -- beef ribs and beef shoulder (clod) come to mind. But once again, they are simply more difficult than the equivalent pork cuts, which are readily accessible, inexpensive, and easy to barbecue with a minimum of effort and skill. Be careful with baby-back pork ribs however. They come from farther up on the pig...farther from the holy grail....the belly, so they aren't as fatty, and they are certainly smaller. They don't lend themselves to the long slow cooking that is the hallmark of barbecue. Plus, they tend to be much more expensive than the regular pork ribs available everywhere.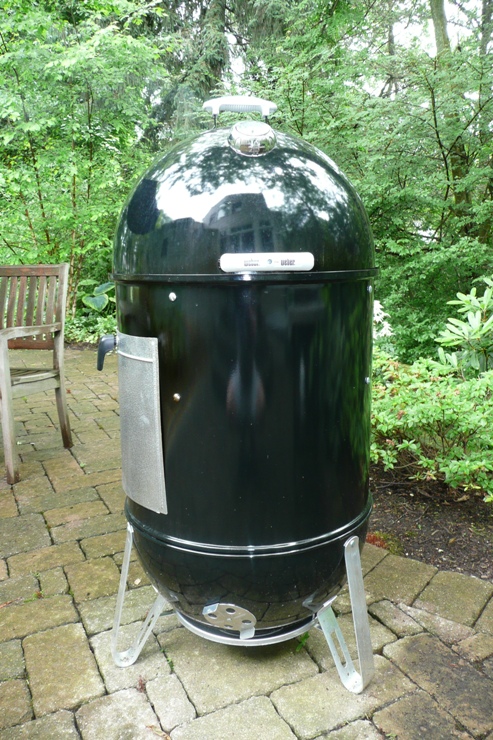 So fire up your backyard smoker, or in a pinch just use slow, indirect heat on your grill, with the addition of some hardwood chips or chunks for the smoke. You probably won't be able to reach the gold standard of barbecuing: Northern New Jersey dry-rubbed pork ribs, but hell, unless you burn it to a crisp and spill your beer, the day won't be a complete loss.

posted by Open Blogger at
05:50 PM
|
Access Comments