« Sunday Gun Thread
|
Main
|
Professor of Journalism writes Op/Ed on NRA. Goes about like you'd expect. [krakatoa] »
June 02, 2013
Sunday Morning Book Thread 06-02-2013: When Puppies Ruled the Earth [OregonMuse]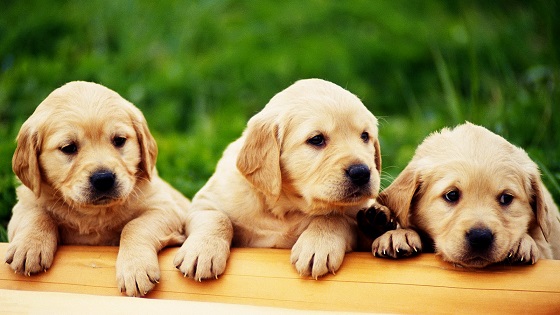 Good morning morons and moronettes and welcome to the the award-winning AoSHQ's Sunday Morning Book Thread.
Couldn't think of a good, appropriate photo, but you can't miss with teh puppehs.

The Nook Is... Out? It's OUT?
In last Tuesday's ONT, Maet linked to this piece about 10 familar brands that they predict will be gone by 2014 due to declining sales. Coming in at #2 was the Barnes and Noble Nook e-reader. Why? Becaue apparently, B&N has been underperforming for some time now:
Sales at the company's Nook segment, which includes both the e-reader and online books, declined by 26% between the third quarter of 2012 and the third quarter of 2013. The Nook's disadvantage may have little to do with its hardware or software and more to do with size of its online audience. It competes against much larger e-commerce sites that have access to hundreds of millions of new readers. While Amazon has more than 130 million visitors a month according to Quantcast, Barnes & Noble has just over 6 million visitors
My first e-reader was a Nook, and if I had to do it over again, I'd've bought a Kindle instead. The selection for the Kindle is better by an order of magnitude at least. Plus, the Kindle encouraged or created a whole cottage industry of self-publishing that the Nook cannot even hope to duplicate. The main reason I went with the Nook, which was that it could handle the popular .ePub format standard while the Kindle could not, doesn't seem very important to me now. There's no question in my mind that Amazon created a superior product.
But...
I like marketplace competition. Kindle book prices are already pretty high, but with the Nook books out of the picture, there will be even less reason for Amazon to keep a lid on them. So I think we can expect more Kindle ebook price bloat coming up in the months ahead, if the Nook goes down the tubes as predicted. And that makes me sad.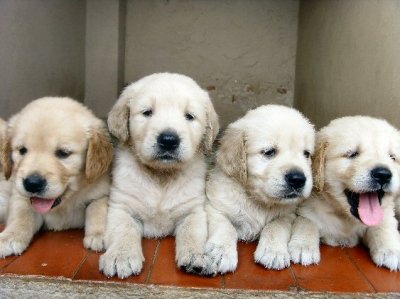 Moar Puppehs!

Never Meet Your Heroes
So there's this modern author I like a lot; I'm not going to say who he is, because I'm about to trash him. His books are clever, interesting, and the guy is a damn fine writer and storyteller. I can tell he's probably pretty liberal, but his books don't rub my nose in it, so I don't mind. I hear he's working on a new book, so I go to his personal web site to find out more about it, and yeesh, it's worse than I thought. Not Rosie O'Donnell-level stupid, but enough to leave a bad taste in my mouth. Enough that I can probably pick out a couple of items and enter them in yesterday's 'Dumb Stuff Liberals Say' thread. Enough that I can tell he's a wee bit full of himself and that if I ever met him, I'd probably want to punch him in the face.
Also, the fact that his photos make him look like your stereotypical smug hippie douchebag doesn't help.
I hate that I feel this big disconnect between what he writes and who he is. So I'm just going to read his books and enjoy them, and forget about going to his web site. That's probably best.

People Write the Strangest Books
Here's an odd one I had to buy just to satisfy my curiosity. Well, that and because it didn't cost very much: A Dog Named Rush Limbaugh (Welcome To Life 101). With a title like that, you'd think, oh great, here's another book trying to ridicule Rush Limbaugh. But it's not. In fact, it's not about politics at all, it's more like pop theology. Actually, it kind of reminds me of this other, more famous, work of pop theology. But this book is structured around two characters, Dick and Jayne, having a conversation with a talking dog who goes by the name of Rush Limbaugh, but who doesn't sound like anything remotely resembling the conservative talk show host. This remarkable creature explains to them, like a prophet, how to live life, how to handle failure, adversity, etc. I've read about a quarter of it, and I must admit I don't get it. I mean, why? I could see, if you wanted to attack Limbaugh, you could make him a dog and make him say stupid things, but he's not saying stupid things in this book, his words are being presented as wise and beneficial. Only he's a talking dog. So I don't get it. I have the horrible feeling that the answer is obvious and I'm just missing it.
So I don't know if I can recommend this book. In fact, I probably can't. But the good news is that at least I'm not out very much money.

Another Moron Author Heard From
Occasional moron commenter Velociman has just made his first novel, A Trip of Goats, available on Kindle. What's it about?
The book is about one Jubal Lee Jackson, nicknamed "Jule", a twelve year old boy seeking answers about the human condition and adulthood. In response to a severe beating from his father and the subsequent discovery of his father's adulterous ways, Jule runs away from home. He seeks a vagabond who uses goats to haul a trailer through the countryside, figuring the man to be a guru who can give him the answers he seeks: Why is his father the way he is? How can he be seemingly wretched and good at the same time? Is it possible to escape to a life where these seeming contradictions don't exist for you?
This was from an Amazon review. Velociman says it's "more easily distilled if you just think: What if Erskine Caldwell had written Huckleberry Finn". Also, "the Goat Man was a real character in the South and Midwest from the 30's until the early '70's. I saw him a few times in the '60's. Insane dude. A vagabond with a gypsy wagon pulled by 14 goats."
$2.99 on Kindle. Not a bad price.
___________
So that's all for this week. As always, book thread tips, suggestions, rumors, and insults may be sent to OregonMuse, Proprietor, AoSHQ Book Thread, at aoshqbookthread@gmail.com.
So what have you all been reading this week? Hopefully something good, because, as we all know, life is too short to read lousy books.


posted by Open Blogger at
11:25 AM
|
Access Comments