« Sunday Morning Book Thread 06-02-2013: When Puppies Ruled the Earth [OregonMuse]
|
Main
|
Molson Labe: In Turkey, a Beer Rebellion »
June 02, 2013
Professor of Journalism writes Op/Ed on NRA. Goes about like you'd expect. [krakatoa]
If you are ill-informed enough to support the NRA, the good Professor is going to put you some knowledge. You can trust him, because he is in the mainstream on gun issues. Just ask him.
Spoiler: A certain group is a bunch of traitors and should be shot.
He defends himself in the comments, saying that his is not a call to violence. Just a warning to those with contrary views who are huffing on their own dog-whistles.
Of course, he has a number of great examples of those dog-whistle calls for violence from the right.
And by "a number", I mean "zero".
Go for the purifying flame of indignant rage. Stay for the cooling smackdown in the comments, where he whines and complains about veiled threats in response to his Very Important, fact-based Opinion that just happens to include an overt threat to those he disagrees with.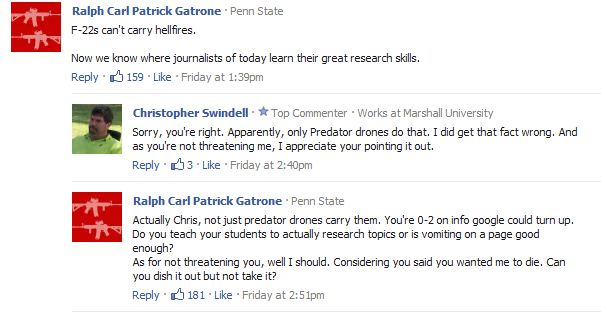 Update - zombie's concise version:
35 His primary thesis is this:

Conservatives claim they need guns because they are all paranoid that they might have to defend themselves from a tyrannical government sending the army to crush dissent. That is SO paranoid and stupid. So much so that we must now send the army after you to crush your dissent.

Stop being so paranoid!

posted by Open Blogger at
12:45 PM
|
Access Comments