« A New Open Thread That Will Smell Clean, Then Slowly Decay Until It's Putrid And Stale
|
Main
|
Sunday Morning Open Thread »
June 01, 2013
Overnight Open Thread (1 Jun 2013)
Just 88 rogue IRS agents? I'm gonna say that's on the low end. Just the tip of the iceberg so to speak. What say you morons? We should probably open up a betting pool. Closest to the actual number of wayward IRS agents wins a premium AoS HQ membership.
Happiness Index
Aw, poor babies. Obama voters most unhappy according to survey. You won the election. You should be happy. You got exactly what you wanted. Now enjoy it.
Related: Millennials aren't buying cars, homes, or other big ticket items.
Exploding Repellent
Cockroach 1, Human 0. Briton thrown through wall by exploding insect repellent.

The 47-year-old British man, who has not been named, was being treated in hospital for "serious injures including several broken bones" after the incident at his block of flats in Torrevieja on Spain's Costa Blanca at 10.30pm on Tuesday night.

For reasons that are being investigated, as he aimed the spray can at a cockroach in his kitchen and pressed the aerosol it caused an explosion that destroyed a wall in the flat and sent him hurtling more than 15 feet into the street below.
New law in Britain will require riot gear to operate a can of insect repellent.
Precision Guided Firearm
This should piss off a bunch PETA folks. Weapons company releases disturbing video game style advert for automatic aiming gun. Well, I think they went with the computer one because the real live video may be too disturbing to some.
h/t
Aviation
The Zoomies got their flyby at their graduation. Needs moar engine noise.

Sometimes, it's not the best fighter plane that wins. It all comes down to training and knowledge of how your enemy fights and the limits of their equipment.
Mt Everest
Would've been more kick ass if he had jumped from the peak of Mt. Everest, but jumping off the north face at 23,687 ft is pretty impressive.
If you ever wanted to check out Everest in high detail, check out GlacierWorks.
Dodgeball
A NSFW dodgeball music video. The song sucks so I'd probably mute it.
h/t theo spark
Sequestration
I'm laughing at this one. To cut the budget, Navy stops cutting the grass. You know, they'd save a lot more money if they cut out that biofuel BS.
Cat Video
In Russia, circus family reopens Moscow's unique cat theater.
Tonight's ONT brought to you by a low flying Buff: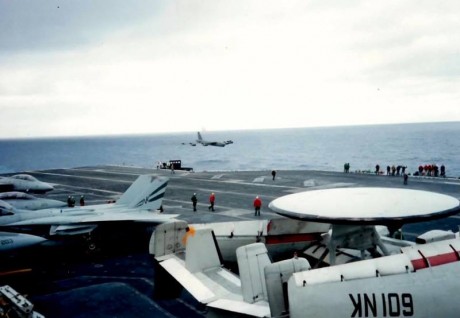 Notice: Posted by permission of AceCorp LLC. Please e-mail overnight open thread tips to maet or CDR M. Otherwise send tips to Ace.

posted by CDR M at
09:52 PM
|
Access Comments