« May 18, 1945 The Battle of Sugar Loaf Hill on Okinawa
|
Main
|
Home Improvement -- electrical quandries [Purp] »
May 18, 2013
Amnesty Supporter Explains How Conservatives Can Appeal To Hispanics. Spoiler: It Involves Unicorns And Underwear Gnomes.
One of my great frustrations with amnesty supporters who claim once we pass amnesty Hispanic-Americans will give Republicans/conservatives a chance to win their vote is they never explain how this will work. On average Hispanics have shown in word and deed, that they are liberals, more liberal in fact than the population on the whole (see here and here).
Don't believe me...believe them.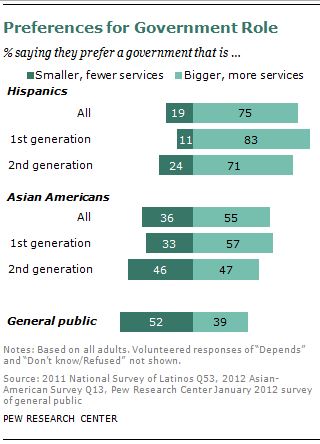 So with the background in mind, here's Arthur Brooks the head of the American Enterprise Institute 3 step plan for how conservatives can appeal to Hispanics.
Step 1: Tell them how much Republicans support the welfare system
First, make it clear that the safety net for the indigent and needy is not the source of our fiscal problems. It is the safety net for everyone else—the able-bodied, the middle class, and corporate cronies—that is driving our country to insolvency. . . .
Yeah.
This will mean the GOP giving up any rhetoric about shrinking government. Even accepting that there will be a safety-net, you can't talk about how government is too big, too incompetent and too destructive of personal initiative. It means giving up saying in order to re-balance incentives the amount and scope of the "safety net" will have to be cut.
Not only is Brooks admitting Hispanics don't want to hear the GOP's message on welfare, he's expecting the GOP to able to suddenly have a sophisticated messaging plan that can communicate that we want to cut government, just not the government you like.
Once you accept that current welfare spending is fine, you commit to a bidding war with the Democrats who will always agitate to increase that spending.
Well, let's see the rest of the plan. It can't get worse, right?
Step 2: Less government
put education reform in poor communities front and center. Today, students from low-income families are five times as likely to drop out of school as students from high-income families, according to data from the Department of Education. It is a civil-rights scandal that we effectively accept this opportunity-denying status quo. Conservatives must be the warriors for pro-child, pro-parent, pro-innovation and pro-choice education reforms.
The wording here is vague. He doesn't explicitly call for promoting charter schools, vouchers and the rest of the conservative education reform agenda to Hispanics.
So let's take a look at the two options:
1- These "pro-child, pro-parent, pro-innovation and pro-choice education reforms" are aimed at working within the current pubic education, teacher union based system.
That's not what conservative educator reformers have been working on for years. Now we're supposed to "fix" education without the incentives of traditional conservative reform proposals?
Or
2. What Brooks is talking about is selling Hispanics on things like vouchers and charter schools.
That seems like a no brainer for conservatives but we ignore in Step 1 we tell Hispanics we aren't looking to cut back on government programs. And now we're telling them we want to cut back on public school funding by moving the money to alternative educational programs.
This is getting crazy.
Oh and the problem with telling Hispanics we don't think the government is any good at running education? See the chart above...on the whole Hispanics trust the government and want it to do more than most other groups. How is telling them, "We're taking something very important to you away from the institution you trust" going to win votes?
Ok, maybe the 3rd point will save the day for Team Amnesty.
Step 3: Hmmmm.
Third, . . . [conservatives] should fight every day to get the government out of the way of a healthy culture for vulnerable American families.
Hispanics: You know, we like government. A lot. In fact, we want more of it!
GOP Team Amnesty: "We understand and to win you over we're going to "get the government out of the way". You're welcome!"
I appreciate that Brooks is honest enough to layout a vision for how Republicans can win over Hispanics but if this is the best they can do, they should keep quiet. This plan to win over Hispanics requires a combination of abandoning conservative principles and ignoring the reality of the Hispanic community in America.
Of course as an opponent of amnesty, I hope they keep talking like this. It makes our job easier.

posted by DrewM. at
10:32 AM
|
Access Comments