« Why We Lost, Gabe's Version of the Story
|
Main
|
A Chart Conservative Voters Aren't Going To Like But Have To Deal With »
November 08, 2012
The Morning After The Morning After- ORCA, Amnesty And What Kind Of Nation Are We?
As we start to dig out of the rubble of Tuesday night, the post-debacle conversation is coming into focus. There are a couple of debates emerging…
1. Did Romney's vaunted ORCA get out the vote program crap the bed?
2. Have the demographics of the country changed so much that, at least in Presidential elections, the Republican coalition simply doomed as presently constructed?
3. Related to number 2…is America still a center-Right nation?
Taking them in order, my initial thoughts:
1. Early anecdotal evidence is that yes, Romney's get out the vote plan/program failed miserably. I don't have a link yet but I've heard from several people involved that it didn't work as planned. It's something that a lot of people will be talking about in the weeks to come.
It's pretty clear though that whatever technical merits of ORCA may or may not have been, barely getting back to McCain's vote total (if Romney does) is not what one would call a rousing success.
It's also clear that the GOP had nothing like what Team Obama did.
The biggest point of the demographic discussion is Hispanics. They reached 10% of the electorate for the first time and they went to Obama about 70-20. (There are other groups we need to address (young voters, Asians((!) and blacks but we can save them for another day.)
Of course there will be calls for the GOP to embrace "comprehensive immigration reform" immediately as if that will solve the GOP's problem with Hispanics (put aside for the moment that "Hispanic" and "Latino" are gross oversimplifications of that group. Mexicans aren't Cubans and Cuban aren't Dominicans but it's the term of art for this kind of discussion).
If people want to make the case for amnesty based on morality or compassion, fine. Let's have that debate. If you're a Republican and you're saying it's a political based move to get these "natural conservative" voters, you're going to have to prove your claim.
Right now all the evidence seems to be Hispanic voters are voting for Democrats because as a group…they tend to be liberal.
And California is the wave of the future. A March 2011 poll by Moore Information found that Republican economic policies were a stronger turn-off for Hispanic voters in California than Republican positions on illegal immigration. Twenty-nine percent of Hispanic voters were suspicious of the Republican party on class-warfare grounds — "it favors only the rich"; "Republicans are selfish and out for themselves"; "Republicans don't represent the average person"– compared with 7 percent who objected to Republican immigration stances.

I spoke last year with John Echeveste, founder of the oldest Latino marketing firm in southern California, about Hispanic politics. "What Republicans mean by 'family values' and what Hispanics mean are two completely different things," he said. "We are a very compassionate people, we care about other people and understand that government has a role to play in helping people."
And assimilation over time doesn't seem to change that.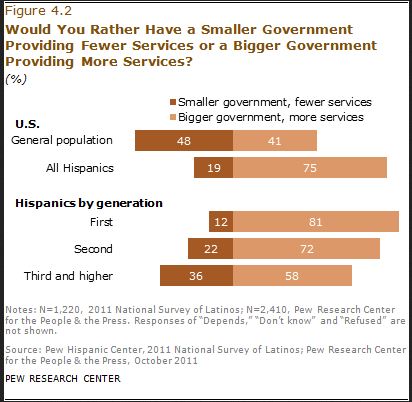 As for social issues…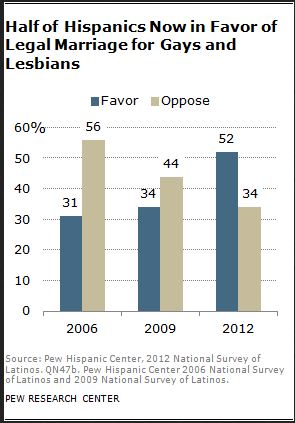 So as a group, they favor big government, same-sex marriage and are having children out of wedlock at an alarming rate (the reality is that's a problem across all racial line, whites included. My point in including that is simply to question the notion that as a group Hispanics are somehow socially conservative).
Which part of any of this makes them as a group, "natural conservatives/Republicans"? It's an honest question.
If GOP opposition to amnesty is such a death blow to Republican chances with Hispanic voters, why did Obama do so well with the group while boasting about his record high level of deportations, which they disapprove of?
Is it a matter of tone? Maybe. It couldn't hurt and it might help if Republican politicians spoke positively about immigration (and assimilation). It clearly would help if those of us who favor stronger border security and oppose amnesty didn't us drunken and murderous illegal immigrants as the poster children for our arguments. I can't imagine that helps Hispanics think we value them. Yes, Democrats want you to believe every DREAM Act kid is a military hero and or valedictorian of their class but the reality is that on average most Hispanics are, well, average.
Can a compromise be found? I don't know. One thought I had was instead of amnesty we offer Green Cards to illegals here but with the restriction they may not seek citizenship here (unless they serve in the military). That would prevent an influx of Democratic voters, provide more a real penalty for their illegal behavior and show Hispanic-Americans we aren't hostile to them. The problem with that is as soon as we cut that deal, Democrats would begin agitating for full citizenship by claiming we were creating a permanent underclass and were cutting them off from citizenship because of RACISM.
This is one of the problems, you can't cut a deal with a party that is always willing to play Santa Claus and one up you.
Which brings me to point 3: Is America still a "center-right" nation.
I think the obvious answer is, no. And it hasn't been for a long time. There is a lot of talk about "cutting spending" and "reducing the size of government" people will tell pollsters they are in favor of those things but they don't actually mean it.
Even in the halcyon days of 2010, the tea party always came with the caveat of "don't touch Medicare and Social Security". Well, that's the game right there. And two years on, ObamaCare is now enshrined as an entitlement (and it's only going to grow and move to left as the cost becomes untenable…hello single payer and full on rationing!). You can't say this is a center-right country with a straight face.
The left has been fighting an ideological war for over 80 years and we've been fighting individual battles against big government program by program. Unless and until that changes, we are going to keep getting rolled even when we "win" (George W. Bush and Medicare Part D for example).

Some will no doubt try to comfort themselves by saying the Obama coalition is Obama specific and once he's gone so are these voters, at least in these numbers. That's probably true over the short term but over the long term, the numbers don't lie.
Liberals love to tout "diversity" and "the changing face of America". You can't have that and pretend that a massive demographic shift doesn't impact the foundational assumptions of the country. It's not because whites are genetically pre-disposed to "conservatism" or Blacks and Hispanics to "liberalism", it's culture. Culture can (and has) changed.
I think conservatives need to stop focusing on elections for awhile, leave that to the Republicans. We need to find a way to make the eternal values we believe in relevant and palatable to a wider segment of the population. We should realize that this is a long term, multi-front war. Conservatives too often to seem to take for granted that our ideas are right and our messengers are good people. We think people will see that and simply agree with us. The truth is we need to argue for and explain our ideas, we need to accept that sometimes style matters more than substance and be willing to reach people on their terms with our ideas. That means getting to them in ways beyond politics and not talking down to them like the dim children they often are. It's hard but it's what it will take.
Franklin Roosevelt was the real winner on Tuesday night, just as he has been for the last 17 presidential elections before that. His assumptions about the role of government in the country have been the template that has been expanded on for generations. We can't win on those terms, we need to change the rules and that will take time.


posted by DrewM. at
10:27 AM
|
Access Comments