« #TeamHometown & The Return of the B.J. (Gaming thread)
|
Main
|
Moar linky [Purp] »
May 12, 2013
Stanley Cup Playoffs thread (tmi3rd)
Hi there, Morons and Moronettes. I'm tmi3rd, and we're going to do things a little differently with this year's group of hockey threads.

We're going to keep them on the weekends. This will keep from clogging up what's been a pretty busy news period.

Today's games are (3) WAS vs (6) NYR at 4:30 EDT on CNBC, (4) BOS vs (5) TOR at 7:30 EDT on NBC Sports, and (7) DET vs (2) ANA at 10:30 EDT on NBC Sports.

More below the fold...
What's Happened Up To Now

So far, we've had some very interesting things happen.

In the East, (1) Pittsburgh got all it could handle from (8) New York Islanders. Pittsburgh seemed very unsteady after four games, with the series tied at two, before the decision was made to bench goaltender Marc-Andre Fleury for Tomas Vokoun. Vokoun responded with a shutout and with a 4-3 overtime win, and some very real questions have to be asked in Pittsburgh about who their netminder's going to be going forward. That said, major kudos to Evgeni Malkin for being the go-to guy in Game 6, and to Sidney Crosby (I know, I know) for coming back as quickly as he has from a badly broken jaw to play in the playoffs.

The Isles, on the other hand, friggin' ROCKED despite some shaky goaltending from Evgeni Nabokov. The Isles have been AWFUL for years, and league MVP candidate John Tavares finally got some time in the spotlight, where he delivered. The Isles will be leaving Nassau Coliseum on Long Island for the comparatively nicer confines of the Barclay Center in Brooklyn in the near future, and their future looks bright indeed (although I'm afraid they're going to blow up their uniforms in the process).

(2) Montreal ran into a (7) Ottawa team that frankly just ate their lunch. A 4-1 series does tell the story... Montreal had a wonderful turnaround, going from 15th in the conference to 2nd, but were badly undersized against a more physical Ottawa team. Les Canadiens got the crap kicked out of them throughout the series, punctuated by this Game 3 line brawl:

Ottawa was backstopped by Team USA Olympic hopeful Craig Anderson, and they'll have a very interesting second-round matchup with Pittsburgh.

In the West...

(3) Vancouver had an epic meltdown against (6) San Jose. The Sedin twins never got going, Ryan Kesler never got going, and the usually-stout Vancouver D corps didn't do a particularly impressive job keeping track of Joe Thornton or Patrick Marleau. They also apparently forgot that Joe Pavelski (USA! USA! USA!) was playing, and he had a ridiculous 4 G and 4 A against Vancouver. Antti Niemi looks to be in the same form he was for Chicago in their championship run, but I'm not going to go much further than that in terms of predictions.

The goaltending soap opera in Vancouver will be solved one way or another this summer. Cory Schneider (again, a top USA Olympic prospect) was supposed to be the answer in Vancouver, and Roberto Luongo should have been shipped out at the trade deadline. Instead, Luongo outplayed Schneider in the playoffs, and the questions persist in Vancouver.

(4) St. Louis seemed to be in control of the series against the defending Stanley Cup champion (5) Los Angeles Kings after two games, but then lost four straight to flame out for the second straight year against the Kings. This was a closer series than the 4-2 final would indicate, as all six games were one-goal decisions, but there are still some questions to be answered in St. Louis going forward.

As for this evening, I'm not even going to pretend I have any idea how this is going to turn out. The Caps and Drew M.'s Rangers have absolutely clobbered one another the whole way. Boston will head to Toronto to try to close them out, which seems plausible, but Toronto looked beaten after game 4. Finally, Detroit and Anaheim will play their deciding seventh game tonight.

Tonight's conversation piece...

So this is a CT scan of Toronto's Mark Fraser after taking a puck to the forehead: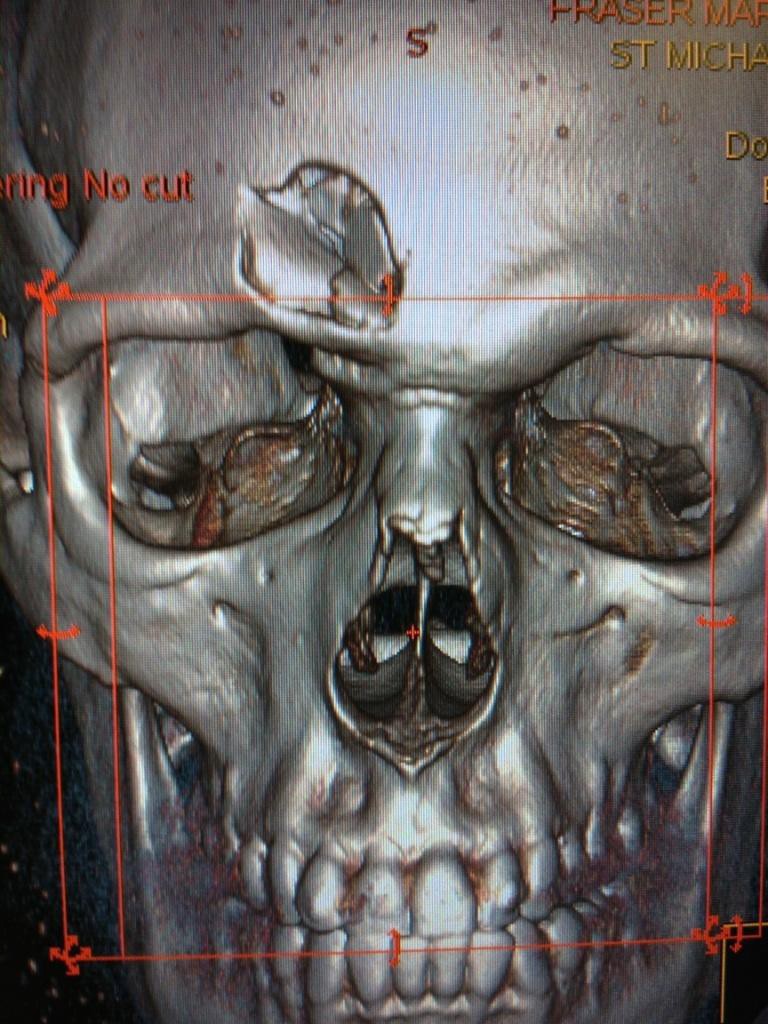 The hole you see in his forehead appears to be his frontal sinus (not everyone has them, but those that do...), and the same thing happened to a buddy of mine who was an Edmonton draft pick by the name of Darryl LaFrance when he was with my New Orleans Brass back in the ECHL.

Now, I'm coming at this from the perspective of someone who made a living with his face and also as someone who's working on hopefully being a head and neck surgeon, but between this and Bryan Berard's lacerated eyeball, I'm pretty much sold on the notion of mandatory face protection being implemented in professional hockey.

I was in the fightingest Division III league there was when I played college hockey, and we just tore our helmets off along with our gloves when we fought. My big thing is, for the jaw injuries and facial injuries that require a lot of body and fender work, they can be avoided with face protection to a large degree. It won't do a damn thing about concussions, but having had my cage caved in by pucks, sticks, and the boards, I think it's time.

What say you?

Also, Team USA is rocking out in the IIHF World Championships... with this morning's 3-0 shutout of Germany, they need only to win one more game to win their pool.

posted by Open Blogger at
04:18 PM
|
Access Comments