« Gun Thread (5-12-2013)
|
Main
|
Random Sunday Funny »
May 12, 2013
Sunday Morning Book Thread 05-12-2013: Steampunk Barbecue Edition [OregonMuse]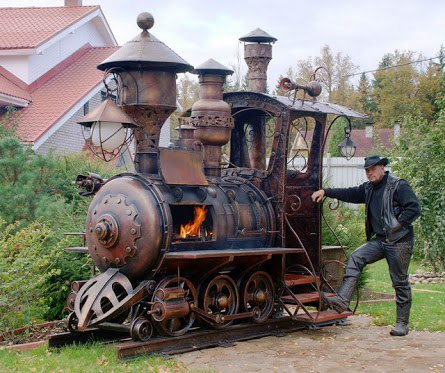 This was put together by some foundry workers in Russia. I wouldn't mind having it in my backyard, though.
Good morning morons and moronettes and welcome to the the award-winning AoSHQ's Sunday Morning Book Thread.

The AoSHQ Amazon Store
I've been very neglectful of this because I couldn't be bothered to figure out how to make it work. If you click ace's Amazon Store link in the upper right corner of the main page (the link that says The AoSHQ Amazon Store), it will take you to an Amazon page emblazoned with the AoSHQ logo, and there's some books listed that you can buy. But I don't know how to add new books to the list. If you know the title of your book, you can enter it in the search bar in the upper right corner of and it will call up that book in the AoSHQ store. But if you're browsing around Amazon, it's easy to exit the AoSHQ store, and you won't be notified when you do. So when you finally come upon a book you want to buy, you need to go back to the beginning and enter the title in AoSHQ store seach bar.
Or, if you prefer, you can do it with a little bit of link-fu:
The beginning of any link to any item in the AoSHQ store is going to look like this:
http://astore.amazon.com/aoshq-20/detail/
Now, a typical Amazon book link is big and long. Here's an example:
http://www.amazon.com/Puritan-Gift-The-ebook/dp/B006OO7OZU/ref=sr_1_1?ie=UTF8&qid=1368244437&sr=8-1&keywords=the+puritans+gift
In this long link, there's something that looks like an identifying number that occurs right after the '/dp/' part, which is 'B006OO7OZU'. Simply add this identifier to the the 'base' address of the AoSHQ store, and you'll get this:
http://astore.amazon.com/aoshq-20/detail/B006OO7OZU
If you click on that link, you'll see the book inside the AoSHQ store, and if you buy it, Amazon will contribute a few pennies to ace to help defray his not inconsiderable Valu-Rite expenses.
I'm kicking myself for not doing this earlier. Sorry, ace. From now on, I'm going to try to make all my book links go through the ace store.
Let's start on these new links with Celia 'Sgt. Mom' Hayes' brand new book Air Force Daze which is so new, it isn't even up on her web page, yet. Amazon describes it as
Being a True Account of 20 Years in the Big Blue Machine: With Reminiscences, Rants, Memos and Accounts of Divers Amusing Incidents!
Collected from the archives of the milblog The Daily Brief (formerly Sgt. Stryker's Daily Brief) an assortment of informational briefs, memos, rants and reminiscences by Sgt. Mom
Celia also writes historical fiction, including To Truckee's Trail. This is a story about the The Stephens-Townsend-Murphy wagon train party, which
crossed the continent in 1844, blazing a trail through the wilderness from Ft. Hall in present-day Idaho, across the high desert and over the Sierra Nevada range to Sacramento; two thousand miles across unknown, trackless wilderness on a gamble that life at the end of the trail would be better. This is the story of their journey, every dusty mile and hard choice, and of an extraordinary group of ordinary Americans.
And if that weren't enough, there's her 'Adelsverein' trilogy about German settlers in Texas:
Adelsverein: The Gathering
Adelsverein: The Sowing
Adelsverein: The Harvesting
Or, you can get them in all in one volume:
Adelsverein: The Complete Trilogy
So buy Sgt. Mom's books and send a few farthings to ace. Midget porn doesn't buy itself, you know.
We live in a Philip K. Dick world
This article from the American Thinker blog was mentioned in last week's thread, and also in the sidebar. PKD was a tormented soul and he lived a tormented life. Drug use, relationship difficulties (he was married 4 or 5 times), and mental illness plagued him most of his life.As a science-fiction writer he avoided the glorious, sweeping technological vistas of flying cars, jet-packs, and domed cities, but instead, offered up worlds where people are losers or a-holes and things don't work quite right. As such, his books very much resemble Dick's own internal turmoil.
And if you're in the mood for something really bizarre, go to the PKD wikipedia page and read the "Paranormal experiences" section.
I remember one of his stories where a guy is being placed into frozen stasis for a long interstellar journey, only, as I mentioned earlier, things don't work right and he doesn't get quite frozen all the way. So he's conscious, but that's about it. The main shipboard computer, who can communicate with him through his thoughts, cannot revive him. The ship wasn't fitted for normal, awake passengers. "There is no air or food in me" it tells him. They're too far out to go back, the malfunction in the stasis control mechanism is too complicated for the computer to fix, and so there's nothing they can do but go on. Well, this trip is going to take years, so the computer has to find a way to safeguard the guy's sanity. So it tries to give him images and dreams to keep his mind occupied, but the guy keeps figuring out that his experiences are a computer-generated simulacrum, and rejects them. So the computer has to keep coming up with different and more elaborate scenes, hoping that this time, it will be accepted. I forget how exactly it ends, but when the trip is over, the guy can't tell what's real and what's not.
Philip K. Dick Fun Fact #1: According to wikipedia, he and fellow science fiction author Ursula K. Le Guin both went to Berkeley High School in Berkeley, California, and were members of the same graduating class (1947). However, they were unknown to each other at the time. Must have been a big school.
Philip K. Dick Fun Fact #2: If he were alive today, he'd probably be very very rich. Every time a cool sci-fi movie comes out, it's from a Philip K Dick book.
I'm not linking any of PKD's books. There are way too many, and if I link one, I'd probably have to link them all. Besides, a surprising number of them are in the public domain, according to wikipedia:
As of July 17, 2010, eleven of Philip K. Dick's early works in the public domain in the United States are available in ebook form from Project Gutenberg. See Dick, Philip K., 1928–1982 at Project Gutenberg. As of April 4, 2012, Wikisource has one of Philip K. Dick's early works in the public domain in the United States available in ebook form which is not from Project Gutenberg
So there you go.

Mother's Day Book Recommendation
Moron Travis Metzger e-mails to recommend Foster Girl, A Memoir by Georgette Todd, who is actually Travis' fiancée.
He says
I would say that foster care was the second worst thing Georgette went through. The worst was the family life that led inexorably to foster care.
The memoir details
a family history of abandonment, alcoholism, drug use, abuse, incarcerations and a tragic death, all of which forces Georgette and her baby sister Jean-Marie into the foreign world of foster care. From there, Georgette has no choice but to raise herself and her sister through a series of institutional residencies and unloving foster homes.
Fortunately Georgette eventually landed with a foster mother who loved her as a mother should. But getting there was pretty horrific.
And unfortunately, only a hard copy of Georgette's memoir is available for sale now. The Kindle version should be available in a few weeks.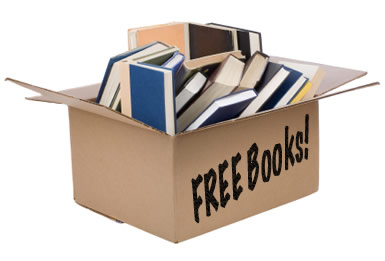 Free Book Giveaway! Seriously You Guys!
No, seriously.
Long-time reader and occasional moron commenter Mastiff has recently self-published a collection of short stories about politics and political reform, titled The Best Congress Money Can Buy: Stories of Political Possibility. It's available for Kindle and paperback, and Amazon Prime members can borrow it for free.
He says that the topics of some of the stories are:
• What if gun ownership were made mandatory?
• What if you could use a crowdfunding site to fund government, instead of taxes?
• What if you could sue corrupt public officials and make millions?
I especially like that last one.
Mastiff also claims that the tone and style are like Heinlein's classroom scenes in Starship Troopers.
But most importantly, he tells me:
I've scheduled a giveaway for this Sunday, May 12th and Monday May 13th—the Kindle version will be absolutely free until midnight on Monday. All I ask is that you tell your friends and post honest reviews on Amazon.
So what are you morons waiting for? Get The Best Congress Money Can Buy: Stories of Political Possibility for free right now!

___________
So that's all for this week. As always, book thread tips, suggestions, rumors, and insults may be sent to OregonMuse, Proprietor, AoSHQ Book Thread, at aoshqbookthread@gmail.com.
So what have you all been reading this week? Hopefully something good, because, as we all know, life is too short to read lousy books.


posted by Open Blogger at
11:15 AM
|
Access Comments