« Kirsten Powers: Let's Stop Pretending on Late-Term Abortion
|
Main
|
Samsung Galaxy S4 [Purp] »
May 06, 2013
Overnight Open Thread (5-6-2013)
The Homemade Elizabeth Colbert Busch Attack Video
It's over the top, shameless, brutal, and funny. Which is exactly why it would be effective - and also why the SC GOP would never ever use it.
Still Sanford has now jumped to +1 over Busch so I guess SC voters prefer the crazy they know.
Meanwhile SC Democrat Suggests Indian-American Nikki Haley Go 'Back To Wherever The Hell She Came From'
Which would be Bamberg, SC. Of course a guy with a name like Harpootlian might not want to play the less ethnic than thou game. But then the D after his name means he'll never be called on it.
How to Destroy Your Business Part I: Dick's Sales Dip After EBR Ban
How to Destroy Your Business Part II: Toss in a $100 Per Flight Fee
How to Destroy Your Business Part III: Colorado Chases Magpul Away
How to Destroy Your Business Part IV: Pass an Internet Sales Tax
Thank you bipartisan GOP senators.
How to Destroy Your Business Part V: No More Boogie Nights in LA
Applications for permits for porn shoots have dropped to almost zero in LA. This comes after a city ordinance that now requires all porn actors to wear condoms during shooting, or prior to shooting, as it were. Just like any other film shoot, porn flicks need permits. In the past, LA county issued 500+ permits for adult films every year. Last year it dropped to 2.
Or what it's like to be one of the few Jews in prison. You know for guys who won't follow the law prisoners sure do have a lot of rules.
And yeah this is from the SPLC who probably think it's some grand indictment of America or something but it's still an interesting read.
I am always the last person to eat. It's part of a compromise I worked out with the skinheads who run the western state prison complex where I am incarcerated. Under this compromise, I'm allowed to sit at the whites' tables, but only after the "heads," and then the "woods," and then the "lames" have eaten. I am lower on the totem pole than all of them, the untouchable. I should feel lucky I'm allowed to eat at the whites' tables at all.

Not that there's anywhere else I could eat. The prison yard is broken down into five distinct racial categories and segregation is strictly enforced. There are the "woods" (short for peckerwoods) that encompass the whites, the "kinfolk" (blacks), the "Raza" (American-born people of Mexican descent), the "paisas" (Mexico-born Mexicans), and the "chiefs" (American Indians). Under the strict rules that govern interracial relations, different races are allowed to play on the same sports teams but not play individual games (e.g., chess) together; they may be in each others' cubicles together if the situation warrants but not sit on each others' beds or watch each others' televisions. They may go to the same church services but not pray together. But if you accidentally break one of these rules, the consequences are usually pretty mild: you might get a talking to by one of the heads (who, of course, claims exemption from this rule himself), or at worst, a "chin check."

Eating with another race, however, is a different story. It is an inviolate rule that different races may not break bread together under any circumstances. Violating this rule leads to harsh consequences. If you eat at the same table as another race, you'll get beaten down. If you eat from the same tray as another race, you'll be put in the hospital. And if you eat from the same food item as another race, that is, after another race has already taken a bite of it, you can get killed. This is one area where even the heads don't have any play.
Kareem Abdul-Jabbar: 20 Things I Wish I'd Known When I Was 30
Nerd!
5. Learn French. My grandparents were from Trinidad where, though it was an English-speaking country, the school system was started by the French. Whenever my grandparents wanted to say something they didn't want me to know, they'd speak French. The language seemed so sophisticated and mysterious. Plus, you earn extra James Bond points when you can order in French in a French restaurant.
18. Watch more TV. Yeah, you heard right, Little Kareem. It's great that you always have your nose in history books. That's made you more knowledgeable about your past and it has put the present in context. But pop culture is history in the making and watching some of the popular shows of each era reveals a lot about the average person, while history books often dwell on the powerful people.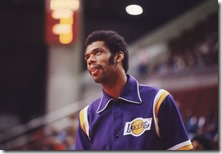 Tylenol May Ease Pain of Existential Distress, Social Rejection, Ennui
So does alcohol but Mr. Liver really can't handle both.
The Suburban Express bus service takes students over the Midwest to and from Chicago. It also has a long history of shady practices, fining or banning riders over trivial offenses, and suing them if they complain in public. How bad are they? So bad their competitor, Peoria Charter, advertises that it doesn't sue its passengers.
PSA: Duck and cover if you see a bright flash
A Russian teacher ordered her students to do just that and saved them from injuries from the recent meteor:
At School No. 37 in Chelayabinsk, a quick-thinking substitute teacher, Yulia Karbysheva, got all 44 of her fourth-graders out of harm's way as the meteor lighted up the sky, the Interfax news agency reported. After the intense bright flash of its explosion, the children rushed to the windows, but before the shock wave could hit, she commanded them to get under their desks.

Karbysheva was showered with glass and debris, but the children were unharmed. With a cut to a tendon in her left hand and a gash on her left thigh, she led her class to safety outdoors. The doctor treating her Saturday at Hospital No. 9 told Interfax she would recover.
And Moe Lane points out that it's still the best advice from people who knew something about flashes and explosions:
I know, I know: 1950s public safety films are often unintentionally hysterical.  They were also produced by people who typically spent between five and eight years of their lives dealing with other people actively trying to kill them with high explosives/shrapnel.  So assume that the producers might actually have known what the heck they were talking about.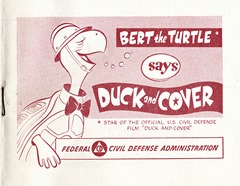 But this was on Hollywood Boulevard so that only somewhat narrows down the possible perps.
Because Sometimes Your Victimhood Needs a Lil Help: Fake Hate Crimes
The Yahoo AoSHQ group. Bla bla bla.
And my twitter thang.
Tonight's post brought to you by Sophia making pizza: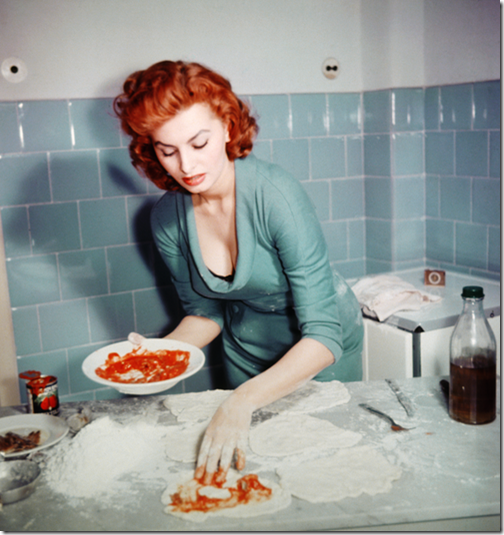 Notice: Posted by permission of AceCorp LLC. Please e-mail overnight open thread tips to maetenloch at gmail. Otherwise send tips to Ace.

posted by Maetenloch at
09:39 PM
|
Access Comments