« Senators propose making illegal that which is already illegal and has been so since 1968, and punishable by 10 years in Federal prison [Purp]
|
Main
|
Top Headline Comments 3-5-2013 »
March 04, 2013
Overnight Open Threat (3-4-2013)
David Frum Takes a Dump on Andrew Breitbart's Grave
Frum couldn't contain himself and published a screed against Breitbart on the day he died. Now on the one year anniversary of Andrew's death he republished it - along with some extra smugness and snark.
This indifference to detail suffused all of Breitbart's work, and may indeed be his most important and lasting legacy. Breitbart sometimes got stories right (Anthony Weiner). More often he got them wrong (Sherrod). He did not much care either way. Just as all is fair in a shooting war, so manipulation and deception are legitimate tools in a culture war. Breitbart used those tools without qualm or regret, and he inspired a cohort of young conservative journalists to do likewise.
Why would Frum do such a thing? Because he's more thoughtful, reasonable, civil, empathetic and caring than the likes of all you and he knows it. Why can't you extremist losers see that he's the one that needs to be in charge of conservatism?
What America needs now, and what the Republican party most especially needs, are moderate-minded people who are also tough-minded - who won't be shrieked down and who won't be intimidated. "Civility" cannot mean: you yell, I yield. Conservatives deplore those old-line 1960s liberals who shriveled up when challenged by student radicals and Black Power militants. Well, now it's happening in our house, and it is we who are being tested: Do we dare confront our own radicals? It's not enough to have greater wisdom, greater tolerance, and greater patriotism if you don't also muster courage, endurance, and will to win.
Andrew inspired people. Frum mostly inspires people to actively dislike him.
Global Warming/Changening Concern Slowly Fades Away
Public concern about environmental issues including climate change has slumped to a 20-year low since the financial crisis, a global study reveals.

Fewer people now consider issues such as CO2 emissions, air and water pollution, animal species loss, and water shortages to be "very serious" than at any time in the last two decades, according to the poll of 22,812 people in 22 countries including Britain and the US.
People talk a good game about environmentalism but when it comes down to actual dollars and cents it turns out it's really a luxury item. And one of the first things to be cut when times get tight.
Mugshot of the Day: The Patriot
You just don't see this degree of patriotism among drug dealers any more.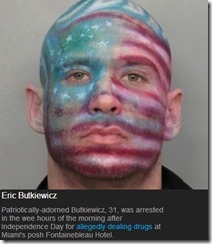 Brave Atheist Suddenly Turns Pussy When Islam Comes Up
Richard Dawkins really, really hates religion and isn't afraid to say so...right up until the topic turns to Islam.
In a recent Al-Jazeerah interview, Richard Dawkins was asked his views on God. He argued that the god of "the Old Testament" is "hideous" and "a monster", and reiterated his claim from The God Delusion that the God of the Torah is the most unpleasant character "in fiction".

As you can see, Dawkins has no trouble attacking the Hebrew God in a most direct and uncompromising manner. No atheist wallflower he.

Asked if he thought the same of the God of the Koran, Dawkins ducked the question, saying: "Well, um, the God of the Koran I don't know so much about."
Also 5 Quatloos To Whomever Can Name the World's Most Oppressed Religion without looking.
All Portuguese-Americans Now Officially Oppressed
Because the Census Bureau has officially declared them Hispanic which means they can hop on the Affirmative Action train.
By the way the list of Portuguese descended Americans who are obviously hugely disadvantaged in life because of their heretofore unacknowledged Hispanic status include the actors Tom Hanks and Keanu Reeves and singers Katy Perry and Steve Perry. Affirmative action to the rescue!
Texas Trying to Ban Aerial Photography?
And satellite imagery too I think.
Representative Lance Gooden has introduced HB912 which proposes: 'A person commits an offense if the person uses or authorizes the use of an unmanned vehicle or aircraft to capture an image without the express consent of the person who owns or lawfully occupies the real property captured in the image. ('Image' is defined as including any type of recorded telemetry from sensors that measure sound waves, thermal, infrared, ultraviolet, visible light, or other electromagnetic waves, odor, or other conditions.)'

..."A person is guilty of a class A misdemeanor if such person knowingly creates or assists in creating an image of the exterior of any residential dwelling in this state where such image is created by or with the assistance of a satellite, drone, or any device that is not supported by the ground."
But but I was told We'd Already Passed Peak Oil
US oil output now at the highest point in the last 20 years.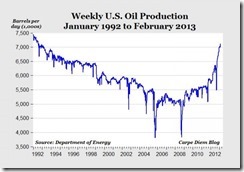 Muslims In Sweden Practice Beheading Skills On Cats
Such nice people - we really should allow more to immigrate here to take care of that pesky stray animal and hobo problem.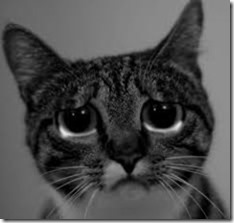 5 Classic Best-Sellers That Were Rejectected by Publishers
Harry Potter and the Sorcerer's Stone was rejected by multiple publishers for being too long for children and it was only by chance that it ever made it into print.
Anyway, deciding that she needed an agent, Rowling thumbed through a directory and chose Christopher Little because the name sounded like a character in a children's book. She shipped her manuscript off to Little's office, where it met a familiar fate: An assistant tossed it straight into the rejection pile because Little thought that children's books didn't make any money.

...Eventually fate (or possibly a curse on Rowling's part, we're not sure) intervened when Rowling's illustrations caught the eye of Little's assistant while she was sending out the rejections. She convinced Little, who signed Rowling on ... at which point publishers continued to reject Harry Potter. Finally, Little shipped it off to Bloomsbury Publishing, where chairman Nigel Newton agreed to look at it as a personal favor.

Newton then did something that apparently never occurred to other children's book publishers, which was to show it to an actual child. He offhandedly tossed the manuscript to his 8-year-old daughter, who devoured it in hours and came back to him demanding more. Only at that point did someone finally decide, "Eh, let's put some copies out there. Who knows, maybe this will make us all enough money that we can each live on an island made of gold."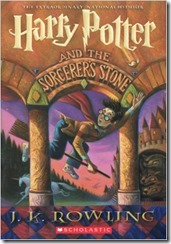 The Yahoo AoSHQ group. Bla bla bla.
And my twitter thang.
Tonight's post brought to you by yeah baby a little harder: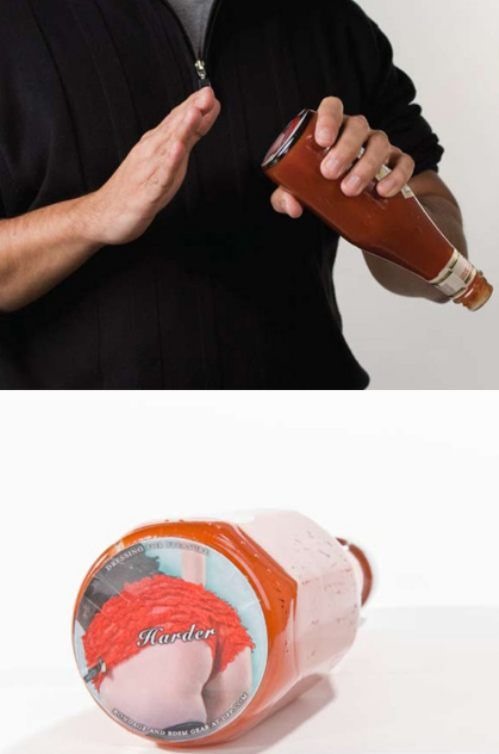 Notice: Posted by permission of AceCorp LLC. Please e-mail overnight open thread tips to maetenloch at gmail. Otherwise send tips to Ace.

posted by Maetenloch at
10:25 PM
|
Access Comments