« Compare the Pittance of "Cuts" (to the Rate of Growth, Only) with the Enormous New Spending Coming Down the Pike
|
Main
|
Top Headline Comments 2-27-13 »
February 26, 2013
Overnight Open Thread (2-26-2013) - Shittiest Airplane Wi-Fi Ever Edition
Sponsored by the Intercollegiate Studies institute whoever they are. Be sure and read the questions carefully.
I got a 30 out of 33 which ain't bad but not as good as I expected. I blame society. And the French.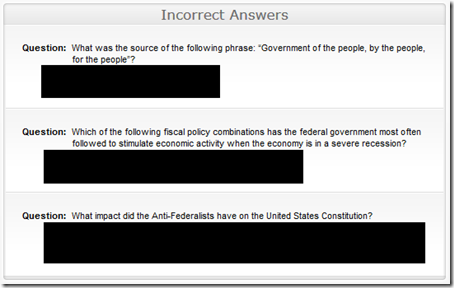 Quote of the Day: Freedom is Slavery
Somehow, big food companies have convinced us that drinking a 32oz soda is a matter of personal liberty, and that the government has no place in regulating how much liquid sugar can be sold in a single container.

-- Jill Filipovic of The Guardian
We Don't Have to Outrun the Bear
We just need to stay ahead of the competition. On why the dollar is still so strong:
Now, this isn't happening because the United States is a model of good economic governance. There are times when, between fiscal cliffs, sequesters and the ever-growing piles of unfunded entitlement commitments, it looks as if Washington, DC, is doing its best to wreck the economy.

But the dollar is blessed with weak competition. The euro is a disaster, the yen is a mess, and the renminbi isn't ready for prime time. Compared to the rest of the world's currency, the dollar looks pretty good; it's the healthiest patient on the floor.

The people who continually and habitually undersell the United States usually have a point when they note American weaknesses that could cause us trouble down the road. But they forget to weigh in the weaknesses and liabilities of the competition.
The Rules are Different for Obama
We've been waiting for four years for Obama's personal approval ratings to finally fall to the same level as people's ratings of the country's direction and it hasn't happened. And probably won't ever happen. As Commentary's Jonathon Tobin points out Obama seems have some special charm that appeals to people and he's too well protected by the press to ever be damaged.
So if you've staked your political satisfaction on a great Obama humbling, well maybe it's time you considered a more realistic target. Otherwise the continual disappointment may drive you into (further) derangement.
The answer to the Republican Party's problem revolves around the same factor that they failed to grasp in 2012: the president's unique appeal and popularity. After more than four years of facing off against him, Republicans should understand by now that the laws of political gravity do not apply to Obama.

That doesn't mean they must, as some faint-hearted Republicans think, surrender without a fight. There is nothing wrong with the conservative principles they uphold, and House Republicans can drive a hard bargain on the deficit that demands entitlement reform if they have the guts to stick to their guns.

Obama's status as the nation's first African-American president and the consequent kid-glove treatment he gets from the press make it difficult, if not impossible, to hold him accountable for his hypocrisy or his failures. As I wrote earlier in the week, the White House's innovative strategies for manipulating the media do not fully explain his ability to evade the normal tough scrutiny that any president gets. Nor does the liberal bias of the mainstream media, though that, too, is a contributing factor.

Obama's identity as the man who makes Americans feel good about their country renders all other factors irrelevant. This is something that conservatives struggle to understand primarily because they are immune to the president's personal charm and speaking ability. But it is a fact they must accept if they don't want to spend the next four years banging their heads against a wall. That's why the GOP must stop focusing so much on trying to attack a president who is impervious to criticism and concentrate on the sort of big ideas about growth that made them the party of ideas in the '80s and '90s.
In which we spend more this year than last year and yet all government functions OMG COMPLETELY STOP!!!!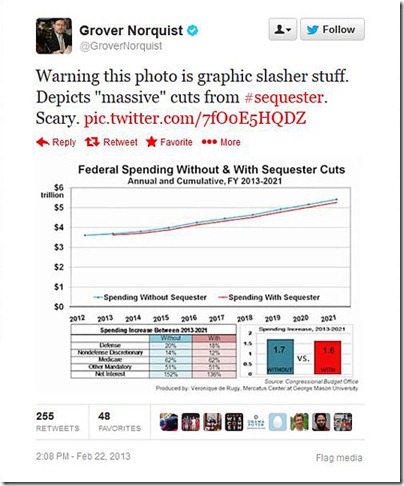 How Homeland Security Stole Michael Arrington's Boat
Sigh. I remember when we had a constitution that prohibited this kind of thing.
"Michael Arrington, founder of TechCrunch, lives near Seattle and bought a boat there. He ordered it from a company based near him, but across the border in Canada. Yesterday, the company tried to deliver it to him, and it had to clear customs. An agent for the Department of Homeland Security asked him to sign a form. The form contained information about the boat, including its cost. The price was correct, but it was in U.S. dollars rather than Canadian dollars. Since the form contained legal warnings about making sure everything on it is true and accurate, Arrington suggested to the agent that they correct the error. She responded by seizing the boat. 'As in, demanded that we get off the boat, demanded the keys and took physical control of it. What struck me the most about the situation is how excited she got about seizing the boat. Like she was just itching for something like this to happen. This was a very happy day for her. ... A person with a gun and a government badge asked me to swear in writing that a lie was true today. And when I didn't do what she wanted she simply took my boat and asked me to leave.'"
Part of wisdom is culling out the bad ideas and understanding the weaknesses in others. Making a fetish of youth also fetishizes the flaws of youth.
So How Far North Can Alligators Live?
Short Answer: Ohio. Read the article to find out why they haven't invaded yet.
"People Who Buy Things Are Suckers"
It turns out that Nick Offerman AKA Ron Swanson of Parks and Recreation has real life skills. He's an accomplished wood worker with his own shop and also works with metal too.
Still looking pretty good.
Teh Tweet!
Tonight's post brought to you by Rita: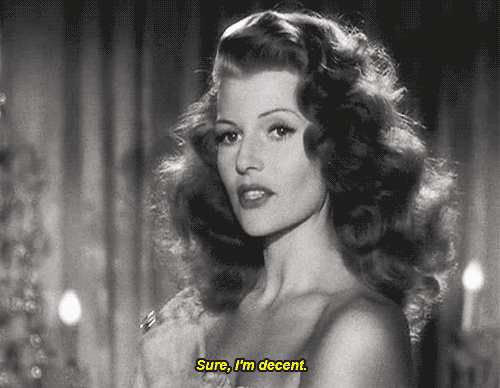 Notice: Posted by permission of AceCorp LLC. Please e-mail overnight open thread tips to maetenloch at gmail. Otherwise send tips to Ace.

posted by Maetenloch at
09:34 PM
|
Access Comments