« Women Can Now Serve in Combat Roles*
*If They Want To
|
Main
|
HuffPo: We'd Like an Interview
Jill Kelley: Only If You Can Guarantee Me Favorable Coverage, In Advance
HuffPo: We Can't Promise That, Good Bye
...
Howard Kurtz: Hey, Here's My Favorabe-Coverage Interview With Jill Kelley »
January 23, 2013
Salon's "Correction"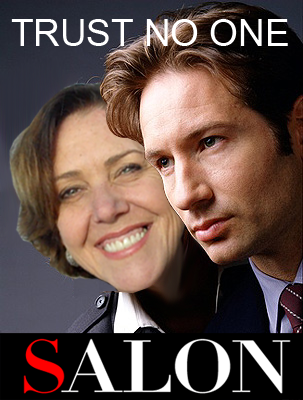 Photoshop of by @johnekdahl,
including Salon's "Editor at Large" Joan Walsh
2013 Corrections

On Jan. 22, Salon republished an article from one of our content partners, the Weeklings, that was sympathetic to unfounded 9/11 conspiracies. The article slipped through our usual review process, and was clearly not up to our standards; we removed it as soon as it was brought to our attention by readers. Salon has a long history of debunking fringe conspiracists — around Sept. 11, and more recently, Sandy Hook — and are proud of those efforts. We regret this oversight.
The support of 9/11 Trutherism wasn't a single sentence buried in the 17th paragraph of the piece. It was the entire precis of the article; indeed, it appeared right in the headline itself.
Give truthers a chance?

Not all conspiracy theorists are as crazy as Alex Jones and the Sandy Hook Truthers would have you believe.
And then it's right there in a big fat paragraph that explains the headline:
What concerns me about the repudiation of the Hookers is that the 9/11 Truthers are being tarred with the same "crackpot" brush [as other conspiracy theorists]. Yes, many of the September Eleventh conspiracy theories are implausible, and too often veer, as conspiracy theories unfortunately tend to do, toward the anti-Semitic. But unlike with Sandy Hook, 9/11 conspiracy theories flow from a scientific fact: whatever the 9/11 Commission Report might claim, fire generated by burning jet fuel is not hot enough to melt steel. As with JFK's "Magic Bullet," the official version asks us to pretend that the laws of physics do not exist.
And then this:
Another criterion, when evaluating conspiracy theories, is the "Cicero test"; we must ask ourseves: Cui bono? It's not enough to suggest that the official record is wrong; without a motive for the deceit, absent some obvious beneficiary, there can be no conspiracy. To wit: there are any number of reasons any number of people could have benefited from the removal of JFK from office. The attacks of 9/11, similarly, had countless ripple effects, sparking a massive re-investment in the U.S. military, two wars that cost trillions of dollars, and that legislated erosion of our privacy with the Orwellian name, the Patriot Act, to name but three. Many, many organizations, corporations, states, and individuals benefited, directly or indirectly, from the events of that day.
So the "Sandy Hook conspiracy" falls because there is no good answer to the "Cui bono?" "Cicero test" (as these Mensa Chapter Presidents term it), but the 9/11 Truth conspiracy does pass the test.
So, you know: 9/11 "Truth" is respectable and stuff.
And even in the conclusion:
So: the Sandy Hook conspiracy theory has neither basis in fact nor motive. It is, in a word, bunk. But that does not mean that all conspiracy theories are automatically wrong, or that we should believe whatever the government tells us without question. The JFK "truthers" were eventually vindicated, and the government lies all the time. Keep an open mind! Like the proverbial broken clock, even Alex Jones is right sometimes.
This is not some stray remark. Again, this is the whole point of the article, as telegraphed in the headline.
Now Salon says:
The article slipped through our usual review process, and was clearly not up to our standards; we removed it as soon as it was brought to our attention by readers.
Does their "usual review process" include reading even the headlines?
So you didn't "review" the headline, and you also didn't bother to check the conclusion, either?
It was only "brought to their attention by readers"? A category -- "readers" -- which appears not to include a single staffer or editor at Salon?
Would it be more honest for Salon to just confess they don't have a "review process"?
If you can't even be bothered to skim the headlines of the pieces you publish, you don't have a "review process."

posted by Ace at
06:39 PM
|
Access Comments