« New Year's Resolutions Open Thread
|
Main
|
Senate Tax Bill Passes House »
January 01, 2013
Overnight Open Thread (1-1-2013) - A New Beginning
Well the good news is that most of the stains came out but I'm guessing Ace still won't be getting all of his deposit back.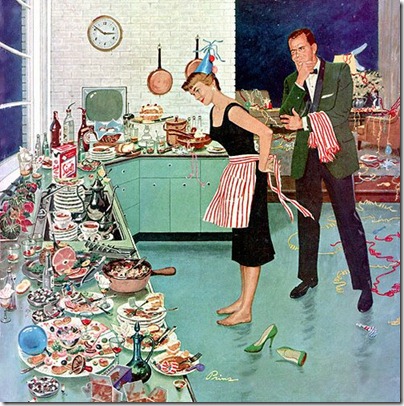 But hey let's not quibble over who stabbed who or which moron/moronette broke the lamp - we're on to a new year here.
Here's where we are:
* U.S. Tax revenue: $2,170,000,000,000
* Fed budget: $3,820,000,000,000
* New debt: $ 1,650,000,000,000
* National debt: $14,271,000,000,000
* Recent budget cuts: $ 38,500,000,000

Let's now remove 8 zeros and pretend it's a household budget:

* Annual family income: $21,700
* Money the family spent: $38,200
* New debt on the credit card: $16,500
* Outstanding balance on the credit card: $142,710
* Total budget cuts so far: $38.50
Now most households would go bankrupt fairly quickly at this rate but then this household can print money and make you accept it.
I'm pretty sure the birds and the black cat had some kind of arrangement going on.
How to Make Poor-Man's Liquid Nitrogen
With some dry ice and isopropyl alcohol. AoSHQ LLC not responsible if you freeze off something important.
Your Government at Work: Spearmint
The USDA has some new rules regarding spearmint oil:
This rule revises the quantity of Class 1 (Scotch) and Class 3 (Native) spearmint oil that handlers may purchase from, or handle on behalf of, producers during the 2012-2013 marketing year under the Far West spearmint oil marketing order. This rule increases the Scotch spearmint oil salable quantity from 782,413 pounds to 2,622,115 pounds, and the allotment percentage from 38 percent to 128 percent. In addition, this rule increases the Native spearmint oil salable quantity from 1,162,473 pounds to 1,348,270 pounds, and the allotment percentage from 50 percent to 58 percent. The marketing order regulates the handling of spearmint oil produced in the Far West and is administered locally by the Spearmint Oil Administrative Committee (Committee). The Committee recommended this rule for the purpose of maintaining orderly marketing conditions in the Far West spearmint oil market.
How did we ever get along without the government regulating the spearmint oil market - it was pure chaos I tell you!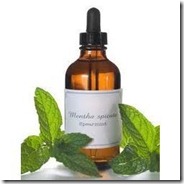 Richard Francis Burton was a hard-living combination of Thomas Jefferson and Teddy Roosevelt. By 1853, he'd already swashbuckled his way through enough adventures for several lifetimes. The British explorer, writer, ethnologist, polyglot, and spy had spent his youth traveling Europe and drinking in its culture, learning as much about history and poetry as he did about sword fighting and bordellos. He'd worked undercover investigating his fellow English officers' behavior in Indian brothels. And he'd penned travelogues and anthropological studies detailing his adventures.

But Burton craved more. During an extended leave from the military, he began devising one of the greatest adventures of the Victorian era. Burton wanted to be the first Englishman to walk into the forbidden city of Mecca.
Read the rest to find out how he pulled it off and the rest of his adventures which include searching for the source of the Nile and translating the Kama Sutra.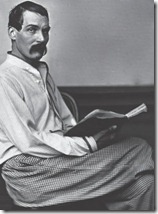 These Fists Were Made for Punching
Human hands evolved so that men could make fists and fight, and not just for manual dexterity, new research finds.

The study, published in the Journal of Experimental Biology, adds to a growing body of evidence that humans are among the most aggressive and violent animals on the planet.

...Gorilla hands are closer in proportion to human hands than are other apes' hands, but they and no other ape -- aside from us -- hits with a clenched fist.

The researchers additionally point out that humans use fists during threat displays. There is also a difference in body size between males and females, particularly evident with hands and arms. This, Carrier said, is "consistent with the hand being a weapon."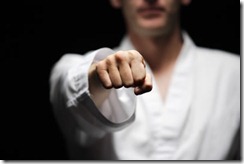 Teh Tweet!
Tonight's post brought to you by weak points: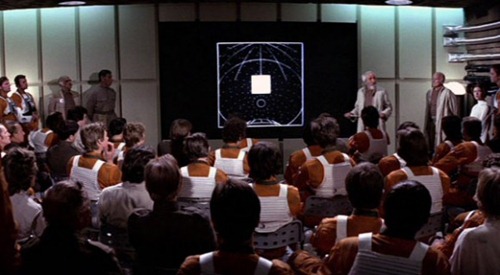 Notice: Posted by permission of AceCorp LLC. Please e-mail overnight open thread tips to maetenloch at gmail. Otherwise send tips to Ace.

posted by Maetenloch at
09:54 PM
|
Access Comments