« Saturday Morning Open Thread
|
Main
|
Next Phase Of The Gun Control Fight....Gun Shows »
December 29, 2012
The Passing Of General H. Norman Schwarzkopf Jr., USArmy
A New Jersey kid, the son of Ruth Allen and Herbert Norman. His name was later amended to H. Norman. And in his time, after serving in Vietnam where he earned three Silver Stars, a Bronze Star and a Purple Heart, he stayed with the Army and rose to greatness.

This is an except of his service (granted, Wiki, but sourced) about leadership and taking care of the men in your command.
In Vietnam in March 1970, Schwarzkopf was involved in rescuing men of his battalion from a minefield. He had received word that men under his command had encountered a minefield on the notorious Batangan Peninsula, and rushed to the scene in his helicopter, as was his custom while a battalion commander, in order to make his helicopter available. He found several soldiers still trapped in the minefield. Schwarzkopf urged them to retrace their steps slowly. Still, one man tripped a mine and was severely wounded but remained conscious. As the wounded man flailed in agony, the soldiers around him feared that he would set off another mine. Schwarzkopf, also wounded by the explosion, crawled across the minefield to the wounded man and held him down (using a "pinning" technique from his wrestling days at West Point) so another could splint his shattered leg. One soldier stepped away to break a branch from a nearby tree to make the splint. In doing so, he too hit a mine, which killed him and the two men closest to him, and blew an arm and a leg off Schwarzkopf's artillery liaison officer. Eventually, Schwarzkopf led his surviving men to safety, by ordering the division engineers to mark the locations of the mines with shaving cream.
They don't hand out Silver Stars for showing up.
RIP General. And Godspeed.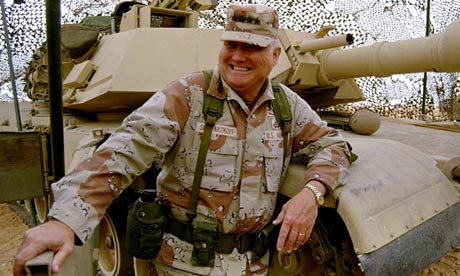 posted by Dave In Texas at
10:33 AM
|
Access Comments