« General Norman Schwarzkopf Dead At The Age Of 78
|
Main
|
Breaking: US evacuates embassy in Central African Republic [Purp] »
December 27, 2012
Overnight Open Thread (12-27-2012)
Paul Krugman says in this Guardian piece that he "grew up wanting to be Hari Seldon, using my understanding of the mathematics of human behaviour to save civilisation." For those of you who have read one or more of the books in Isaac Asimov's Foundation series, this makes a lot of sense.
I remember feeling the same way after reading Asimov's Foundation series. But then later I came to understand how complex (and even random) human behavior can be and how the mathematics of even deterministic systems often preclude meaningful long-term predictions. So Asimov-style psychohistory will probably always be science-fiction fantasy.
But as WRM points out Krugman has not only given up on the idea of psychohistory itself but today is now playing the role of Seldon's imperial enemies:
But there is an irony in Krugman's claim to have been inspired by Hari Seldon to take up social science: In his column in the NYT, he often comes off not so much like Seldon but like one of the Galactic Empire's elites, mistrustful of the Hari Seldons out there predicting the collapse of the "empire"-or, that is, the blue model.

In "The Psychohistorians," the head of the imperial committee charged with prosecuting Seldon reaches an important decision. This politician intuitively understands that Seldon's theory of imperial decay is right, but as a card-carrying member of the elite he can't just let Seldon off the hook for his dangerous ideas. So he splits the difference: he reduces the sentence for Seldon and his followers from death or imprisonment to exile to the galactic hinterland of Terminus, where they can work out the plan to save civilization in peace.

That's pretty much what the blue intellectual establishment does today: it doesn't silence freethinkers but it pushes them out to the fringes.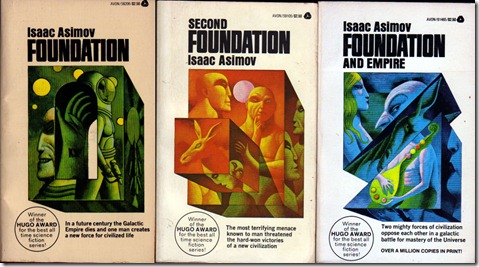 [These are actually the old covers for the series but since my copies were hand-me-downs from my father they're the only ones I ever knew]
Why UofRI Professor Erik Loomis Should be Fired
Because of the incipient fascism in his writings.
You see the real reason why Loomis should be fired-or at the very least investigated for what he said-is that his comments are fascist.  Bear in mind, I define fascism as nothing more than a lack of belief in democracy itself.*

Consider for instance this comment by Loomis:

You are goddamn right we should politicize this tragedy. F__k the NRA. Wayne LaPierre should be in prison. [Cursing censored by me.]

So he believes that LaPierre should be imprisoned for what exactly?  To the best of my knowledge, LaPierre has broken no laws.  All he has done is advocate for a policy-reduced restrictions on gun ownership-that Loomis disagrees with.  Advocacy of the criminalization of opinions you don't agree with is the very essence of fascism.  He repeats that thought several times:

Wayne LaPierre is a criminal and should be in prison for complicity with murder. 27 counts.-

Dear rightwingers, to be clear, I don't want to see Wayne LaPierre dead. I want to see him in prison for the rest of his life. #nraterrorism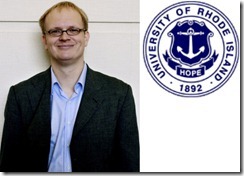 So What Do We Really Know About the Sandy Hook Shootings?
Even now a lot of the reporting seems to be guessing and just making shit up:
But as it turns out, a great deal of the reporting in the Newtown massacre was incorrect, whether merely irresponsible or purposefully misleading it's difficult to say. As far as we know now (which isn't very far), the killer's "mental illness" seems to not have been of the commitable variety, and there seems to have been no prior hints of his dangerousness. He took the guns from his mother, but how she stored them and how he obtained them is completely unknown. Reports from a friend or friends that she had taken her son to shooting ranges seem to be unsubstantiated as well (although he visited one, he apparently was alone at the time, and there doesn't seem to be a clear record of him shooting there).
Also can you predict future violence from mental patients? Not really says Theodore Dalrymple:
In fact, psychiatrists are no better than others at predicting violence by disturbed people, except possibly among the psychotic. They tend to overestimate the dangers, and in making predictions, they face the problem of the false positive and the false negative. In the case of a false positive, you think that someone is dangerous when he isn't; in the case of a false negative, that he is not dangerous when he is. False predictions of rare events (such as mass killings) generally outweigh true ones by a large factor-an important point to remember, especially if you wish to grant or withdraw civil liberties on the basis of such predictions.

Not long ago, I was asked to participate in an inquiry into a spate of murders committed by psychiatric patients. The killings seemed to be statistically abnormal (recalculation showed that they were not). We were asked to determine whether there was a single type of act, or omission, by the psychiatric services common to all the murders which might help explain them. ...Yet, except in one case, I found no evidence that the low standard of practice had actually resulted in a preventable killing, despite the immense power of the retrospectoscope-the medical instrument that provides us with wisdom after the event and that sometimes does lead to improvements in practice that saves lives, though at other times it provides us only with scapegoats.
8 US Sailors Suing TEPCO Over Fukushima Radiation
In March 2011, the USS Ronald Reagan participated in Operation Tomodachi, an American military effort to provide aid and assistance to Japanese tsunami victims. The aircraft carrier, which was equipped with advanced radiation detection devices, kept a safe distance from the Fukushima Daiichi nuclear power plant. At one point, the media reported that the ship had been exposed to a tiny and non-dangerous amount of radiation:

    "The maximum potential radiation dose received by any ship's force personnel aboard the ship when it passed through the area was less than the radiation exposure received from about one month of exposure to natural background radiation from sources such as rocks, soil, and the sun."

The ship was apparently about 100 miles away from the plant, way beyond the evacuation distances recommended by both the Japanese government and U.S. government.
And now eight sailors aboard the ship are suing TEPCO over potential reduced lifespans due to radiation exposure. Given that the USS Ronald Reagan is itself nuclear-powered I'm pretty sure that the radiation exposure of the crew is carefully monitored and any dangerous levels would have been enough for the ship to move further away and follow decontamination procedures. So count me completely skeptical.
College Student Being Stalked by Parents
There are helicopter parents and then there parents who really really need a new hobby not involving their adult daughter.
A music theater student has won a stalking order against her parents who admitted they installed monitoring software on her computer and phone to ensure that she succeeded.

David and Julie Ireland have been ordered to have no contact with their 21-year-old daughter - their only child - before September 23, 2013 and must keep 500 feet away from her at all times.

The unusual case concerns Aubrey Ireland, a musical theater major who regularly fills lead roles at Cincinnati's prestigious College-Conservatory of Music and has made the Dean's List every quarter.

Despite this success, her parents often drove 600 miles from their home in Leawood, Kansas, to visit her unannounced and to accuse her of promiscuity, of using drugs and of having mental issues.

They even informed her head of department that she had mental problems and that they were considering going to court to force her to get treatment, the Cincinnati Enquirer reported.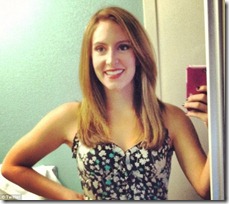 What Does the International Space Station Sound Like?
Well it's kinda loud.
12 Letters That Didn't Make the Alphabet
All of these sadly failed to make the cut - among them my favorite:
You're probably familiar with this guy from old-fashioned Greek or Roman style text, especially the kind found in churches. It's even still used stylistically in words today, like æther and æon.

What you may not know, however, is that at one time the ae grapheme (as it's now known) was an honorary English letter back in the days of Old English. It still had the same pronunciation and everything, it was just considered to be part of the alphabet and called "æsc" or "ash" after the ash Futhark rune, for which it was used as a substitute when transcribing into Latin letters.

The Yahoo group is looking for a few good moderators. Inquire within.
And my Twitter spew.
Tonight's post brought to you by sockets: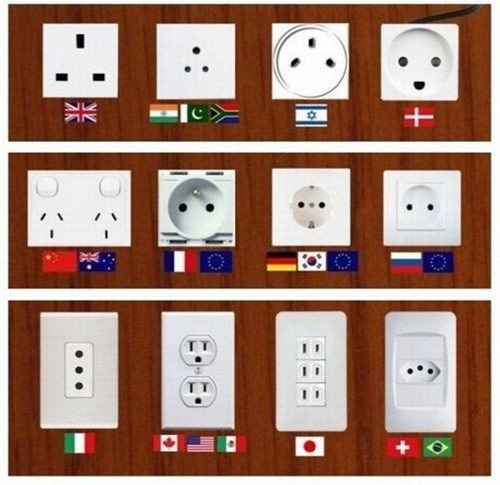 Notice: Posted by permission of AceCorp LLC. Please e-mail overnight open thread tips to maetenloch at gmail. Otherwise send tips to Ace.

posted by Maetenloch at
09:23 PM
|
Access Comments