« November 7, 2012: Chosin Reservoir
|
Main
|
Positive Life Improvement Thread »
November 07, 2012
Overnight Open Thread (11-7-2012)–Comfortably Numb Edition
Well I'm pretty drained and don't feel like talking about politics.
I've been up since 3:30AM, saw Romney lose by 8am, and then had a long busy day. There were a few pangs of sadness (about how you feel a few weeks after a breakup) during the day but on the plus side I saw a lot of people I haven't seen in a while, got some sales leads, was buzzed no less than 3 separate times today on free beer and wine, and got to chat up some cute young Scandi chicks (sub-clade: Finnish).
So all in all not too bad in the micro and macro-micro as post-debacle days go. So that's gonna be my focus for a while: smelling  the coffee, drinking the beer, and enjoying the micro-pleasures of life.
Now I like discussing and writing about politics - but it's not my life. So some political events may piss me off or frustrate me but by and large my daily mood and enjoyment of life aren't driven by whatever happens to be going on in politics. Now some will say this is only because I don't love America or experience emotions as you humans know them - but that hasn't been the case since at least the MkIV Emotion co-processor.
But having struggled with depression a time or three I've learned that the best way to keep the black dog away is to always have multiple irons in the fire of contentment. So if one turns to shit, there are always others ready to give you a little satisfaction on a daily and weekly basis. And these need their occasional share of attention too.
Of course don't forget about the future - I always keep my Virtual Niedermeyer running in the background, scheming and plotting during otherwise idle brain cycles.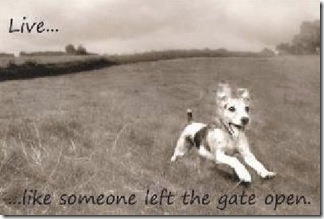 The Secret Mission of the HMS Conqueror
"The submarine that sank the Argentine cruiser General Belgrano during the Falklands war was involved in a much more daring and dangerous Cold War operation only weeks later."
Stealing equipment right off a Soviet ship while in Soviet waters.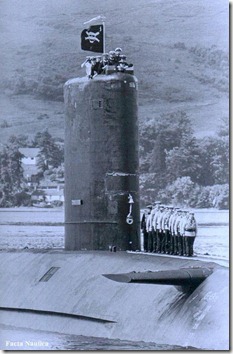 How well do you really know US geography? Well play the game and see.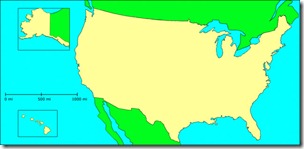 On September 30, 1982, NBC premiered a new sitcom called Cheers, a smartly written show about a bar owned by a retired relief pitcher named Sam Malone. Created by director James Burrows and writer-producers Glen and Les Charles, Cheers would become the last blast of pre-irony prime-time. There was no callous snark, no deconstructive riffs, and only a handful of time-stamped pop-culture references. For the most part, people sat around a bar and talked. But despite its elemental simplicity, the show sparked a quiet revolution in the way TV comedy was produced, with each half-hour episode playing into a soap-style arc of love, death, and bar-bets that would go on for eleven seasons. "It was something bigger than a sitcom," says early Cheers writer-producer Sam Simon, who'd later help develop The Simpsons. "It was a sweeping narrative."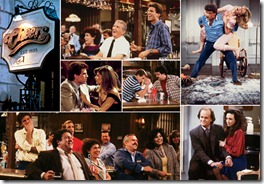 Why You Never Want to Belong to a Church or Synagogue in Germany
Because if you are a member, the German government automatically takes a tithe out of your paycheck:
Ever since 1803, all Germans citizens registered with the government as Catholics, Protestants, or Jews have paid a "church tax." 8-9% of the individual's income tax bill goes to the government, which holds on to the money for a little while before passing it on to the church of which he is a member. To us Americans, it may seem an odd way of operating, but it has been the system in Germany for over two centuries.
And if you don't pay up, you get 'excommunication lite'. 9% is a pretty big hit so it's amazing that church membership is as high as it is.
Sandra Tsing Loh: The Problem Is That No Man Is Good Enough For Me And My Friends
But once you read the article it's not a surprise that all but one of the women are divorced and single and the only married friend apparently hates her husband over a light bulb:
And the FOURTH NIGHT???" Annette's face stretches into such a terrifying Medusa rictus that we recoil. "I wrench open the kitchen door and start screaming: 'Oh my GOD, Ron! Either do it or don't do it, but if you honestly and in fact have no plans at all to change the lightbulb, JU-U-UST TE-E-ELL ME!' And Ron is actually indignant! It's like I am the one who is being OUTRAGEOUS and require HIM to give ME a teachable moment. He's saying: 'Look at yourself-why are you so fixated on a lightbulb? That's pretty shallow. We're happy, we're healthy-but all you see is the lightbulb. Are you aware of how negative you've become? It's the first thing you radiate when you step in through the door.' And it's like I can't breathe-I literally can't breathe-and I'm saying: 'It's not about a lightbulb, it's that you PROMISED, over and over again, and I TRUSTED you-which means your word means NOTHING!' At which point he says-and he is literally waving the spatula now, like a king with his scepter-'If you are so obsessed with the damn lightbulb-and I'm sorry if I don't invest my whole EMOTIONAL LIFE in it like you do, and maybe you should look at that-WITH GOD AS MY WITNESS, I PROMISE FROM THIS DAY FORWARD YOU WILL NEVER SEE A BURNED-OUT LIGHTBULB IN THIS HOUSE AGAIN!!!' "
I'm guessing the burnt-out lightbulb is just one of many broken things in this relationship.
Teh Tweet!
Yahoo group. That is all.
Tonight's post brought to you by Bond being Bond: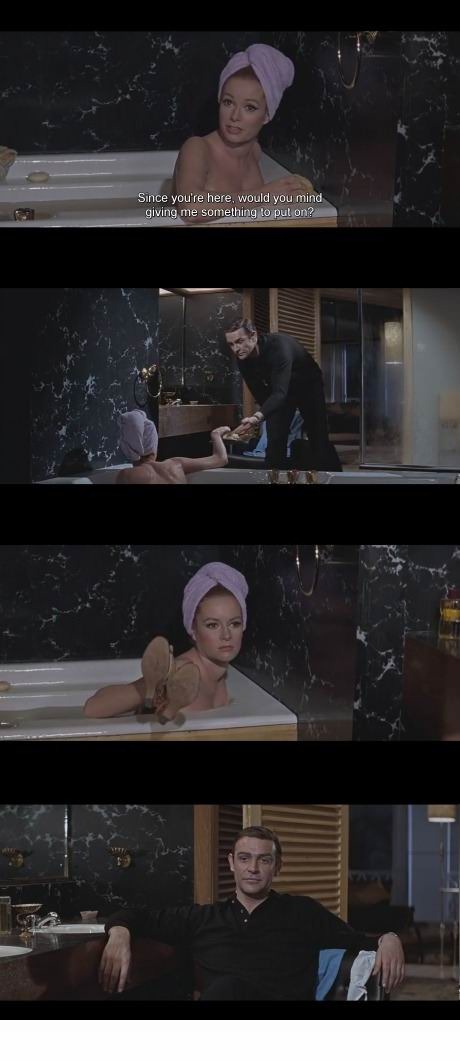 Notice: Posted by permission of AceCorp LLC. Please e-mail overnight open thread tips to maetenloch at gmail. Otherwise send tips to Ace.

posted by Maetenloch at
08:56 PM
|
Access Comments