« Yup, Evangelicals Turned Out, And 42% of the Public Said Hurricane Sandy Was "Important" To Their Decision
|
Main
|
Overnight Open Thread (11-7-2012)–Comfortably Numb Edition »
November 07, 2012
November 7, 2012: Chosin Reservoir
This is not when the battle was fought. This is when the remains of Corporal Elmer Kidd came home to Syracuse NY.
He was 26 years old when he was killed in Korea. His remains were among 208 others, returned to the US in 1993, and having recently been identified now returned to his family for interment near his home.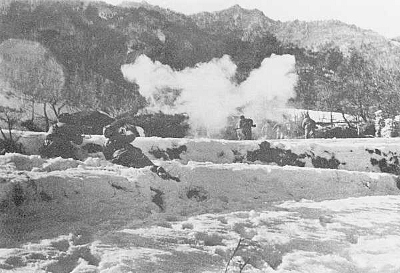 Chinese Assault on Task Force Faith
The Battle of Chosin Reservoir is sometimes remembered as a retreat and a defeat. An American force of about 30,000 was surrounded by Chinese and North Korean forces numbering over twice their strength. In many battles like this, vast armies who are outnumbered lay down their arms, or are chewed up until there is nothing left.
But not Chosin. In this fight, X Corps, comprised of the 1st Marine Division, the US 3rd and 7th Infantry Divisions*, Brits from the 41st Royal Marines and a smaller number of Korean forces broke out of the trap. They suffered 1,000 killed, and almost 5,000 wounded. But in their fight to save X Corps they inflicted 20,000 casualties on the enemy. They engaged and fought their way out, a 17 day battle in freezing temperatures, and preserved their strength to fight again.
If you've never read an account of Regimental Combat Team 31, "Task Force Faith", look it up. It will inspire you.
Welcome home Corporal Kidd. God bless you, and your comrades.
video account of battle below the fold

*corrected

posted by Dave In Texas at
08:45 PM
|
Access Comments