« Game One World Series Thread
|
Main
|
Top Headline Comments 10-25-12 »
October 24, 2012
Overnight Open Thread (10-24-2012)
America Only Ranks 3rd in Liking America
Japan and Kenya actually like us better than we do. And the US just barely beats out France - France!?
Whatever happened to good ole fashioned American self-love?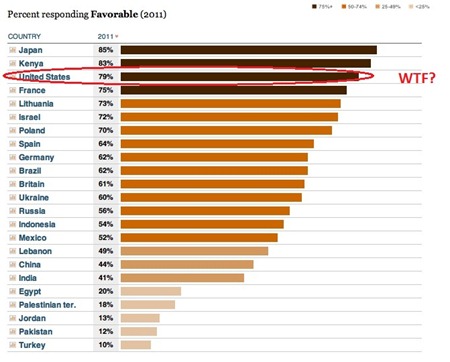 But not to worry - the world still loves Obama. In fact he leads Romney by 65% to 8% in most of Europe. The only country where Romney is ahead is Pockistan - go figure.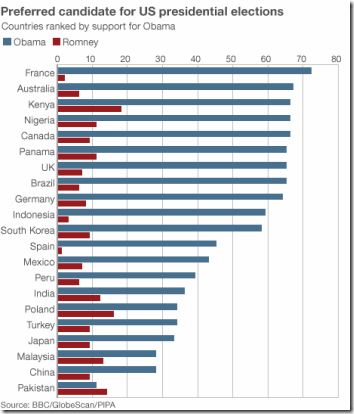 And on a completely unrelated note how come Obama donors have so much trouble getting their zip codes right?
NYT: Mitt Romney Talks Too Old Fashioned
Mitt Romney at a campaign stop in Virginia this month. His unique style of speaking has distinguished him throughout his career.

Not merely in love.

"Yeah, smitten," he said. "Mitt was smitten."

It was a classic Mittism, as friends and advisers call the verbal quirks of the Republican presidential candidate. In Romneyspeak, passengers do not get off airplanes, they "disembark." People do not laugh, they "guffaw." Criminals do not go to jail, they land in the "big house." Insults are not hurled, "brickbats" are.

As he seeks the office of commander in chief, Mr. Romney can sometimes seem like an editor in chief, employing a language all his own.

...Asked about his boss's word preferences, Eric Fehrnstrom, a veteran Romney adviser, responded knowingly: "You mean like 'gosh, golly, darn'?"
But what they don't know is that in addition to French and Spanish Romney also speaks Jive.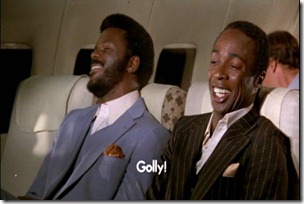 10 Words From the Guttertongue
Every time you say 'I kilt my ugly husband with a knife from Ikea' it turns out you're basically speaking teh Scandi.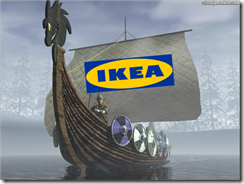 Watch an Eyewitness to the Lincoln Assassination
As seen on 'I've Got a Secret' in 1956. Thanks to Lady Galt.
Around 10,000 years ago a single mutation suddenly let humans drink milk even after infancy and things were never the same.
Milk - it makes a civilization strong.
It was in these horrendous conditions that the lactose tolerance mutation took hold. Reconstructed migration patterns make it clear that the wave of lactose tolerance that washed over Eurasia was carried by later generations of farmers who were healthier than their milk-abstaining neighbors. Everywhere that agriculture and civilization went, lactose tolerance came along. Agriculture-plus-dairying became the backbone of Western civilization.

...The plot is still fuzzy, but we know a few things: The rise of civilization coincided with a strange twist in our evolutionary history. We became, in the coinage of one paleoanthropologist, "mampires" who feed on the fluids of other animals. Western civilization, which is twinned with agriculture, seems to have required milk to begin functioning.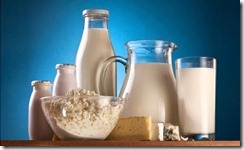 Zombie Movie You Should Watch: Dawn Of The Dead (1978 )
Not quite as famous as the 1968 original this sequel pretty much laid out the fast-zombie horror movie genre. And it's completely available on YouTube.
Hippies in Action: Powder Ridge Rock Festival
It may have been 1970 but the hippie lifestyle and fashions were already clearly established. And 40 years later the Occutards are still mostly just copying their hippie grandparents.
Yes this link contains nudity - but it's hippie nudity. You have been warned/enticed.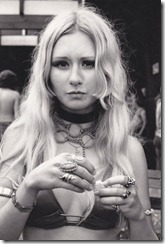 Teh Tweet!
Yahoo group. That is all.
Tonight's post brought to you by a young Leo Tolstoy during the Crimean War: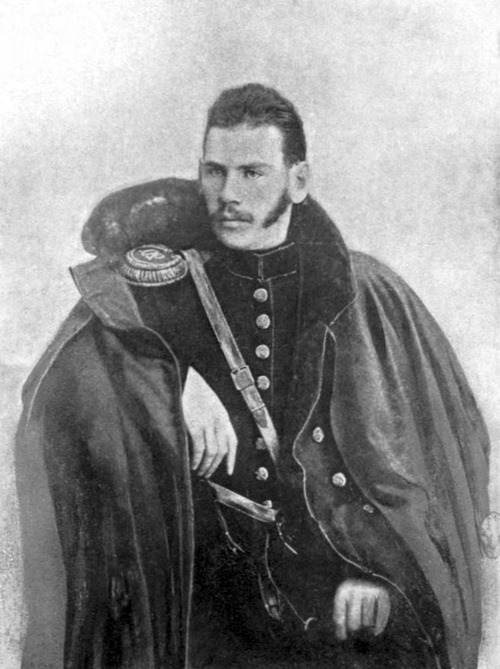 Notice: Posted by permission of AceCorp LLC. Please e-mail overnight open thread tips to maetenloch at gmail. Otherwise send tips to Ace.

posted by Maetenloch at
09:28 PM
|
Access Comments