« Second Presidential Debate Liveblog
|
Main
|
CBS Poll: Romney Wins 65-34 on Economy;
CNN Poll: Romney Wins 54-40 on Economy,
49-46 on Health Care,
51-44 on Taxes,
59-36 on Deficit,
49-46 on Leadership,
All in Favor of Romney »
October 16, 2012
Overnight Open Thread (10-16-2012)
Well since all the decent folk are off at the debate thread, feel free to 'get comfortable'.
NO PANTS, NO SHIRT, FULL ONT SERVICE.
Remembering Joe Kittinger: C-O-M-E A-N-D G-E-T M-E
Felix Baumgartner made the news earlier this week with his jump earlier but don't forget that he was trying to outdo what Captain Kittinger did over 50 years ago.
In 1960 Kittinger jumped from 102,800 feet and set the highest balloon ascent, highest parachute jump, longest drogue-fall (four minutes), and fastest speed by a human being through the atmosphere. Later he served three tours in Vietnam and spent a year as a North Vietnamese POW when he was shot down in 1972. And this week at age 84 he served as the capsule commander during Baumgartner's jump.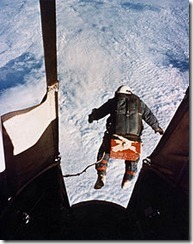 But he wasn't the only jumper in that period - there were others who weren't as lucky:
Finally, there was the tragic case of Nick Piantanida, a truck driver, erstwhile exotic pet dealer and daredevil from New Jersey who six years after Kittinger's final statospheric jump decided that he was the man to beat the jump record. After two failed attempts, the second of which reached an unofficial altitude of 123,000 feet, Piantanida ascended over the South Dakota prairie in his Strato-Jump III gondola. Things were going well until about 57,000 feet when the ground crew heard a whoosh and a scream of "Emergency!" from Piantanida.

Though he was immediately rushed to a hospital, Pinatanida had spent too long exposed to a near-vaccuum and, after four months in a coma, he died at the Veteran's Hospital in Philadelphia.
And yet he still lied about tax rate reductions while removing deductions for the wealthy:
Amazing, in fact, might be a better description of Biden's duplicitousness on the question of tax reform. While obviously no one has enacted a plan exactly like Romney's before, the general principles have been applied twice, with John F. Kennedy's proposed tax reforms that were later implemented slightly differently, and Ronald Reagan's 1986 tax reform, both of which cut marginal rates significantly and eliminated deductions for the wealthy, while gathering essentially the same revenue (technically the '86 bill itself cost $8.9 billion in revenue over the first two years, but overall tax revenues increased substantially in its wake). But twice Biden claims that such tax reform "has never been done before." But he should know better - he actually voted to do it, 28 years ago. On September 27, 1986, Biden voted (along with 32 other Democrats) to enact H.R. 3838, Ronald Reagan's tax reform, which lowered rates, eliminated deductions, and barely affected the deficit.

In fact, that bill actually lowered the top marginal tax rate to 28 percent, the top rate Romney and Ryan have proposed. Biden's assertion that something like what Romney and Ryan are proposing "has never been done before" is, well, laughable.
And in fact Biden has been pretty much brazenly fibbing his way through life since at least law school - including this mega-whopper from his 1988 campaign:
"I think I probably have a much higher IQ than you do, I suspect," Biden sniped at the voter. "I went to law school on a full academic scholarship." That claim was false, as was another claim, made in the same rant, that he graduated in the top half of his law-school class. Biden wrongly stated, too, that he had earned three undergraduate degrees, when in fact he had earned one-a double major in history and political science. Another round of press inquiries followed, and Biden finally withdrew from the race on Sept. 23.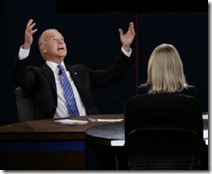 Always Room for Improvement: Socks That Never Wear Out
They made of lycra, carbon fiber and kevlar and they 're the brainchild of a recent graduate of the US Air Force Academy who used Kickstarter to get funding for the product.
Made from Kevlar-carbon matrix material, they're designed never to get a hole, droop, or wear out.

Described as "the first business-casual application of Kevlar," Socrates socks feature toes fashioned from a Kevlar carbon matrix material and a carbon threaded material on the toes and heel. That's the most common locations for holes covered, but the Socrates socks don't stop at Kevlar for their military-inspired longevity. The top of the socks also feature "military spec elastic," which presumably keeps them up in even battlefield conditions, while the bulk of the sock is created from Lycra freshFX fabric with "anti-droop technology."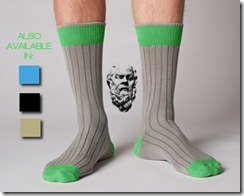 Six TV Networks That Started Out as Something Else
Well I remember when the History Channel used to have actual history shows. And then you have the case of ABC Family which started out as the Family Channel:
Plan A was to use it for ABC re-runs. Too bad [ABC] didn't own the syndication rights to the stuff they wanted to show.

Plan B was an image makeover. They'd rename it XYZ (as in the opposite of ABC) and sell it to a younger, edgier audience. Too bad nobody read the contract that said the word "family" had to stay in the name forever.

Why? For that, we rewind to its beginning as Pat Robertson's Christian Broadcasting Network Satellite Service in 1979. That religious beginning followed the network through multiple sales, each of which has been required to continue broadcasting Robertson's The 700 Club, hence the reason that show is now bookended by the disclaimer, "The following/preceding CBN telecast does not reflect the views of ABC Family"as well as the network's slogan of the last few years, "A New Kind of Family."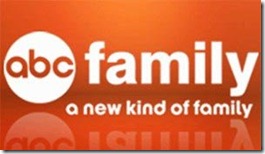 Apparently the Washington Post runs a blind-date service called Date Lab with complementary dinners - so long as the couple give an after-action report which appears in the weekend magazine. Basically a print version of Blind Date.
And the most recent Date Lab did not go so well:
Jack Gray is 64 and Eva-Marie Pede is 59. They both happen to be Republican-but other than age group and political affiliation, they didn't seem to have anything in common.

Jack tried making small-talk-he didn't know much about dressage, which happens to be Eva-Marie's passion. He later asked, "'Don't you ever just get on a horse and ride it just to ride it?' And she says, 'No, that wouldn't be right.' It sounded like she enjoyed being with a horse more than a human." (Was that a Catherine the Great reference?) Jack was also puzzled by his date's quietness.

"For me it was an uncomfortable situation," says Eva-Marie. "It was just very weird, very strange. There would not be anything positive, and so I'd really rather not say anything. It's awkward; I don't want to hurt anybody's feelings. What my perception is is all it is: just my perception. Someone else might think something completely different."

At which point Eva-Marie decides to go the bathroom and . never return. "To avoid awkwardness and lengthy explanations, I decided to leave," she explains. "The interaction was becoming painful, and it was time to go. [There was] just absolutely no compatability, and I didn't want to stick it out for the duration. I made a quiet exit. I'd rather not say what in particular prompted me."
Comments have been flying with many critical of Pede. Baring an unsafe situation I would have expected a bit more grace at extricating oneself from a bad date at age 59.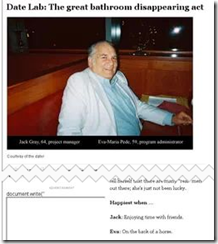 Teh Tweet!
Tonight's post brought to you by ding-dong-ditch 2012-style: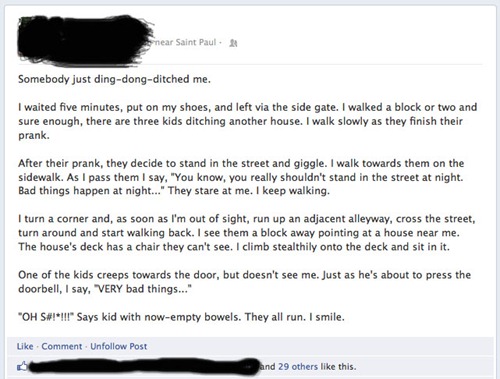 Notice: Posted by permission of AceCorp LLC. Please e-mail overnight open thread tips to maetenloch at gmail. Otherwise send tips to Ace.

posted by Maetenloch at
10:14 PM
|
Access Comments