« Flashback, June 8, 2012: Hundreds of Well-Armed Militia Demand Sharia Law... In Benghazi
|
Main
|
Late Night Bedspins: Mystery Karaoke Singer Wows Mall Patrons again! [dri] »
September 18, 2012
Overnight Open Thread (9-18-2012)
So Who Isn't Paying Income Tax?
Well the short answer is about 47% of American households which is Romney was getting at with his 'gaffe' comment. And the moral hazard of not paying any income tax at all is that you become insulated and indifferent to the costs of ever higher government spending and growing tax rates. So why not take all the guvvie bennies you can get - it's not gonna cost you anything.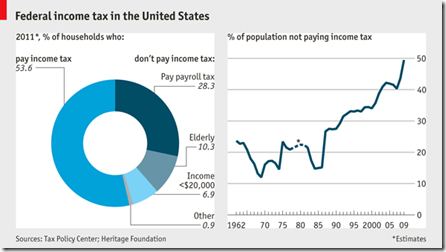 And here's a breakdown of which states have the most non-income tax payers. And you can see that the 10 states with the lowest average incomes are also the states with the fewest tax payers - which is not surprising given how progressive our income tax rates are.
Now this is supposed to undermine Romney's point since it makes it appear that the (literally) red states are also net takers - but the colors are misleading since the percentage of non-payers doesn't vary by all that much across the country. Is New York with its 35% of no-payers really more virtuous than Texas with 39%? I doubt it.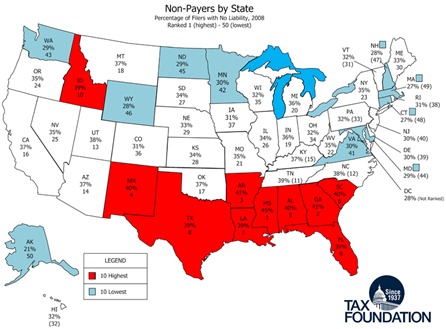 Syria Approaching the WMD 'Red Line'?
Obama has warned Syria that using chemical weapons would trigger an American military response. But it appears that Assad has decided that if he goes down, it will be with no weapon left unfired.
Syria tested firing systems for poison gas shells at the country's largest chemical weapons research center at Safira, east of Aleppo, last month, German weekly Der Spiegel reported on Monday, citing statements from various witnesses.

According to the report, Iranian Revolutionary Guard officers were flown in by helicopter to witness the testing.

Several empty shells, designed to carry chemical weapons, were fired by tanks and helicopters in a desert location near the research center, Der Spiegel quoted the witnesses as saying.
When Syria recently confirmed its WMD weaponry (perhaps the worst-kept secret in the Middle East), the Assad government vowed they would only be used against "outside" forces. But that's a hollow vow. Collectively, Bashir Assad and his late father slaughtered tens of thousands of Syrians to maintain their hold on power. The younger Assad has no qualms about using chemical weapons against the rebels in Aleppo or other locations.

The recent test was also aimed at gauging outside reaction, particularly from Israel and the United States. Judging from Israeli media coverage, it's clear that Prime Minister Netanyahu and his advisers are paying very close attention. As for the U.S., it's difficult to say. so far, there's been no public reaction from the White House or the Pentagon, and with President Obama MIA from recent intelligence briefings, there are concerns about how much attention the activity is receiving at the highest levels of our government.
Could the Taliban Kill Prince Harry?
Short answer: Surprisingly easily given how they were able to penetrate Camp Bastion.
More than six years later, the area remains hostile.  Open warfare continues, and we just permitted the Taliban to destroy about $200 million dollars' worth of assets.  Short of digging an epic tunnel, there is no way to approach Bastion unseen.  The Taliban still managed to breach what should have been one of the most heavily guarded military facilities in the world.  Someone needs to be fired.
The Afghan military is loaded with turncoats, moles, infiltrators, and drug-addled lunatics.  They prove this practically weekly.  Last year, a long-time Afghan Air Force Colonel, a helicopter pilot, went berserk and killed nine Americans.

The Afghan Air Force might as well be the National Reconnaissance Office for the Taliban.  One crewmember with a camera can get all of the latest imagery from many bases in his area.  But aside from that, what if another rogue Afghan pilot decides to go lethal?  We have been training their M-17 helicopter pilots to fire rockets.

...If the rogue MI-17 is armed with rockets, the pilot has more options.  Once the attack has begun he could loiter over the base firing machine guns, and if he is not shot down, he could kamikaze his American-bought Russian helicopter into the HQ.  Or he could fly back out and pick up another three dozen commandos and drop them off on another part of base, and then crash into HQ.  If the enemy works hard and luck is on their side, they could take out dozens of aircraft.

The MI-17V5 will carry about 10,000 pounds of cargo.  If they wanted to play it differently, the rogue MI-17 pilot could land and quickly have a 10,000 pound bomb loaded, something they might have practiced and perfected in Pakistan.  They could fly over the airport and wipe out a billion dollars worth of aircraft, Prince Harry, and some Generals.  Especially so if they had two rogue helicopters at once.  The first could be a giant bomb, and a minute later three dozen commandos dressed like Americans could pile out, and the surviving helicopter could continue to ferry in commandoes until he is shot down or out of gas.  Bastion is not impenetrable.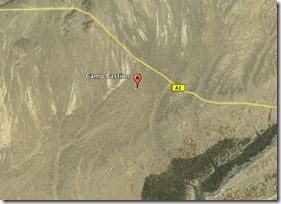 Everyone KNOWS That Reagan Created the Homeless Problem
And the media relentlessly repeats this 'fact' but of course it's not really a fact at all as our own Christopher Taylor points out:
For some reason the "Reagan closed the asylums and filled our streets with loonies" myth is one of the strongest and oldest in our society. And yes, its a myth.

The truth is, many mentally ill people were removed from hospitals and asylums and set out on their own. That happened because of several court cases, the most critical one being a Supreme Court case in 1975 called O'Connor v. Donaldson. The court ruled that someone may not be incarcerated in a mental institution against their will unless they are a danger to themselves or society. To do so would be a violation of their basic civil rights to liberty and as a result many people who had been thrown into these institutions were set free.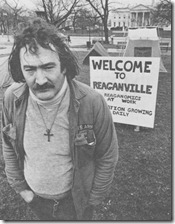 How Secure is your PIN Number Really?
Probably not so much since just 20 PINs are used for over 26% of all accounts (see chart below). And a criminal would only have to check 426 common PINs to have a 50% chance of getting into an account.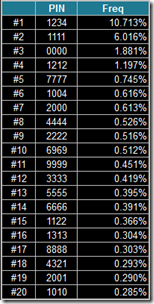 The Ewok Version of "When You're Gone"
Marines Who Love Space Marines
As an Army officer, Maj. Stephen D. Carey has served tours of duty in Iraq and Afghanistan. In his spare time, he fights a different kind of battle, one that rages in the apocalyptic 41st millennium. The distant future would be a terrifying realm for a mere mortal, what with all the Necrons, Tyranids, and Tau on the loose. To survive the war-torn galaxy, Carey enlists the help of marauding, green-skinned Orks. He also presides over an Imperial Guard army, because some days, defending mankind is more fun than trying to destroy it.

This is the intricate, intense world of Warhammer 40,000, a tabletop war game played with hand-painted, miniature figurines.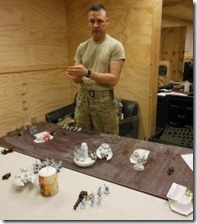 Teh Tweet!
Tonight's post brought to you by Ginger: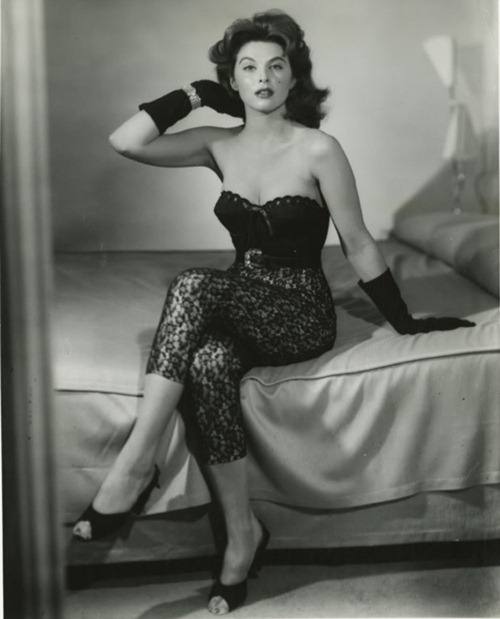 Notice: Posted by permission of AceCorp LLC. Please e-mail overnight open thread tips to maetenloch at gmail. Otherwise send tips to Ace.

posted by Maetenloch at
10:14 PM
|
Access Comments