« Top Headline Comments 9-14-12
|
Main
|
Rasmussen: Romney 48, Obama 45 »
September 14, 2012
Muslims Celebrate Their Day Of Worship In Their Traditional Way....Riots UPDATE: University Of Texas Being Evacuated After Bomb Threat
US Embassies attacked in Yemen, Tunisia, Sudan. Protests in Lebanon and Egypt.
Protesters in Tunis broke into the U.S. Embassy compound there, set fire to trees and broke windows of embassy buildings, a witness cited by Reuters reports. In Sanaa, Yemen, security forces fired guns in the air to keep protesters from the U.S. Embassy, a day after its compound was broken into and looted.

In Tripoli, Lebanon, demonstrators burned down a Kentucky Fried Chicken restaurant and an Arby's and attempted to storm a government building, according to news reports. Soldiers opened fire, killing at least one.

In Khartoum, 5,000 protesters gathered at the German and British embassies and stormed Germany's, setting it ablaze, Reuters reported. Buses full of protesters were reportedly heading toward the U.S. Embassy, on the outskirts of the city, Al-Jazeera said.

Smaller demonstrations were underway in Indonesia, East Jerusalem, Malaysia and Qatar. And in the Kashmir region of India, at least 15,000 people — mostly Muslims — participated in dozens of protests, burning U.S. and Israeli flags, the AP reported.
Of course like all of you my first thought on hearing this news is, "What the hell did Mitt Romney say now?"
And in Londonstan....
WHOA: U.S. and Israeli flags being burned in LONDON according to Al Jazeera. Yes, LONDON.
Via Gabe, the US Embassy in Tunis. (Might be a US school)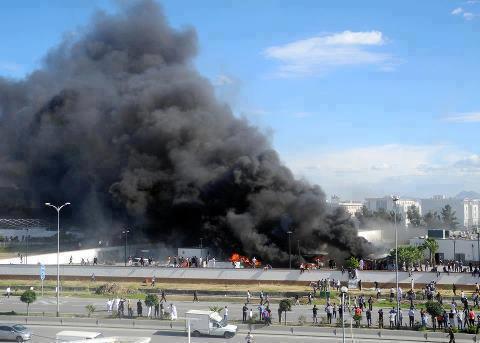 Updated: This seems unlikely as al Qaeda doesn't give warnings but....
Man claiming to be with al-Qaida called bomb threat into University of Texas at Austin, according to university
Update [ace]: "Middle eastern accent."
I smell the Tea Party behind this.

posted by DrewM. at
11:03 AM
|
Access Comments