« Michelle Malkin's Epically Righteous Fury at Barack Obama's Incompetence
|
Main
|
Top Headline Comments 9-13-12 »
September 12, 2012
Overnight Open Thread (9-12-2012)
Let There Be Light: The Censored Documentary on Traumatized WWII soldiers
Made by a young John Huston for the Army in 1946:
With no political agenda, and anxious to keep scrupulously to the task he had been given, Huston applied to the letter the principle of objectivity he had followed in the two previous documentaries. For more than three months, he filmed the daily life of former combatants hospitalized at Mason General, a military hospital on Long Island. The courage and sense of sacrifice of these men was clearly portrayed, as the Pentagon had clearly requested. But equally apparent was the fact that some of them were utterly destroyed: their fear, their shame, and their tears showed clearly, as did their contempt for military authorities.
But in 1946, and especially in military psychiatry, the most widely accepted view was that soldiers who became mentally ill were psychologically weak or malingering.

The fact that film showed US Soldiers, not as the glorified heroes the public wanted, but as disabled veterans, meant that the film would be a huge propaganda disaster - likely compounded by the fact that most people saw these conditions as character flaws or shameful faking.
Today the military is much savvier regarding the effects of combat and PTSD is treated as a hazard of prolonged combat itself rather than a character flaw. Statistically any soldier - no matter how strong and well put together - will get PTSD if they're in combat long enough without a break.
It's hard to watch some of these interviews as the soldiers speaking are truly suffering - and their pain is further compounded by the shame of suffering from non-physical 'fake' injuries. And the doctors seem rather harsh and unempathetic to the men in front of them.
Some of the commenters have pointed out that this was how Army psychiatrists of the time were trained to deal with patients and that given the sheer volume of patients and short 8-week treatment program it would have been difficult to have been more personal. Luckily we've come a long way and I hope we treat today's returning troops better.
More here.
25-Year-Old Shocked Shocked to Find Out that Taking Out Huge Student Loans Leads to Huge Debt
Katie Brotherton is unhappy:
I attended St. Margaret of York grade school and then matriculated from the reputable Ursuline Academy. After high school, I earned degrees from Miami and Xavier universities. Because of my local education, Cincinnati is more than my hometown - she is the mother who raised me into the woman I am now. I am Cincinnati.

My pursuit in excellent education is rooted in a value system that promotes progressive thought for the betterment of the individual as well as society.
At 25 years old, I have $188,307.22 in student debt, all of which is my sole financial responsibility.

That exorbitant number was abetted by easy lending with a co-signer, negligence and lack of awareness, over-borrowing and the exponential growth of tuition.
Along with never sweating the details on future income versus a debt repayment schedule. Apparently NOT a part of progressive thought.
But don't worry Katie - there's a new booming career opportunity for you.
Probably old to the blog but obligatory.
Why are Americans less stylish than Europeans/Japanese?
i mean style in clothing, but the same question could be asked about taste in architecture, interior design and other domains. (blog post by a fashion person: http://bangsandabun.com/2010/03/europeans-dress-better-than-americans-fact/)

1. greater average distance to a major fashion center. both physical and cultural distance.

2. less urbanization [these points 1&2 were maybe more important in the past]

3. distance from europe and few of the relevant european style-leaders emigrating

4. different signaling aims (more internal cultural diversity and weaker class distinctions; male clothing needing to be less 'gay' and more conventional).

5. any relation to the late blooming of US visual art and music on the world scene?

6. american is more informal in style and has been an influential exporter of informal styles (this doesn't undermine the general point about the style difference)
There are some pretty good responses in the comments but fundamentally I'd say that this is a cultural difference - adhering to style is just not as important here. For one thing American society is more diverse with multiple sub-cultures so there's no single style to follow. And in general signaling or reading social status isn't nearly as important in the US as it is in other countries. Plus in many European countries there seems to be strong social pressure to dress a certain way befitting your age and status or be looked  down upon.
I remember a friend from Germany being surprised to see old people in the US walking around in shorts, t-shirts, jeans, etc. - pretty much whatever younger people might wear. Apparently in Germany once you get to a certain age you're expected to dress in a 'distinguished' fashion rather than whatever trendy styles the 40-something kids are all wearing. Here we're free to be as stupid and goofy as we wanna be - which in the end is the only true freedom.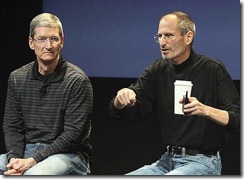 Damn: Police Bust Ends 'Free sex after nine car washes' Offer
Best rewards program ever:
Nine Vietnamese women, ages 18 to 28, believed to be prostitutes were arrested.

Police learned of the unique partnership between the car wash and sex ring when they kept finding car wash loyalty cards in the pockets of alleged customers of the sex ring.

The Mail quotes Emmi Shah Fadhil, the officer in charge of the area's Crime Prevention Division, as saying: "To get the extra 'offer', customers must send their cars for washing nine times within a certain period. The 10th car wash will entitle them to free sex,"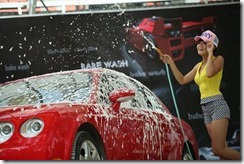 Teh Tweet!
Yahoo group. That is all.
Tonight's post brought to you by "the world's favorite movie star":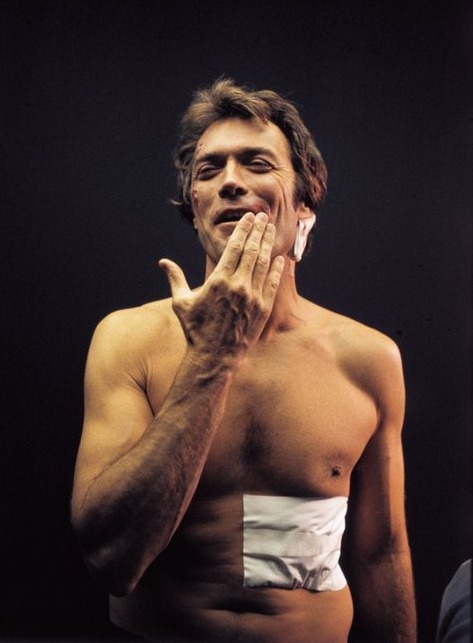 Notice: Posted by permission of AceCorp LLC. Please e-mail overnight open thread tips to maetenloch at gmail. Otherwise send tips to Ace.

posted by Maetenloch at
10:22 PM
|
Access Comments