« Main Speakers: Michelle Obama, Bill Clinton, and a Hispanic Mayor No One Ever Heard Of That They're Claiming Is the Keynote Speaker
|
Main
|
Top Headline Comments 9-5-12 »
September 04, 2012
Overnight Open Thread (9-4-2012)
MSNBC Host: America is the Worst Country on Earth
When host Melissa Harris-Perry was asked what was risker than being poor in America, this was her answer:
"What is riskier than living poor in America? Seriously! What in the world is riskier than being a poor person in America? I live in a neighborhood where people are shot on my street corner. I live in a neighborhood where people have to figure out how to get their kid into school because maybe it will be a good school and maybe it won't. I am sick of the idea that being wealthy is risky. No! ...Being poor is what is risky!

We have to create a safety net for poor people. And when we won't, because they happen to look different from us, it is the pervasive ugliness.
You have to watch the video to see how insanely idiotic her statement is.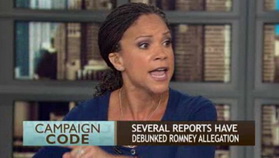 Yes we do absolutely nothing for the poor which is why we're spending ourselves into bankruptcy on entitlements for the poor. The American poor who mostly own TVs, suffer from an obesity problem, and can walk into any hospital at any hour in America for medical care.
Yes we are so much worse than any of these countries: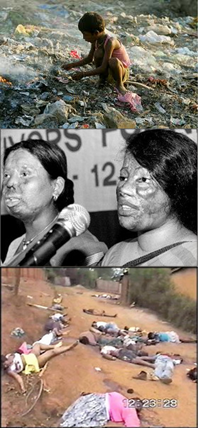 And yes Melissa Harris-Perry is an ignorant scrunt on an embarrassment of a network.
How Creepy is the Democratic Cult of Obama?
Well this creepy - according to the official DNC 2013 Obama calendar the Lightbringer is also your savior.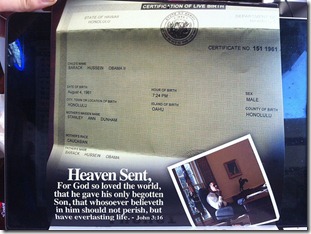 Avoid unnecessary travel and guard your souls.
The Fecklessness of the Obama Administration's Policy Towards Israel
They're quietly attempting to make a separate 'peace' with Iran in hopes of avoiding any blowback from an Israeli attack.
Diplomatic sources tell Israeli journalists that the U.S. is scrambling to distance itself from the Israel and appears to be giving Iran the green light to launch a counter-strike, if Israel attacks first:

The United States has indirectly informed Iran, via two European nations, that it would not back an Israeli strike against the country's nuclear facilities, as long as Tehran refrains from attacking American interests in the Persian Gulf, Yedioth Ahronoth reported Monday.

According to the report, Washington used covert back-channels in Europe to clarify that the US does not intend to back Israel in a strike that may spark a regional conflict.

To anyone outside of Foggy Bottom, this "proposal" is the height of fecklessness--a veritable fool's errand that will almost guarantee the opposite results.
The problem with selling out Israel for an Iranian promise is that you'll get all the dishonor of doing so and will likely get war as well given the usual trustworthiness of Iranian promises. So you can guess which way Obama will go.
The Poster Boy for the Wehrmacht
Was actually Jewish. Despite protection promised him by Goebbels it did not end well for his family.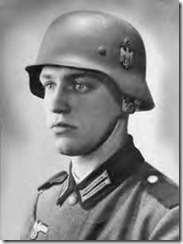 8 Famous People With Purple Hearts
Some you might know about but some you may not:
When he was only 16, Garner joined the Merchant Marines near the end of WWII, though he didn't do particularly well there given that he suffered from seasickness. He later served in the National Guard for seven months before joining the Army and serving in the 24th Infantry for 14 months during the Korean War.

While in the Army, James was injured twice. The first time he was hit in the hand and face by shrapnel from a mortar round. The second time he was shot in the buttocks by U.S. fighter jets as he dove into a foxhole. As a result, he received two Purple Hearts, although he didn't receive the second one until 32 years later.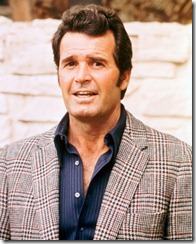 An Amazing Paralympics Performance
Keep an eye on the guy in lane 4 who's almost last at the turn.
Teh Tweet!
Tonight's post brought to you by Sophia: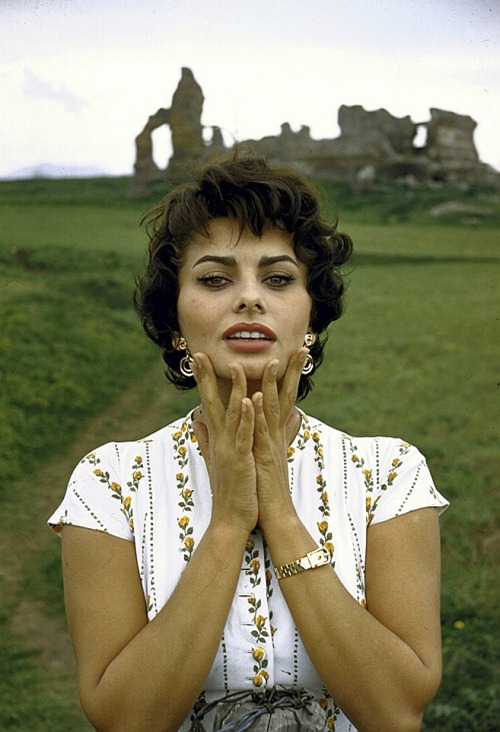 Notice: Posted by permission of AceCorp LLC. Please e-mail overnight open thread tips to maetenloch at gmail. Otherwise send tips to Ace.

posted by Maetenloch at
10:15 PM
|
Access Comments