« The Voters: Blame It On Bush
|
Main
|
Overnight Open Thread (8-26-2012) »
August 26, 2012
Tropical Storm Isaac (tmi3rd)
Good evening, Morons and Moronettes, and greetings from the AoSHQ Weather Desk. Moron kbdabear coined the term "Geraldo Cantore", and in relation to this storm, he is sooooo right. People have been beating the drum about this (so far) garden-variety storm, and they're not helping anything. So let's get this above the fold and then we'll take it from there.

This storm is not Katrina, redux. So don't panic if you're in its path.

Thank you. More below the fold.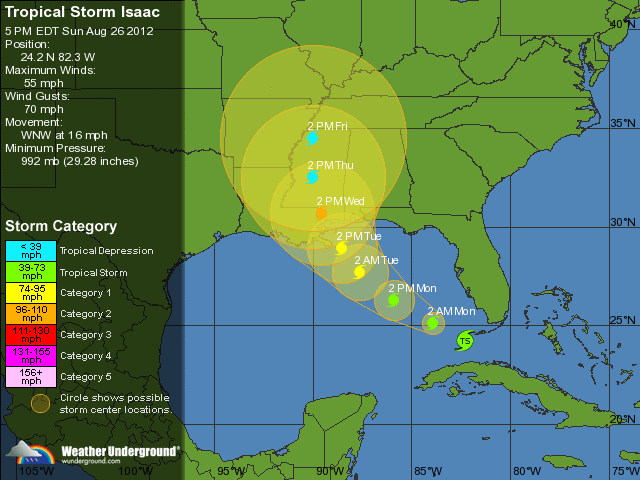 So Isaac is currently a good-looking tropical storm with winds of 65 mph. For those of you on the East Coast and in the Midwest, you've been through worse winter storms than that. The satellite pic is pretty nice-looking- what was a ragged, asymmetric storm is getting its act together, and it's definitely strengthening.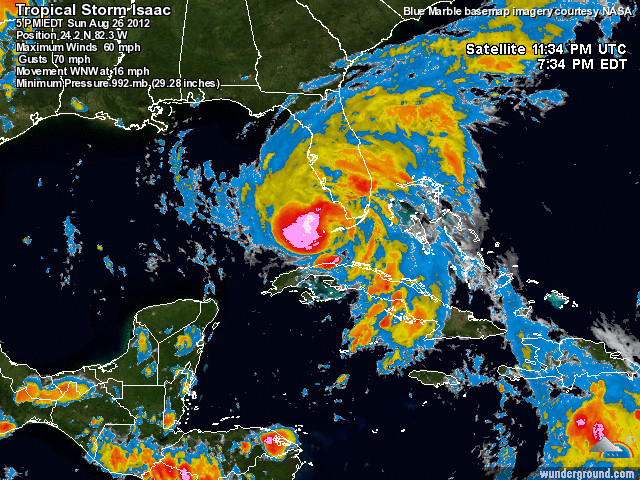 It's also hauling ass. As you notice from the above graphic, it's moving west-northwest at 16 mph. That's absolutely flying for most hurricanes. That means it won't have time to strengthen unless it abruptly slows down.

Now, the modeling can't decide where it wants to bring Isaac ashore, and there's a good 300-mile-disagreement with regards to many of them. For the moment, the forecast track above takes it in more or less right at the MS/LA line, and that seems pretty reasonable. The forecast track has shifted west over the past few days- started at Destin, FL; then Mobile, AL; then Biloxi, MS; and now New Orleans. Given how this has behaved, the Weather Desk's advisors (who actually do this stuff for a living) aren't weighing in on where they think Isaac will go specifically. As such, it's probably a good idea not to guess unless you're placing bets on its landfall.

For folks down in Florida, you can expect your usual heavy rainfall and gale-force winds for another day or two, and you'll want to be on the lookout for flooding (not like you weren't already). Hopefully, that's about as exciting as it gets for you.

Safety notes: first of all, for us Gulf Coast natives, again, this is a garden-variety tropical storm that will probably become a garden-variety hurricane. The usual precautions should already be underway, and if you're directly on the beach, it's probably a good idea to get inland a bit further. There won't be any "slosh models" (flooding models) until we have a better idea of timing, intensity, and tides.

Also, though many may already be aware of this, the ugly side of the storm is the northeast quadrant. The shear is highest there, the rain tends to be heaviest there, and you do occasionally get a tornado or two out of hurricanes that way (usually of the EF-0 variety).

Wrapping up- the public advisory notes the following:

a Hurricane Warning is in effect for...
* east of Morgan City Louisiana to Destin Florida...including metropolitan New Orleans...Lake Pontchartrain...and Lake Maurepas


a Hurricane Watch is in effect for...

* east of Destin to Indian Pass Florida


a Tropical Storm Warning is in effect for...

* the Florida Peninsula from Sebastian Inlet southward on the East
Coast and from Tarpon Springs southward on the West Coast.

* Florida Keys...including the Dry Tortugas and Florida Bay

* Lake Okeechobee

* east of Destin Florida to the Suwannee River

I don't want to downplay it to the point where nobody takes it seriously, but this is what we prepare for every year. As long as nobody does anything stupid (and someone inevitably does), this should be something less than what it's being blown up into. Again, if you're along the northern Gulf Coast, start wrapping up your preparations, and if you're in low-lying areas, have your evacuation route ready.

If you've got questions for me, find me on Twitter at my handle... we've got a fantasy draft tonight, so I won't be quite as available as I usually am.

Thanks for reading!

-tmi3rd

posted by Open Blogger at
08:28 PM
|
Access Comments