« University of Colorado Election Model Predicts... Romney Victory, & Obama Loses Almost All Swing States
|
Main
|
Top Headline Comments 8-23-12 »
August 22, 2012
Overnight Open Thread (8-22-2012)
A WSJ Book Review: "Better Off Without 'Em: A Northern Manifesto for Southern Secession"
Travel writer and former Maxim editor, Chuck Thompson, really, really does not like the South (or even states that are just a little too adjacent to it). A better title for his book would be 'Rednecks in the Mist: Those Horrible Horrible People'.
Here is part of Barton Swaim's rather scathing review in the WSJ:
On the first page, the author wonders why the American electoral system must be "held hostage by a coalition of bought-and-paid-for political swamp scum from the most uneducated, morbidly obese, racist, morally indigent, xenophobic, socially stunted, and generally ass-backwards part of the country." You expect him to let up, to turn the argument around, to look at the other side of question. But he never does. For more than 300 pages, Mr. Thompson travels through the South observing customs, outlooks and people and subjecting them to an unremitting stream of denunciations.
And unshockingly he find the South to be a hellhole of racism where among other outrages black and white neighborhoods are <shudder> intermingled:
More disturbing is his refusal to take seriously any evidence that Southern racism has diminished, even when that evidence comes from African-Americans themselves.

He is aware of reports in the New York Times and elsewhere that black Americans are moving to the South in record numbers. A black New York native living in Oxford, Miss., tells him, "I love it here." But Mr. Thompson dismisses what he calls "breathless predictions of a post-racial South." They just make him look harder for racism-and of course he finds it.

...He is outraged, for example, to discover the close proximity of poor black and middle-class white neighborhoods in Southern cities.
Oh and apparently Ohio and Illinois are now part of the South since some of Thompson's examples of Dixie backwardness are located there.
But hey how can you count on mere rivers to hold back such an overwhelming tide of Southern ignorance and iniquity - or a steadily growing stream of Yankee immigrants crossing the border into deepest darkest Dixie looking for a better life.
But the best summary is from this review blurb on the Amazon page:
"Thank you for the copy of Better Off Without 'Em, but I'm afraid it's New York and San Francisco that I think should secede."

- P.J. O'Rourke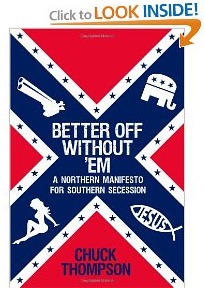 Who gained the most from the euro?
Well based on this chart the net effect of the Euro was a massive gain for Greece, Spain, Portugal, and Finland at the expense of every other EU country.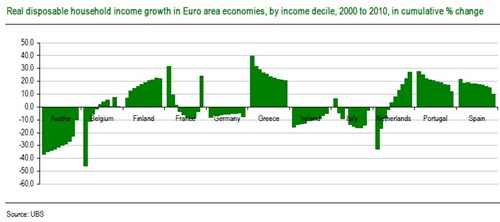 Guardian Writer: "I Wish My Mother Had Aborted Me"
I wish she had aborted me because I love her and want what is best for her.
Which is basically a long-winded way for the author to declare that her life has been a complete waste up until now. But Beisner also covers that point as well:
The world would not be a darker or poorer place without me. Actually, in terms of contributions to the world, I am a net loss. Everything that I have done - including parenting, teaching, researching, and being a loving partner - could have been done as well, if not better by other people. Any positive contributions that I have made are completely offset by what it has cost society to help me overcome the disadvantages and injuries of my childhood to become a functional and contributing member of society.
But after she describes how fucked up her mother was/is, I'm not sure that having a child or not would have made much difference. Perhaps a better title would have been 'I Wish My Mother Have Given Me Up For Adoption' or 'CPS - Where Were You?'.
Oh and Beisner probably needs to get her depression and self-loathing treated - if not for her sake then for her husband's and children's.
In fact the actual number of 'swing voters' who can actually be swung is remarkably small:
In spite of clichΓ©s about Nascar dads and Walmart moms, the actual share of voters nationally who are up for grabs is probably between just 3 percent and 5 percent in this election, polling experts say. The Obama and Romney campaigns are expected to spend on the order of $2 billion, in part to try to sway this tiny share of the electorate.

"There's a very small slice of people who are genuinely undecided, but it's enough to win the presidency," said Rich Beeson, the political director for Mr. Romney's campaign.
Which is about $220 per undecided vote. And note that 'swing voters' only matter in swing states.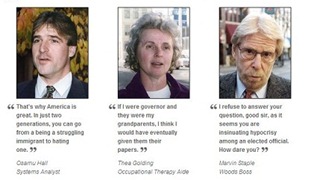 MST3K and the heavily anticipated return of Manos: The Hands of Fate, and RiffTrax
Yep Manos is finally back in theaters but this time in live MST3K/RiffTrax-style.
But we were able to find, on our own, a theatrical print that's very nice. It's better than anything that's out there, so it'll be nice. You know, it tamps the "creepy" down a little bit. But the reason to do it was that we'd all forgotten it. We really had, and we thought after 19 years, there's gonna be a whole bunch of people who haven't been exposed to the horror. And it's only fair that they should have to, since we've endured it. Luckily, we've forgotten everything, so it'll be fresh eyes.
Unfortunately the live national showing was last week.

But not to worry - there's something even worse coming:
We're doing a live showing of Birdemic coming up in October, I don't know if you've seen this, but it. it just makes me smile. Manos I find kind of creepy, but Birdemic is bad on that level that...you know, every single choice this guy made was the wrong one. Like every frame of the movie was a wrong choice, every actor was wrong, and yet, it's a sublime experience. The unintentional humor is there throughout, it doesn't really drag in terms of that. That's the one that is currently my favorite.

It's important that you realize that it's a serious attempt at making a good movie. That's something you need to get over, because when I first watched it, I was like, "Well, this is ridiculous, someone just tried to make the worst movie ever made." Then you look into and you realize, "Oh no, he was entirely sincere in every bit of it," and that makes it so much more fun.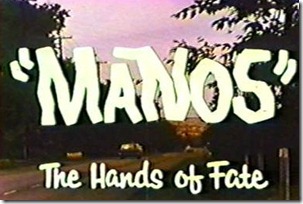 Worst Hotel in the US: Executive Inn in Belleville, IL
But it's only ranked #8 out of 10 so you could do worse in Belleville. Here's one of the reviews titled, "Bring some bleach. And a weapon":
The window was broken, the carpet was stained to the point that it almost looked like old flannel, the beds were broken and crooked... the bathroom would have been too gross for an uncensored HBO special, I think that the walls in the actual room were made from cardboard

...As we walked upstairs and through the hall, we were "greeted" by a man who burst out of his hotel room and looked a lot like a haggard BB King, fresh after a shot of "mace" directly to the eyes. After asking each one of us (there were 4 of us) if we had any cigarettes or anything to smoke, he let us go, but not before watching us take every last step into our 2nd room...

I would recommend visiting this place if you don't have any children to care for and want to shoot a documentary on the inner-workings of a drug ring.
On the other hand the on-site hooker is an amenity that not all chains offer.
11 Pop Culture References Younger Readers Won't Get
"Have you ever tasted a pine tree? Several parts are edible" and the term Eddie Haskell-type are just two of them.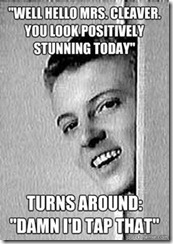 The After School XXX Special Awards
The newest recipient of our After School Special Awards goes to Brittni Colleps, a married mother of three and teacher from outside Ft Worth, Texas, who is accused of not only sleeping with five student athletes from her school, but having group sex with four of them all caught on tape. Brittni made sure to do her homework though, as she made sure all the students she packed on top of her were eighteen.  The prosecution was so confounded by how to prosecute her that they had to invent a brand new crime just to keep Colleps off the street.
Where the hell were these teachers when I was in school?! My female high school teachers ranged from anti-viagra up to meh at best.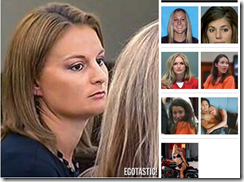 Teh Tweet!
Yahoo group. That is all.
Tonight's post brought to you by a young Teddy Roosevelt: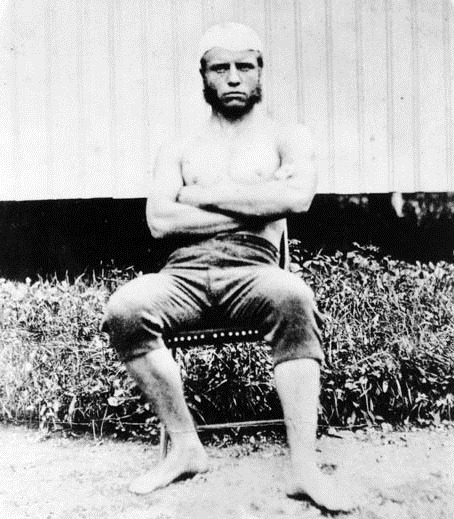 Notice: Posted by permission of AceCorp LLC. Please e-mail overnight open thread tips to maetenloch at gmail. Otherwise send tips to Ace.

posted by Maetenloch at
10:15 PM
|
Access Comments