« Romney/Ryan Ad: Our Generation's Time
|
Main
|
Top Headline Comments 8-20-12 »
August 19, 2012
Overnight Open Thread (8-19-2012)
Less pain and blood in the urine = a pretty good Sunday. 
Bad Idea Jeans - 2012 Edition
Hey Let's Have a National Maximum Wage
A modest proposal from Gawker's Hamilton Nolan:
Let's have a maximum annual income of, oh, $5 million, pegged to inflation. All income above that would be taxed at 99 percent. Our precious national sports stars, celebrities, and corporate executives could still be fabulously wealthy. The daydreaming poor could still have a nice big number about which to hopelessly dream. Five million dollars a year. Five million! Anyone with $5 million can invest it conservatively enough to earn 5 percent a year and still be making $250K per year without lifting a finger. In other words, $5 million provides you with the means to live as a member of the one percent without ever touching the principal. It's everything that any reasonable person could ask for, financially speaking.
Hey Let's Impose a 75% Tax on 'the Rich'
That's the plan of new French president, François Hollande, to make the rich pay their 'fair share'.
The call to Vincent Grandil's Paris law firm began like many others that have rolled in recently. On the line was the well-paid chief executive of one of France's most profitable companies, and he was feeling nervous.

President François Hollande is vowing to impose a 75 percent tax on the portion of anyone's income above a million euros ($1.24 million) a year. "Should I be preparing to leave the country?" the executive asked Mr. Grandil.
Unsurprisingly there's now an exodus of French companies and executives to London.
Hey Let's Nationalize Facebook
This time from Philip Howard of Slate:
Over the last several years, Facebook has become a public good and an important social resource. But as a company, it is behaving badly, and long term, that may cost it.

...By "nationalizing Facebook," I mean public ownership and at least a majority share at first. When nationalizing the company restores the public trust, that controlling interest could be reduced. There are three very good reasons for this drastic step: It could fix the company's woeful privacy practices, allow the social network to fulfill its true potential for providing social good, and force it to put its valuable data to work on significant social problems.
When You've Lost the $1 Newrag Demo....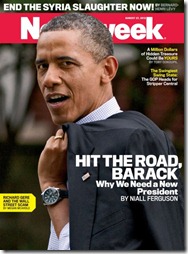 And note that most of the claims Joe made during his infamous 'I have a higher IQ than you' rant weren't even true.
The 'Solyndra' as a Unit of Measurement for Wasted Government Money
Which really helps put everything in perspective:
What gave me the idea was something in a posting by Moe Lane on Romney's trip to Jerusalem, where he wrote: "President Obama did best, with his ever-so-sudden $70 million funding of Israeli missile defense (that's about .14 solyndras*)". So, how about the $535 million in Solyndra loan guarantees be rechristened as equaling one "solyndra"? This way, the bridge to nowhere would have cost three-quarters of a solyndra ($398 million), the direct Defense Department costs of the Iraq war were 1,416 solyndras, annual farm subsidies are 43 solyndras, the annual budget of the Commerce Department is 15 solyndras, and so on.
Unless someone else claims it Moe Lane deserves all the credit for this one.
British company BCB invented The Wall Breaker, a non-explosive, compressed air cannon which fires standard plastic water cooler drums to breach walls, gates and doors for rapid quick entry. It can be fired every 10 to 15 seconds. The water jugs can be filled with water, sand, or other materials.

The firm have already sold the system to security forces and the military in a number of countries including the USA and Thailand.
Okay but I'd like to see its effect on a real structural wall before I buy one.
"We didn't know what 90 percent of the switches did"
The US has long had an entire squadron dedicated to flying potential enemy aircraft including pretty much every model of the MiG.
"In 1985 we had 26 MiGs -- MiG-21s and MiG-23s. We had had MiG-17s originally but phased them out early, and by the end of the program we still had more MiG-21s than anything else.

"The pilots were Aggressors or Fighter Weapons School or Top Gun instructors. Most were majors, a few captains, with 2000-3000 hours. We didn't have to worry about the pilots. "They were all comfortable with themselves. They weren't proud of themselves for beating up on an F-4. The goal was not to beat them up, you'd beat them up on day one - that was a given."

For the students, it was "a Sunday-Friday course. By the end of a week, we wanted people to be able to kill a MiG the first time that you saw him."
On the MiG-21: "It had no gas - a point-defense fighter.
"We didn't know what 90 percent of the switches did. We changed the ASI and parts of the oxygen system. We had one switch that we just labeled BOMB EXPLODE.

"It was fun to fly. You could see out pretty well. The limitations included the throttle - there were two rpm gauges, and if you got them too far apart, and to 80 percent rpm, it would take you 17 seconds to get military power. When you flew it a long time you found a little notch that was there to remind you not to do that.

..."It was a great aircraft to fight if you wanted to fight slow - maybe not against an F-18. You're at 120 knots and still pointing at him and all he's looking at is your nose. you get down to 80 knots, dump the nose, go to 120 and from 30 deg nose low to 40 deg nose high and you didn't go up, but the other guy goes 'holy smokes, here he comes'." Evasive action against this deceptive maneuver often put the unwary student inside the MiG-21's weapon envelope.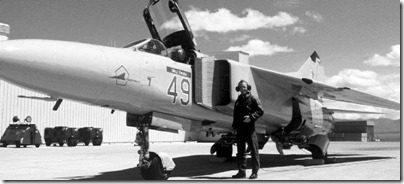 Don't Click This If You Don't Want To Feel Old
A veritable time capsule of 80's cheesy goodness. Also includes an exclusive with teen heart-throb, Bryan Cranston.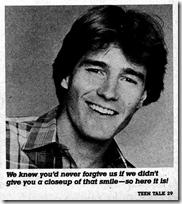 Weekly AoSHQ Commenter Standings
Top 10 commenters:
1 [906 comments] 'sven10077' [127.17 posts/day]
2 [693 comments] 'Anna Puma (+SmuD)'
3 [490 comments] 'Christopher Taylor'
4 [443 comments] 'steevy'
5 [425 comments] 'nickless'
6 [413 comments] 'Oldsailors Poet, Wonders what Dagny thinks'
7 [358 comments] 'Adam'
8 [339 comments] 'AllenG (Dedicated Tenther) Channelling Breitbart'
9 [339 comments] 'eman  '
10 [321 comments] 'tasker'
Top 10 sockpuppeteers:
1 [159 names] 'JParker' [22.32 unique names/day]
2 [140 names] 'Adam'
3 [105 names] 'Valerie Jarrett will be the death of O'
4 [76 names] 'The Political Hat'
5 [50 names] 'Dang'
6 [43 names] 'Cicero'
7 [39 names] '66chevelle'
8 [38 names] 'Dr Fish'
9 [38 names] 'the white board'
10 [36 names] '"Special" Joey Biden'
The group. Yeah.
Where it's at - the Twitter
Tonight's post brought to you by a very Maetenloch Christmas list: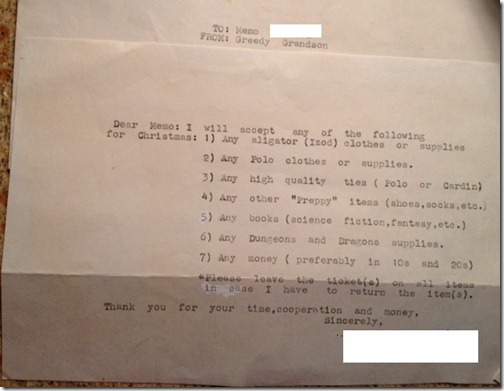 My grandmother died a few months ago and so my mother has been going through her scrapbooks and found this. I'm guessing this was from when I was 12 or 13 years old - still very much a geek but starting to care about impressing girls. This was from the period when I discovered the family typewriter and began sending out funny memos and 'newsletters' to friends and family - kinda an early analog version of blogging. Apparently my grandmother thought my entirely reasonable and helpful list was funny enough that she saved it all these years.
Notice: Posted by permission of AceCorp LLC. Please e-mail overnight open thread tips to maetenloch at gmail. Otherwise send tips to Ace.

posted by Maetenloch at
10:09 PM
|
Access Comments