« Sunday Morning Book Thread 08-19-2012 [OregonMuse]
|
Main
|
Romney/Ryan Ad: Our Generation's Time »
August 19, 2012
Old Ironsides Sails Again
First time since her 200th birthday, in 1997.
The USS Constitution, named by President George Washington in 1797 is the US Navy's oldest commissioned vessel. Her first actions against the enemy were during the First Barbary War, but she distinguished herself even further during the War of 1812, when she defeated five British warships.
Her nickname is "Old Ironsides" but she doesn't have sides of iron, her two foot thick wooden hull withstood blasts from HMS Guerriere in her first engagement in the War of 1812. In that fight an American sailor supposedly exclaimed as Guerriere's shots bounced off her hull "Huzzah! Her sides are made of iron!"
In subsequent engagements during the war she defeated four more British warships, Java, Pictou, Cyane and Levant.
She is now a floating museum, berthed in Boston. I've visited it many times and it's always a treat. If you're ever around there, I recommend you take the time.
Today she sets sail for a short voyage.
Can't wait to see it.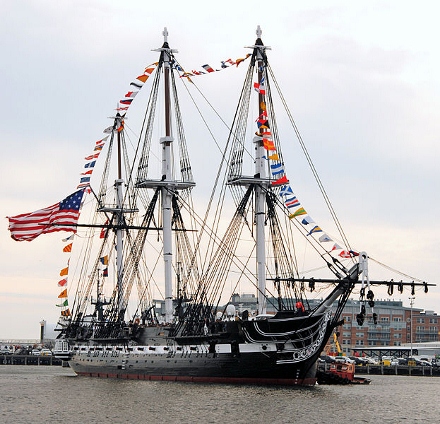 posted by Dave In Texas at
02:21 PM
|
Access Comments