« AOSHQDD: Post-VP Announcement Map
|
Main
|
Top Headline Comments 8-17-12 »
August 16, 2012
Overnight Open Thread (8-16-2012)
Tonight's ONT is weak but this time I have a medical-type excuse - apparently I'm now joining the Kool Kids Kidney Stonerz Klub.

Not to worry - I've been a member before and have lots of fluids and narcotics available. Although to be fair that's true of pretty much every other Thursday night too.
Or why you can't not look at this picture and go 'Ahhhh...'.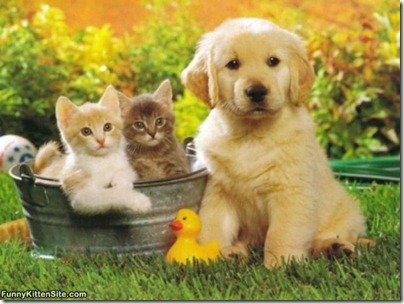 Democrats Re-Running the 1980 Playbook?
Perhaps not intentionally but the nearest comparison to Obama's campaign nastiness is Jimmy Carter around this time in 1980:
The liberal columnist Richard Reeves wrote: "The Carter campaign is as mean-spirited as any you'll see in American politics.  Where this meanness comes from is obvious to anyone who has watched Carter's rise to the Presidency and the attempts to keep him there-it comes from the top, from Jimmy Carter." . . .

Speaking at Martin Luther King's Ebenezer Baptist Church in Atlanta on September 15, Carter said: "You've seen in this campaign the stirrings of hate and the rebirth of code words like 'states' rights' in a speech in Mississippi, in a campaign  reference to the Ku Klux Klan relating to the south. . .
'Mr. Carter has abandoned all dignity in his round-the-clock attack on Mr. Reagan's character and standing, jumping (in a most sanctimonious tone of voice) for "offenses" similar to many Mr. Carter himself has committed, and, most recently, concluding from all this that Mr. Reagan is a "racist" and a purveyor of "hatred."  This description doesn't fit Mr. Reagan.  What it fits, or more precisely, fits into, is Jimmy Carter's miserable record of personally savaging political opponents (Hubert Humphrey, Edward Kennedy) whenever the going got rough. . . Jimmy Carter, as before, seems to have few limits beyond which he will not go in the abuse of opponents and reconstruction of history.'
Here hoping that Team Obama is so confident that they think they can finally run the playbook 'right'.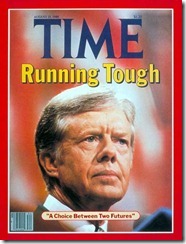 Has Brett Kimberlin Finally Gone Too Far?
Live by the courts, die by the courts. Now that his victims are being represented by the Blogger's Defense Team and suing him, he's open to discovery but is refusing to comply.
In my last post on this subject I said that discovery had been served.  What I didn't know is that it had been served much, much earlier than I realized, so that it was due...  on August 10.  That would be almost a week ago.  So yes, I was posting we had served him with discovery two days before it was due.  In fact he was already informing my attorneys by then he would not comply.

Glenn Reynolds once observed that in a promised lawsuit by Brandon Darby against Neal Rauhauser that "the discovery process should be productive."  Well, apparently that is precisely what Kimberlin doesn't want in this case: productive discovery.  The deadline has passed and Kimberlin has refused to comply, to any degree, with legally mandated discovery requests.  He hasn't produced one relevant document, answered a single interrogatory, and so on.
I'm guessing this won't end well for him or his associates.
Feds Have Yet to Talk With Jon Corzine?!?
Even as the MF Global investigation is nearing its end:
A criminal investigation into the collapse of the brokerage firm MF Global and the disappearance of about $1 billion in customer money is now heading into its final stage without charges expected against any top executives.

After 10 months of stitching together evidence on the firm's demise, criminal investigators are concluding that chaos and porous risk controls at the firm, rather than fraud, allowed the money to disappear, according to people involved in the case....

In the most telling indication yet that the MF Global investigation is winding down, federal authorities are seeking to interview the former chief of the firm, Jon S. Corzine, next month, according to the people involved in the case. Authorities hope that Mr. Corzine, who is expected to accept the invitation, will shed light on the actions of other employees at MF Global.
Oh well no big deal, sometimes a billion dollars just goes missing. These kind of things happen so just move along.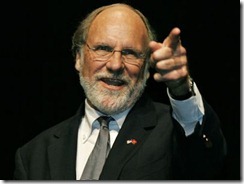 Liberal Professors Just As Biased, Intolerant As You Suspected
So much so they don't mind freely declaring that they'd discriminate against any conservatives they come across:
Psychologists Yoel Inbar and Joris Lammers, based at Tilburg University in the Netherlands, surveyed a roughly representative sample of academics and scholars in social psychology and found that "In decisions ranging from paper reviews to hiring, many social and personality psychologists admit that they would discriminate against openly conservative colleagues."

.More than a third of the respondents said they would discriminate against the conservative candidate. One respondent wrote in that if department members "could figure out who was a conservative, they would be sure not to hire them."
And by 'busy' I mean baby-making-oriented fucking or else we're gonna get out-reproduced by the French. The French!!
With an average pre-recession TFR of 2.1 (which is replacement level) growth in overall U.S. population was coming almost entirely from immigration-legal and illegal.  If immigration slows down, as much evidence suggests it has, and TFR continues at a France-like level, then we face the prospect of a shrinking U.S. population in the near future.  And if you think our social insurance programs (Social Security, Medicare, etc) are in bad shape now, just wait.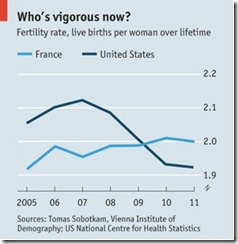 Yahoo group. That is all.
And my Twitter spew.
Tonight's post brought to you by gluten-intolerant kitteh: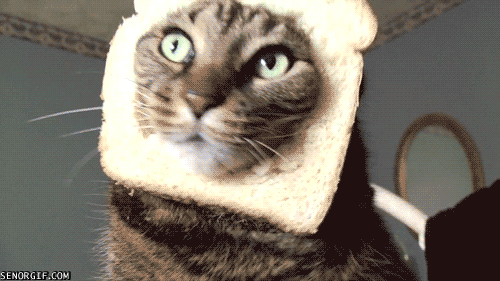 Notice: Posted by permission of AceCorp LLC. Please e-mail overnight open thread tips to maetenloch at gmail. Otherwise send tips to Ace.

posted by Maetenloch at
10:40 PM
|
Access Comments