« "What About Your Gaffes"/"Show Some Respect" Songs, Now With Videos
|
Main
|
Goof-Off: Tina Brown vs. Nichoals Cage
Who's The Biggest Goof? »
July 31, 2012
Overnight Open Thread (7-31-2012)
Why Right Wing Blogs Like AoSHQ Never Talk About Jihad or Sharia
Because it's true - we just *never* talk about jihad or sharia anymore.
Well according to this article at IOTW it's only because Ace and the cobs have shunned Pamela Geller of Atlas Shrugs and sold out to the MSM.
What's the message received? If you want to move up in the caste system you better clean up your act, and that, you'll see, includes any uncomfortable remarks about Islam.
[long email quote snipped]

While reading this I immediately had 2 bloggers in mind that would fit this description. The first was Ace of Spades. Ace was a Perryite who famously published a public attack towards Pamela Geller. He's  also shown that he's willing to modify his act, and the reader's behavior.
Later the finger is pointed at Weasel Zippers as the shunful blog in question but still many ewoks and morons were dissed in the process.
Now I'm not saying that certain people's garbage should be routinely molested starting this very evening because of these slurs - that would be 'wrong' - but lets just say that both garbage and natives of Endor do have mutual needs...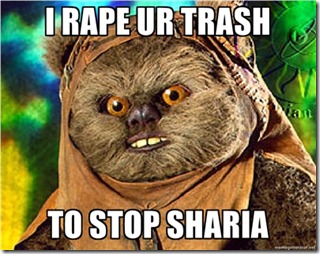 Dallas and the Fall of Communism
Because who wouldn't want to be economically oppressed Dallas-style:
Dallas was the last Western show allowed during the nightmarish 1980s because President Nicolae Ceausescu thought it showcased all that was wrong with capitalism. In fact, the show provided a luxuriant alternative to a communism that was forcing people to wait more than a decade to buy the most rattletrap communist-produced cars. After the dictator and his wife were shot on Christmas Eve 1989, the pilot episode of Dallas - with a previously censored sex scene spliced back in - was one of the first foreign shows broadcast on liberated Romanian TV.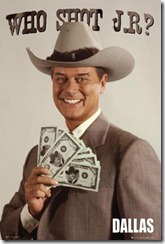 Thanks to Trulia you can see what your commute times would be like from a new home in most major cities. I remember seeing similar maps drawn as isochron lines for LA and noticing how the distance you could travel in 30 minutes steadily shrank all during the 30s, 40s, and 50s and then suddenly opened up again when freeways were built.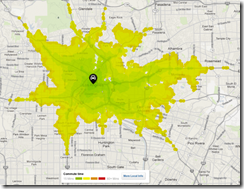 6 Brilliant Ways Hostages Outwitted Their Captors
In 1958, a group of Americans staying at the Hilton Havana in Cuba were playing a golf tournament when they suddenly found themselves surrounded by rebel soldiers pointing guns at them. As you probably know, Cuba was in the middle of a bloody anti-imperialist revolution, but apparently the golfers never got the memo.

What the rebels didn't know was that one of those golfers was 54-year-old actor Johnny Weissmuller, best known for dressing in nothing but loincloths and swinging on vines. In the '30s and '40s, Weissmuller starred as Tarzan in 12 films and is to this day the best known actor to have played the role. When the hostile soldiers approached him, Weissmuller confidently said, "Me Tarzan" ... to which the rebels responded, "Huh?" Turns out that "Tarzan" is pronounced completely differently in Spanish (it's more like "Tar-zaan" ).

Since they clearly weren't getting the message, and for some reason still convinced that his celebrity status could save him from captivity or death, Weissmuller stood up to his full height, beat his chest with his fists and let out the trademarked Tarzan yell that he single-handedly popularized. In the middle of a golf course, with Cuban rebels pointing guns at him.

...Star struck, the rebels put down their guns and proceeded to freak the hell out, yelling "Tarzan! Tarzan!" and "Welcome to Cuba!" Apparently their anti-capitalist sentiment stopped at Hollywood movies. They not only released Weissmuller and his fellow golfers completely unharmed, but actually escorted them back to their hotel.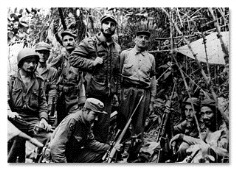 Karachi: Burning American Flags After Evening Prayers Each Week Nets Tidy Profit For Flagmaker
I had always wondered about this but yes there are local flagmakers who do well by providing the US flags to be burned at the weekly spontaneous protests:
After the weekly afternoon prayers on Friday, different hardline religious groups, many with political affiliations and some with militant ties, organize protest rallies with clockwork precision that range from a few hundred to throngs of thousands. But many rallies end in the same way: the burning of an American flag.

"We work hard for our product, and we get paid for our product," says Rasheed, clad in a camouflage baseball cap and seated behind a desk that takes up most of the space in his eight-by-six-foot office in Gulashan-e-Iqbal, one of the city's oldest working class neighborhood.

"So what if it burns? The purpose of the flag is to last for an hour. It's unfortunate, but if the demand is for an hour, then the supplier must meet such demand too," he says.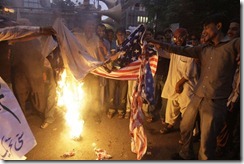 Isn't This Like 10 Years Too Late?
Well it is the collector edition so maybe it took a while to add the director's  commentary.
Being that I'm one of the few movie writers around who follows the adult film industry as closely as I do the regular film industry (film is film, dammit!), the adult industry has been kind enough to return the favor. Which is how it came to be that I got this screener of "Hairy Twatter" in the mail. (Starring everyone's favorite newcomer, Jessie Andrews).

From the enclosed fact sheet:

   Greetings from Dreamzone,

    We've all been there. You're at the witches' and wizards' academy and become disappointed with the pubic hair trends being observed by the ladies on campus. So, you do what you must and resort to magic to rectify the situation. This is precisely the scenario depicted in Hairy Twatter: A Dreamzone Parody, releasing in August from DreamZone Entertainment. The title is available for pre-order now.

Clever, AND correct use of apostrophes. You have no idea how rare that is in the adult video industry, where some of the most popular stars can't even settle on a consistent spelling of their own name.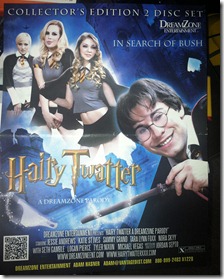 Yahoo group. That is all.
And my Twitter spew.
Tonight's post brought to you by more douchebag alcohol:

Notice: Posted by permission of AceCorp LLC. Please e-mail overnight open thread tips to maetenloch at gmail. Otherwise send tips to Ace.

posted by Maetenloch at
09:50 PM
|
Access Comments