« Dick Morris: Obama's About To Agree To A "Back-Door Gun Control" Act, Via Treaty, Which Will Trump The Second Amendment
|
Main
|
Uh-Oh: Tree Ring Evidence Indicates World Was Warmer In Roman Era, Middle Ages »
July 11, 2012
Five Democrats Join Republicans In House Vote To Repeal ObamaTax
The CNN headline says the move is a "purely political gesture." Here's the full CNN headline: "In a purely political gesture, House Republicans vote to repeal President Obama's signature health care reform law. "
That's not even the most biased headline on ObamaTax you'll read today.
At Politico, five governors have declared they won't expand Medicaid per ObamaTax's requirement (a requirement struck down by the Supreme Court).
How does Politico report the news that five southern governors indicated their decision?
Southern governors secede from Medicaid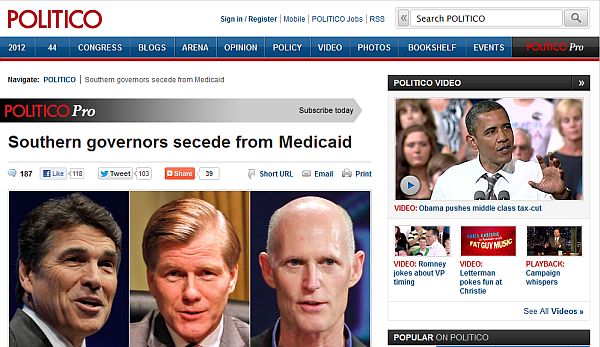 Secede, I get it. Like the Civil War. Because they hate blacks.
Because, you know, opposition to ObamaTax is racially "intolerant."
Thanks to @rdbrewer4 for the "secede" catch, and @slublog for screencapping it.
Bonus Bias! Here's a great media headline:
House GOP Launches Assault On Health Care

posted by Ace at
04:37 PM
|
Access Comments