« Overreacting to The V Word
|
Main
|
Top Headline Comments 6-19-12 »
June 18, 2012
Overnight Open Thread (6-18-2012)
Oh and everybody who emailed me should be unbanned now. It turns out the secondary spam filter was eating people's comments without any warning messages.
Well this definitely falls under my more-than-3-bumper-stickers = The Crazy rule.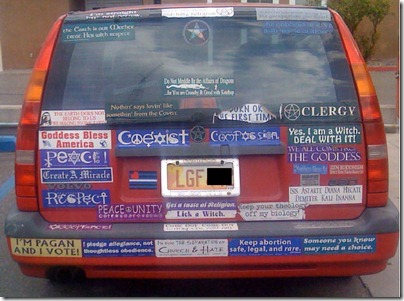 Funny - I'm not really getting the 'Respect' and 'Unity' vibe off of this vehicle despite the stickers. And might I suggest this worthy addition:

And perhaps this less-smug-but-more accurate version of the annoying 'Coexist' sticker: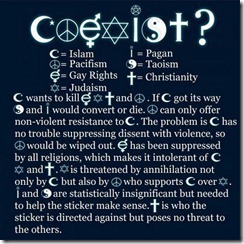 It's All Zombie Fun and Games Until Someone Gets Shot
Given the recent bath salt/face-eating incidents now is probably not a good time to pretend to be a zombie and have fun chasing people around in the streets. Note that at the 2:00 mark one of the prankster's victims actually pulls out a gun and points it at him. Mr. Fake Zombie was pretty lucky to not get shot here.
As I've explained to Mrs. Maetenloch many times fear of the Zombie Apocalypse is a reasonable fear - so of course we should acquit anyone who kills a free-running zombie in the streets. That's just common courtesy.
Why No Gays in the NFL - Plus Some Casual Hate
Okay in this article on why you won't be seeing an active NFL player coming out anytime soon is this quote - see if you notice what got slipped in:
A locker room is a very diverse work setting in some ways: ethnicity, socio-economic background, home town, marital status, age, etc. And in others it's very narrow. There are racists, fascists, bigots, losers, Jesus pushers, conspiracy theorists, Republicans, dope smokers, alcoholics, pill poppers, womanizers, hunters, gamblers, grumps and hacks. And they all work together to form a football team. They put aside their personal beliefs about a player and his lifestyle for the good of the football team, which takes precedent. Add gay to that list and I don't think it matters much, as long as it isn't, "Hey you guys! I'm GAAAAAAAAAAAAAY!"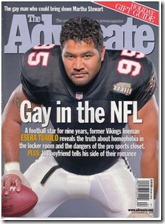 How to Use a Broken Cell Phone To Survive
Just because your phone is out of power or broken doesn't mean that it can't save your life in an emergency. Inside it is everything you need to build a fire, navigate, catch food, and signal rescuers.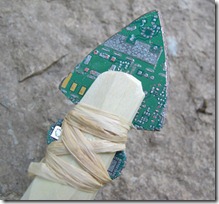 Bank Robbery Doesn't Pay (Statistically)
Cost-benefit-wise bank robbery is barely better than a low-paying job. So unless you truly enjoy it or just in it for the groupies, robbing banks is probably not a path to wealth.
The average haul was $31,600, including the one-third of attempts that came up empty. The average "successful" heist landed about $46,600 - but about 20% of those successes were later tarnished, to say the least, when the raiders were arrested. Each incident involved an average of 1.6 people, resulting in a per-person take of $19,750: a mere half-years' worth of wages for the average Britisher. (In the U.S., the authors say, the average total bank-robbery take, per incident, is even smaller, just over $4,000.) Think a half-year's salary isn't bad for one day's work, plus a little planning? A "career" bank robber would more likely than not be arrested after only four attempts.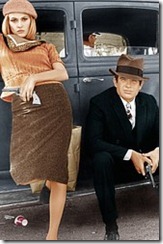 7 Movie Flops That Got Studio Heads Fired
Anything big budget involving Kevin Costner or M. Night Shyamalan is executive unemployment bait - but Cutthoat Island (1995) actually killed a studio:
This one's a special pick, as it didn't just get the head of the studio fired - it got everybody fired. Cutthroat Island was a Renny Harlin pirate adventure starring Geena Davis and Matthew Modine, and for a long time it was considered one of the biggest box office failures of all time. Made for a then-staggering budget of $98 million, it only played for two weeks and brought in less than $10 million. Carolco Pictures, the company that produced it, was already on the ropes from Showgirls, so when Cutthroat Island tanked, company owners Mario Kassar and Andrew Vajna put the company into bankruptcy and fired everyone, including themselves.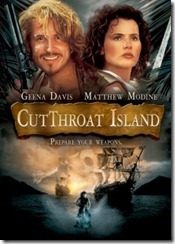 The Yahoo AoSHQ group. Bla bla bla.
And don't forget about the Job Bank.
And my twitter thang.
Tonight's post brought to you by 1980: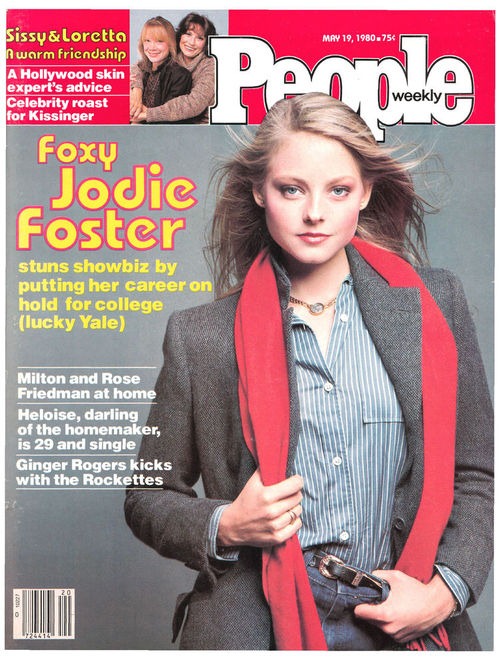 Notice: Posted by permission of AceCorp LLC. Please e-mail overnight open thread tips to maetenloch at gmail. Otherwise send tips to Ace.

posted by Maetenloch at
10:11 PM
|
Access Comments