« The Battle of Outpost Harry, Korea, June 10-18 1953
|
Main
|
Overnight Open Thread »
June 16, 2012
Sat. Nite Chess Thread 06-16-2012 [OregonMuse]
Sorry about not being here last week, but last Saturday was right in the middle of the BK brouhaha and comments for all posts had been disabled. At that point, I really didn't know if there was ever going to be another chess thread, so I thought it prudent to just lay low for awhile and see how it all played out.
Seems to be back to normal now, though. More or less.
Anyway, here's a chess set worthy of a real moron:
Capture a piece, do a shot! What could possibly go wrong? Plus, I'm sure all you morons really like Pabst Blue Ribbon ("the Valu-Rite of beers").
The only thing lacking is that the shot glasses aren't in pornographic shapes. If we could only get that, then we could declare it to be the only official AoSHQ-approved chess set.
Another fun endgame
Unfortunately, I've been way too busy to go through all the analysis and comments about the endgame I put up last time, and you all have probably forgotten about it, anyway. So here's another problem: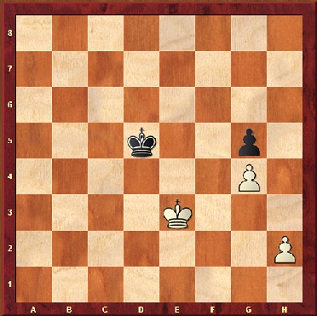 Believe it or not, White to move can actually win in this position. The question is, how?

Game of the Week
This week's famous chess game is Botvinnik - Fischer, Varna Olympiad 1962. This was a game for the ages. It has been extensively analyzed all over the place, most notably by Fischer in his book My 60 Memorable Games. Highlight #1: Botvinnik had come up with an innovation in the Gruenfeld he thought was a killer, which he was able to use against Fischer. This would have been great except that Bobby, under the pressure of tournament conditions, found the one continuation that Botvinnik had missed (17... Qxf4). Botvinnik was devastated. He wrote afterwards, "[t]he reader can guess that my equanimity was wrecked." Highlight #2: Botvinnik eventually got back into the game, which was adjourned at move 45 with Fischer having a small but definite advantage. The story I've heard about this is that the Soviets analyzed all night and found the one line that allowed Botvinnik to stay in the game. The Americans (poss. one of the Byrne brothers?) had found it, too, but Fischer, being Fischer, had gotten into one of his usual pointless squabbles with whoever it was that found it and wasn't speaking to him, so he didn't see the continuation himself until Botvinnik played it. The game was drawn, mainly because Fischer, as usual, was his own worst enemy.
You can play through it yourself here.
Chess Books That Should Be Updated to Algebraic(4th in a series)
Dover Publications should just upgrade its entire catalog of chess books, but it's probably not cost effective for them to do so. But if they would do just one, this one would be the one I would prefer. I've mentioned this book in an earlier thread, it's got tons of games and not just the 'famous' ones that get reprinted all the time. This book should be in every serious player's collection.
Thanks to those of you who have sent me tips for this thread. They may be sent to me at
OregonMuse
and then the at sign
followed by yahoo
and then dot
com


posted by Open Blogger at
06:22 PM
|
Access Comments