« Senator Mitch McConnell on the Growing Threat to Our First Amendment Rights
|
Main
|
Sat. Nite Chess Thread 06-16-2012 [OregonMuse] »
June 16, 2012
The Battle of Outpost Harry, Korea, June 10-18 1953
Hold at all costs.
Three remote hills 60 miles north of Seoul. Tom, Dick and Harry. Five rifle companies, four American and one Greek, about 700 in total held the line against a full division of CCF (Communist Chinese Forces) supported with artillery.
A division is 13 to 15 thousand soldiers. Those were twenty to one odds.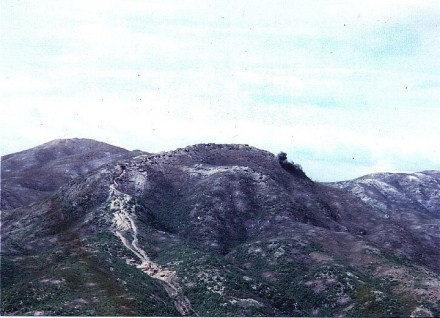 Outpost Harry was on the hill in the foreground. The other hill, "Star Hill" was held by the Chinese forces.
More below, including a video from the men who fought there and survived to tell us about what happened to them 59 years ago this week.
Each night during this battle Outpost Harry was defended by a single company of soldiers. The Communist Chinese forces assaulted it brutally, successfully breaching the trenches several times, with desperate hand to hand combat. Each time repulsed. One night a company commander pulled his troops together, and called in fire on his own position. A week of night after night assaults, but they held.
Those five rifle companies sustained 114 men killed, almost 500 wounded. They killed over 4,000 of their enemy. An Army Sergeant from Alabama, Ola L. Mize, Col. US Army (ret) was awarded the Medal of Honor for his bravery in action on June 10 at Outpost Harry.
In memory of the men who fought here, who together were awarded the Distinguished Unit Citation for their performance on Harry. King Company, 15th. Infantry Regiment for the night of June 10/11, Baker Company, 15 Infantry for the night of June 11/12, Able Company, 5th. Regimental Combat Team for the night of June 12/13 and Peter Company, Greek Battalion for the night of June 17/18.
"In the annals of United States Infantry history it appears that this is the only time this many rifle companies received this distinguished award for an engagement of this type."
Two videos (and fair warning, one has Charlie Rangel in it, and despite my contempt for him as a politician, he did serve in Korea.)
They held. The cost was terrible.
This was the "forgotten war."

posted by Dave In Texas at
01:25 PM
|
Access Comments