« Is This Something? Obama Stump Speech in Reno Draws Dozens
|
Main
|
Sat. Nite Chess Thread 05-12-2012 [OregonMuse] »
May 12, 2012
B-24 "Lady Be Good"
Anna Puma linked this in the morning post, and I was intrigued so I checked it out.
A WWII bomber and crew crashed in the Libyan desert following a bombing mission in 1943. Separated from their bomb group, the 514th Bomb Squadron, 376th Bomb Group, they attempted to complete their bombing mission to Naples, Italy, but bad weather hampered them from the mission, and also making it home. There is no certainty as to the cause when they became lost, but it seems they overflew their base on the way home, and ditched in the desert after most of the crew bailed out.
In 1958, her wreckage was discovered by an oil exploration team in the Sahara, and a mission to find the remains of the crew was initiated.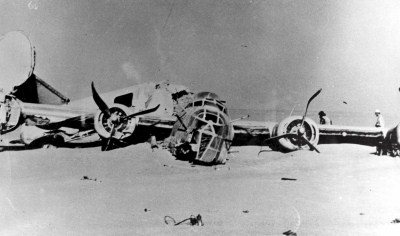 As in the story this morning about the lost P-40, the wreckage was intact, but in this case there were clues about what happened.
from wiki, "Although the plane was broken into two pieces, it was immaculately preserved, with functioning machine guns, a working radio, and some supplies of food and water. A thermos of tea was found to be drinkable. No human remains were found on board the aircraft, nor were parachutes found. Evidence aboard the plane indicated that the men had bailed out. Records in the log of navigator Lieutenant Hays, who was on his very first combat mission, ended at Naples. No human remains were found at the crash site"
But the remains of all her crew save one were recovered.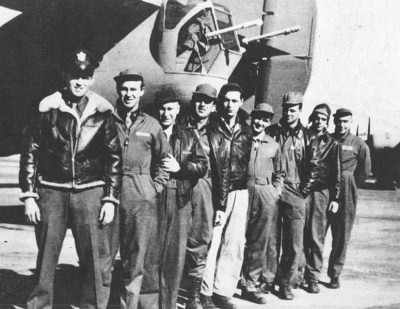 In memoriam.
1st Lieutenant William J. Hatton, Pilot Whitestone, New York
2d Lieutenant Robert F. Toner, Copilot North Attelboro, Massachusetts
2d Lieutenant Dp Hays, Navigator Lee's Summit Missouri
2d Lieutenant John S. Woravka, Bombardier Cleveland, Ohio
Technical Sergeant Harold J. Ripslinger, Flight Engineer Saginaw, Michigan
Technical Sergeant Robert E. LaMotte, Radio Operator Lake Linden, Michigan
Staff Sergeant Guy E. Shelley, Gunner/Asst Flight Engineer New Cumberland, Pennsylvania
Staff Sergeant Vernon L. Moore, Gunner/Asst Radio Operator New Boston, Ohio
Staff Sergeant Samuel R. Adams, Gunner Eureka, Illinois
May they rest in peace.

posted by Dave In Texas at
04:29 PM
|
Access Comments