« Happy Saturday Joy Thread
|
Main
|
B-24 "Lady Be Good" »
May 12, 2012
Is This Something? Obama Stump Speech in Reno Draws Dozens
Hmmm. Probably not. I'll call it "more Saturday Stupid."
As leader of the free world President Obama will be used to making speeches to millions of people around the globe.

So he might have felt the occasion was a little beneath him yesterday when he stopped off in Reno, Nevada, to deliver an address outside a couple's garage.

In what could be a disastrous photo opportunity for the President's campaign, Mr Obama spoke to a handful of people in the crucial swing state.

The president's 15 minute address outside the home of Paul and Val Keller on Friday afternoon, drew a small audience of neighbours and supporters - though even his hosts said they were not sure if they would vote for him in the coming election.
It would depend I suppose on the timing, and the pre-announcing or something. If it were completely spontaneous I can sort of understand the low numbers.. it's a neighborhood after all.
Still, it sure looks lame, doesn't it?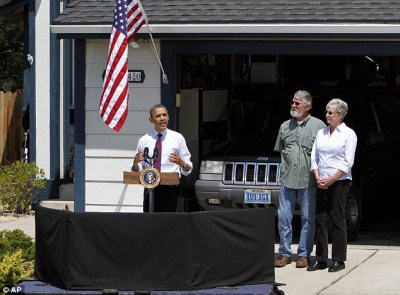 Which is all that actually counts, how it looks. Also Obama ate a f'n dog and shoved a little girl.
via TiFW over at H2
I'M GOING to overanalyze this a little more. I think Obama and his team are working to try to connect him with "real Americans." Ok, here's a couple. A retired electrician and his wife, a simple, nice home in a small neighborhood. Out in front of the garage with a nice looking flag hanging over it.
I have one of those myself. It looks nice.
It's just, sheesh. Who's going to see this as "connecting with ordinary Americans?" And is that even a good objective. He looks "small", and looking small doesn't really help him right now. He's got all the advantages of an incumbent president. Power. Bully pulpit. Air Force One. The lapdog media.
So standing behind a teensy podium, with a Presidential Seal smaller than the headlights on that Jeep behind him, it just seems to diminish him.
I don't think he can connect with Americans. He can connect with George Clooney, and Hollywood, and $15 million dollar bigshot lefty donors.
But Paul and Val Keller?
He [Paul Keller]said he voted for the president in 2008 and plans to once again this year. His wife remains uncertain.

'I don't know yet,' she [Val] answered when asked how she'll vote. 'I want to wait and see what happens in the economy,' she told MyNews4.
Remember the time he connected with real Americans in Ohio?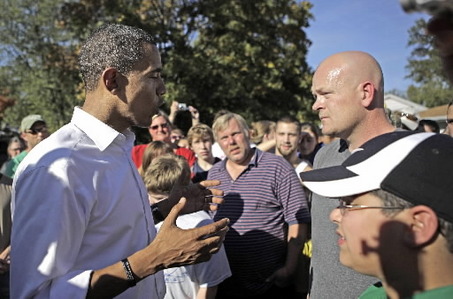 And also when he had grey hair?
Pic suggestion by Jewstin, another H2 goofball.

posted by Dave In Texas at
02:22 PM
|
Access Comments