« B-24 "Lady Be Good"
|
Main
|
An Observation on Reporting Election Results and the AP »
May 12, 2012
Sat. Nite Chess Thread 05-12-2012 [OregonMuse]
Good evening fellow chess nerds. Here it is once again, the Saturday Nite AoSHQ Chess Thread.
(Applause)
More on the Reti position
Last week, I posted a link to a video by Igor and Gleb wherein they talked about the famous study by Reti. This sparked some discussion in the comments, particularly this:
50 Igor and Gleb are wrong about the optical delusion. White wins by making G3 its first move, then running with the pawn.Try it. Only take the black pawn if it tries to advance. Black king can't catch the white pawn.

Posted by: Alec Rawls at May 05, 2012 08:55 PM (kTTUz)

Alec claims he has found a cook in Reti's study. In a subsequent comment, he clarified his remarks further: 'I'm assuming that black moves first and goes to b2, as in the video. THEN white makes g3 its first move.'
So let's take a look.
Igor and Gleb confused things a bit by reversing the colors of the original study. I'm not sure why they thought that was necessary, but I am going to confuse things even more by reversing their reversal: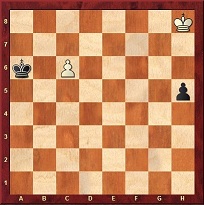 This is how the original study appeared. The White King starts out on h8 and the idea is for White to centralize by marching down along the diagonal and from the central squares, the King is in a position to either run down the fleeing pawn or to support his own pawn.
However, Alec says no, this falls short, Black can win by first moving his King to b6 and then running the pawn. White does not have time to catch it. But isn't this idea what Igor and Gleb ran through in the second part of their video? Let's see how this works out:
1. Kg7 Kb6
2. Kf6 h4
This is, I think, the position that Alec was looking at when he determined that White was busted. Of course, if 2... Kxc6, then 3. Kg5, the pawn can't escape, and it's a draw. So
3. Ke5
Now Alec says Black should advance the pawn. But, as we will see, White can neutralize this.
3........h3
4. Kd6 h2
5. c7 h1=Q
6. c8=Q
So there you are. Both sides promote their pawns simultaneously, and Black has no tactical trick up his sleeve to force a quick win. The position is drawn.
Ke5 is the key move for White. White's King has to stay centralized until Black chooses to commit himself to either pushing the pawn or capturing the White pawn.

Game of the Week
This week's famous chess game (submitted by moron miamibeatfsu) is Polugaevsky v Nezhmetdinov, 1958. Black skillfully pries the White King out from his hidey hole and chases him down to the opposite edge of the board. A delightful queen sac seals White's fate.

You can play through it yourself here

Chess Books That Should Be Updated (1st in a series)
Many chess books have been written over the years, and it's amazing how well many of them still hold up decade after decade, and can be read and studied profitably today. Of course, it would help these books tremendously if the move notation was updated, too, rather than just reprinted. Some of the old classic chess books have been updated in just this fashion, but others, regrettably have not. I will be posting an entry from my personal "should be updated to algebraic" list each week until I run out.
Let's start with Bronstein's classic collection 200 Open Games. I've always liked this book. Bronstein is whimsical, funny, and yet informative. His writing style makes me wish I had known him.
You morons are encouraged to submit your candidates for the "should be updated" list as I'm sure there are classics I've overlooked.
'Annotate like a moron' contest
This may or may not work, depending on the response I get. What I'd like is for you to pick one your own games, or a classic game, and annotate if in the finest moron style you can manage. I will post the funniest ones, or, if I only get a few responses, I may post them all.
(I have a feeling this is going to bomb, but we'll see.)

Thanks to those of you who have sent me tips for this thread. Tips may be sent to me at
OregonMuse
and then the at sign
followed by yahoo
and then dot
com


posted by Open Blogger at
05:46 PM
|
Access Comments